Concerned in Oblivion
There are a great deal of very talented people out there on the 'net, and a great deal of them turn to popular computer games as a means to show us that talent, be it through web comics, machinima or just plain old blogging. Today I'll be pointing you towards one of my favourite talented people, Chris Livingston. A working knowledge of the Half-Life and Elder Scrolls games is desirable to fully enjoy his work, but I'd be interested in how outsiders view his work regardless, so do read on.
Concerned is a web comic (first issue here) telling the story of Gordon Frohman, a regular citizen whose arrival in Half-Life 2's City 17 comes a few months prior to the more well known and less dim-witted player character Gordon Freeman. Over the course of over 200 issues, usually with 6 panels each, Frohman's adventures take him to some very familiar places as he searches out a place to call home. Once it gets going, the comic is almost constantly hilarious, mining as it does that rich vein of good natured and love filled satire of the game and it's mechanics. Perhaps more surprisingly, by the end, you end up with an incredibly well thought through story, that fits really satisfyingly with the story of Gordon Freeman. On the occasion of a cross over, it's handled fantastically well, especially the issue ending with Freeman's arrival in the city. It's a long haul to get through it all, but I promise that any fan of the Half-Life series will get serious kicks out of it, and the last issue is very much worth the wait just for the punchline.
Frohman encounters the illusive G-Man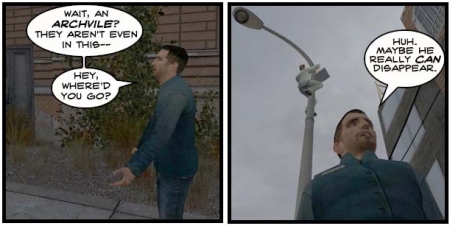 Living in Oblivion (first post here) is a still ongoing project by Chris, and takes the form of a blog chronicling the everyday non-adventures of his character, Nondrick. He's just an ordinary Nord trying to get by in the world of RPG game Oblivion:
Simply put, this is an attempt to see if I can survive inside the PC game The Elder Scrolls IV: Oblivion if I run my character like any old random NPC (Non-Player Character). You know, those nondescript, friendly-enough but not terribly important characters you brush by on your way to sell the hundreds of pounds of loot from your latest fortress raid? That'll be me.
Nondrick - he just wants a quiet life of potion making and woman killing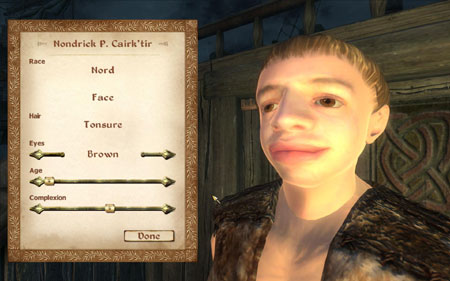 The end result is more interesting than you'd think, as you see the lengths he goes to avoid playing the game as an adventurer. Regular meals, a bed to sleep in every night (no cheeky sleeping for 12 hours just to get your health back up) and walking everywhere and, crucially NO re-loading once he dies. Obviously this would only be interesting for a couple of posts if you didn't have Chris' flare for making just about every detail funny. His ability to identify foibles in the game encountered by Nondrick mining them for maximum humour is what makes this blog brilliant. Leaving slaun corpses naked in the road and finding cutlery inside wild animals has never been so entertaining. Don't be put off this blog if you've never played any of the Elder Scrolls games, as Chris does a great job of describing the game world to you as you go and leaving the in-jokes to a minimum.
1fort is currently the home of Chris' well updated blog, which mainly focuses on the staggering wonderful Valve multiplayer game Team Fortress 2, but he's been known to talk about other games, too. The TF2 theme is down to a long held promise that he'll eventually be producing a web comic based around the game. It's worth reading on a daily basis just for his posts, but if we end up getting a comic out of this site as well then we'll, quite literally, be laughing.
Chris Livingston, there.