Lab Rats: A Snail
And so, slightly later than planned due to our relaunch, we finally start our episode-by-episode reviews of Lab Rats - the new BBC TWO audience sitcom by Chris Addison and Carl Cooper. And it has to be said that I was going into this first episode with high hopes. Because let's get one thing straight - I love audience sitcom. I love all sorts of things, but I have a special place in my heart for audience sitcom. At its best, no other kind of show makes me laugh as long, as hard, or as much. So hooray for the fact that commissioners finally seem to be realising again that they're a viable format beyond a normal domestic setting.
Lab Rats has a lovely premise; set in the the research department at St. Dunstan's University, the laboratory hires itself out to solve other people's problems, for money. Much like Fawlty Towers - although God-knows how much trouble that comparison is going to get me into - this gives the show endless opportunities for guest characters of the week, without struggling to find reasons for them to be there. They can just walk in, give the problem, and BANG - the plot is off and running. One thing I perhaps wonder is whether this first episode sets out the premise clearly enough - it's not quite as obvious as "three priests on an island", and could have perhaps done with a bit more setup within the show.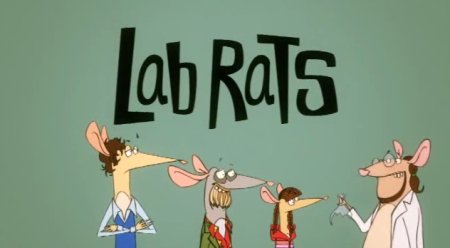 A word has to be said about the lovely opening titles for the show, created by Triffic - the animation for Dr. Beenyman being especially good, and the character design for Cara being very cute. The only unfortunate aspect is that the caricatures of Minty and the Dean are absolutely rubbish compared to the Lab Rats themselves. Nice end credits too, which remind me of a cartoon's- not coincidentally, I suspect. Sadly, I'm not so positive about the little animated bumpers that act as scene transitions - they're meant to show the passage of time, but they just break up the flow of the programme, take you out of the show, and just aren't needed.
First impressions of the characters are rather good. With five main characters, one minor character, and one major guest star, establishing them all in the first episode is a near-impossible task, and Professor MyCroft, played by the always-excellent Geoffrey McGivern, felt a bit like a lost character this week - the potential is there, but he didn't get an awful lot amusing to do. Brian, played by Dan Tetsell, came off better - his plotline with the Dean about his name was pretty weak, but there was some really nice scenes showing the interplay with between and Alex. Coming off best perhaps are the Dean (Selina Cadell), and Jo Enright as Cara, both of who put in excellent performances - the main scene between the Dean and Alex almost felt like the the heart of the show. Chris Addison as Alex Beenyman at first comes across as slightly too muted for the role, even with the role of the normal person amidst the chaos, but on a rewatch I found myself warming to him more, with his delivery of "a big nancy dentist" being especially amusing.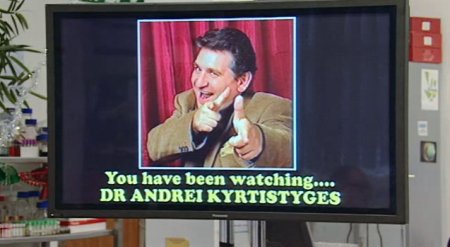 But there are plenty of lovely moments to be had here. My favourite has to be with our guest character of the week, Dr. Kyrtistyges (an excellent performance from Sevan Stephan), who - after a presentation about his cloning problem involving a lot of exceedingly silly quoting of lots of singers and songs (Cara: "Am I the only one getting this?") - leaves the room... to his own "You have been watching..." credit on his presentation screen. But there are bags of others - the Dean calling her chair an "arsehole", a neat visual gag with the Dean hiding her Toblerone in her desk sign, Cara mutilating Downtown into the Jim'll Fix It theme, and the following lovely exchange:
BRIAN: Alright, what's your big plan?
ALEX: I'm going to reverse the polarity of the neutron flow.
BRIAN: That's from Doctor Who.
ALEX: I find your lack of faith disturbing.
BRIAN: That's from Star Wars. You're running out of ideas.
ALEX: I'm fine for ideas, thank you. Let's just bang these snails in.
BRIAN: That's from The Passion of the Christ.
But we can't ignore it any more. Let's face it - the show hasn't gone down well. Sure, new sitcoms always get negative reviews, and it's important to note that the show has got some positive coverage, even in the national press - but still, there's been an awful lot of negative reaction to the show. For those that seem to object purely because it's an audience sitcom, there's really not much I can say to help you - even if it's under the excuse that the laugh track is loud or intrusive, when it really isn't. For those who have rather snidely remarked that think the show belongs on CBBC - something I've heard rather more than once - it seems an especially silly criticism. What, so adults can't enjoy large performances? And - far worse - large performances are only "good enough" for children, a particularly odious idea?
For those that have actually thought about their criticisms slightly harder, there are problems with the show. I certainly don't agree that there are no laughs to be had - I had plenty. But maybe there are a few too many weak jokes that should have been edited out at draft stage, and - crucially - there was only a couple of absolutely huge laughs in the show for me - the aforementioned "You have been watching" gag, and the snails/Passion joke. Despite the many other lines that raised a laugh - and a proper laugh, at that - It's not quite enough.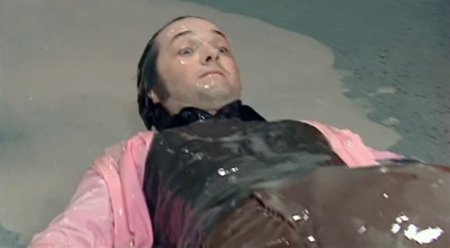 But a bigger problem, perhaps, is that the climax of the show doesn't quite work. And the reason it doesn't work isn't because the individual elements aren't all set up, because they are - the chair, the snail, and the fan are all well-established parts of the plot. (Even the aforementioned weak Brian/Dean material does actually matter, as it ends up causing Brian to be locked in the cupboard.) But unfortunately, the pacing is all off. It aspires to Brittas-level chaos - but the show suddenly changes from the same old pace, to being absolutely crazy. You need to ramp up the chaos over the last five or so minutes of the show - not throw the "let's make everything go mad" switch. As it is, lots of careful setup with the plot feels wasted, as it never has the impact it should do.
Still, despite those problems, there is a hell of a lot to enjoy here. No, it's not the best sitcom in the world - but it's a damn sight better than a lot of recent sitcoms, and it is also an immensely likable show - with some good laughs, and a lovely atmosphere. And unlike many new comedy shows that just manage to bore me within five minutes (Saxondale, anyone?), it kept my interest throughout. I warmed to the show within the first minute, which takes some doing for me these days, because I'm a miserable bastard when it comes to new comedy. Moreover, there's the potential for this show to become very good indeed. The interplay between the characters - the three Dean/Alex, Brian/Alex, and Cara/Alex pairings - are great, although it's notable that the best pairings involve the lead character - completely appropriate for a first episode, but hopefully future episodes will have more varied combinations.
For a first episode, despite the criticisms, it's doing more than enough to keep me interested. I laughed. I had fun. I enjoyed it. And it has massive potential for the future. If the climax had been done correctly, I'd be sorely tempted to give it four stars. As it is, it's a still commendable:

About this entry
By John Hoare
Posted on Monday, July 28 2008 @ 5:22 am