Page to Screen : the Watchmen trailer
Unveiled online last weekend and attached to US screenings of The Dark Knight, the first trailer for Zack Snyder's adaptation of Alan Moore and Dave Gibbons' seminal graphic novel Watchmen seemed like an exercise in keeping cynical fanboys happy - littered as it was with shots that corresponded directly to memorable individual frames from the comic. Whether or not the entire film maintains the level of fidelity suggested by the trailer is of course another matter - and there are a good number of shots that don't seem to correspond to a particular moment (Laurie and Jon kissing could be at any time in their relationship, there's no moment in the book that features Daniel screaming the way he does when he's clearly outside Karnak, and the Rorschach roof shots are suitably generic). Nevertheless, and although I'm sure plenty of other websites already did similar articles a week ago, I've gone through the trailer and picked out the shots that match up exactly with (or make the odd change to) specific panels from the original. Oh, and in case you hadn't figured it out, spoilers abound below...
"The light is taking me to pieces..."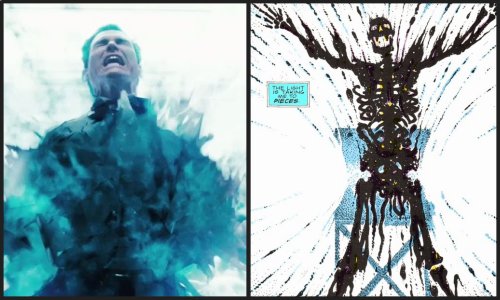 Much of the early part of the trailer is taken up with showing us Jon's accident, in classic comic-book-movie "science gone wrong" fashion. There's a good level of detail, even down to "concrete block 15", and note also that he's holding a watch in his hand (though you wonder just how much of the Janey Slater flashback plot will remain). Nevertheless, this is a strikingly well-composed image compared to the original, and an encouraging start.
Owlship!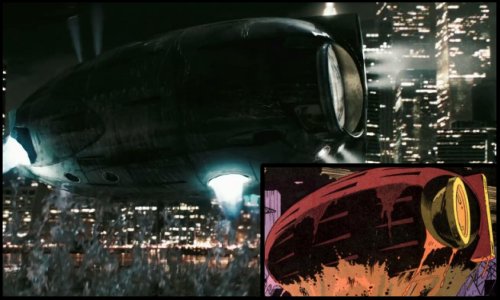 It's guesswork, really, to suggest that this shot of the Owlship emerging from the river corresponds directly to the scene in which he and Rorschach emerge for the last time; but either way, it's a cracking shot. How brilliant does the ship look?
"I think you'd have to be thrown..."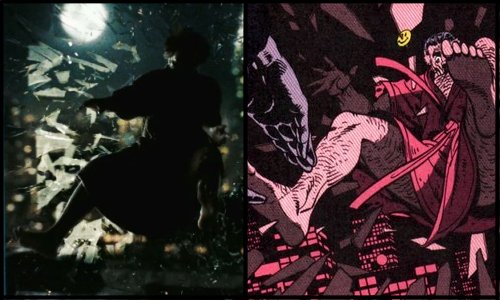 While the movie appears to have done a superb job of framing specific shots from the book, it's notable that in most instances the colour palette is shifted away from John Higgins' extensive use of orange, red and yellow, replaced instead with harsher blues, greens and greys. This is particularly noticeable in the flashback sequences that show Eddie Blake's murder, which have a much darkier and moodier tone than the visceral nature of those in the comic. That said, the framing here is absolutely spot on - and unsurprisingly, the eagle-eyed will even spot Eddie's smiley-face badge as he falls...
"I did it!"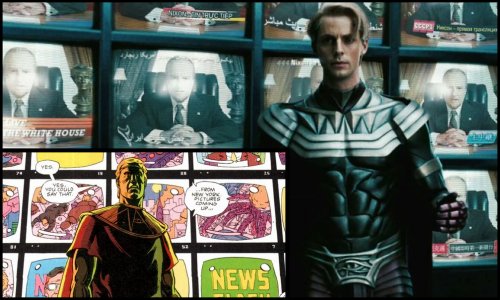 This is another bit of guesswork, but the assumption here is that this is Veidt shortly after carrying out his master plan. He doesn't appear to be holding a TV remote, and looks a bit young, so it could just be an earlier demonstration of his "wall of tellies" - but note Richard Nixon (!) on every screen in the background, accompanied by a variety of foreign broadcaster logos, so a fairly safe guess is that he's making a post-disaster statement to the world...
"A partially-muscled skeleton stands by the perimeter fence and screams for thirty seconds before vanishing."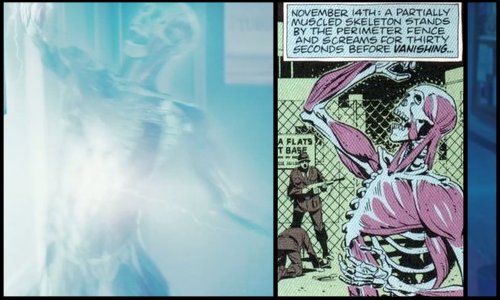 The location may have changed (moving indoors, with a janitor rather than a soldier in the background) but the image is absolutely bang on the money as Jon's various body parts attempt to reconstitute themselves after the accident.
"You're my thrill..."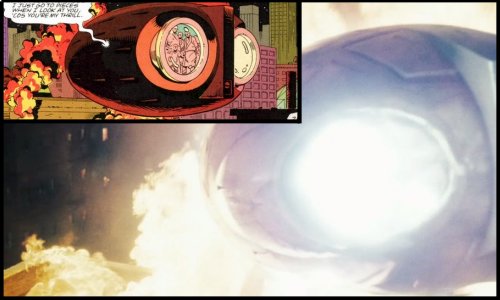 Again, I'm speculating here, because the Owlship could be heading for a rioting prison - but I'm betting this is the burning tenement rescue. Not exactly a frame-for-frame recreation, but it's good to see it in there.
Frying tonight...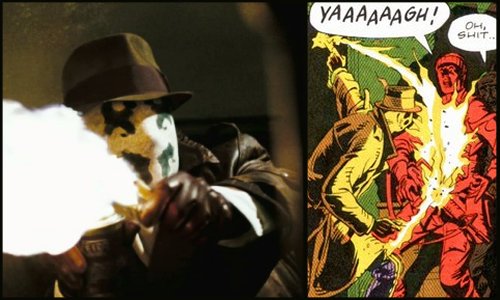 And here, we see (the beginnings of) Rorschach's brutal dispatch of a hapless SWAT team. Note they've kept the detail of his using Veidt-brand aerosol - however the movie turns out story-wise, visual attention to detail is certainly something they absolutely can't be faulted on.
Three for the price of one...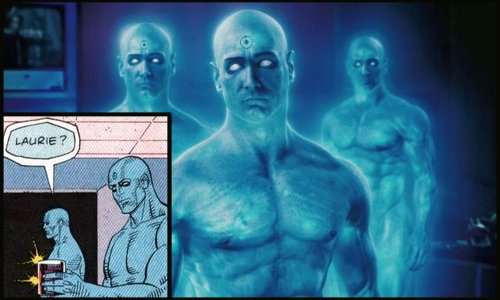 Here's an interesting one. Clearly this shot is from the sequence in which Jon attempts to instigate a threesome with Laurie and... himself... while all the while working in his lab in a third body. But as memorable an image as this appears to be, it's worth noting that in the comic we never see three Manhattans together. It's obviously just a slightly different visual interpretation of the same scene, but it's curious that whatever happens, it's being done in a different way.
"Absent Friends..."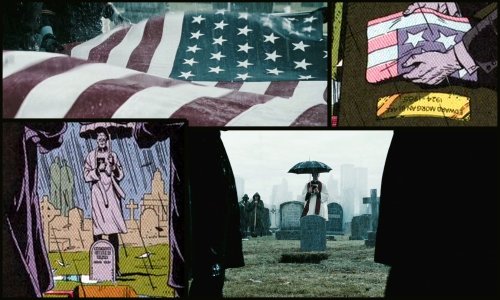 Two grabs for the price of one, here. The flag-on-coffin is of course fairly standard procedure for, as Rorschach puts it, "men who died in their country's service". But look at that funeral shot! Even allowing for a significant change in aspect ratio... that's amazingly replicated. Surprisingly so, too, when you consider that it's hardly one of the book's most striking or significant images.
"He suits the climate here : the madness, the pointless butchery..."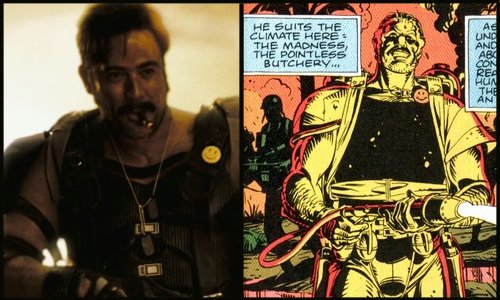 The first example, but not the last, of a well-replicated Comedian sequence that also demonstrates a couple of cosmetic changes to his look. There's probably no real significance to the fact that, unlike in the book, he's not wearing his mask while in Vietnam - unless something will be made of more people knowing his identity - nor to the presence of his trademark cigar, but they're interesting to note.
"Sunburn in November."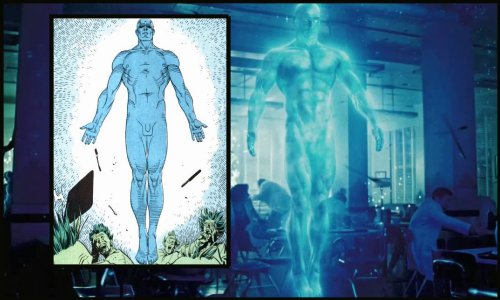 Another Doc Manhattan sequence that you can't imagine the film not doing in exactly the same way as the book, and this one looks like it firmly delivers.
"He would have put up some kinda fight, I'm certain."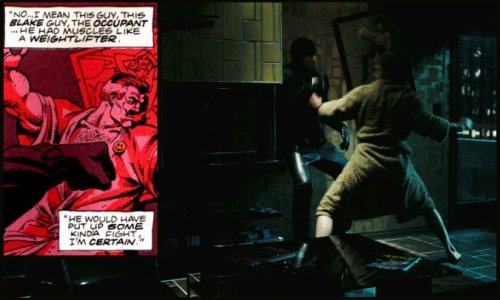 Back to the murder scene, and here we see that in this version, Blake seems to be putting up something more of a fight than he does in the book (indeed, perhaps the sort of fight that the detective believed he might). I'm fairly sure, as well, that this particular scene is from the constructed "imagining" of the murder rather than our "real" flashback of it - because notice how we don't get anything like a clear look at the murderer's face, they're simply an anonymous substitute figure...
"Lying. Do it again, broken arm. Not joking."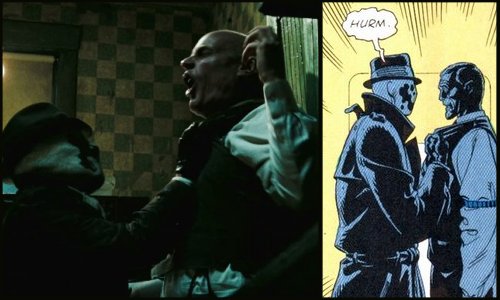 Someone who can better spot whether that's Matt Frewer can probably confirm that this is supposed to be Moloch, but the outfit pretty much gives it away, even though this scene appears to be in a bathroom (I think?) rather than a kitchen.
"Just tell them I don't have any enemies."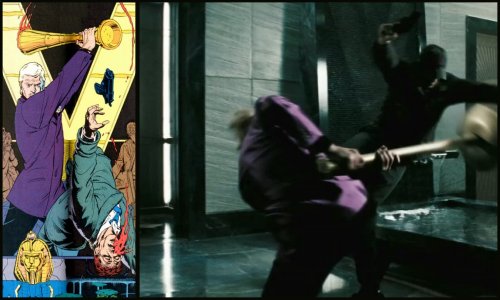 The angle's different, but the action is practically frame-for-frame as Veidt sends would-be-assassin Roy Chess flying into an ornamental pool with a piece of furniture. Kudos for the accuracy of his outfit here, as well, and note the longer hair compared to the earlier "wall of TVs" shot.
I love the smell of Dr Manhattan blowing shit up in the morning...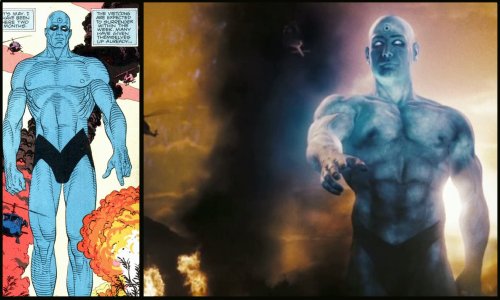 Coming up we've got a couple of absolute dead-on clone shots, starting with Dr Manhattan cutting a swathe through the Vietcong. Even the detail of the helicopters buzzing around him like flies is kept, although he does appear to be somewhat smaller in the film version.
"What happened to the American Dream?" "It came true. You're lookin' at it."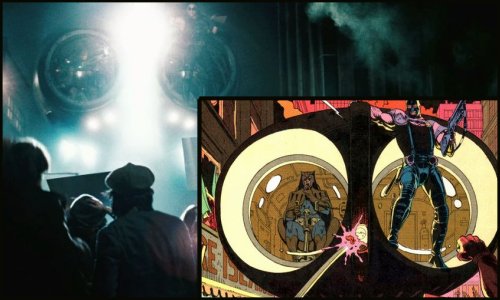 And then we get a brief glimpse of Nite Owl and the Comedian attempting to quell an anti-vigilante riot. Note that once again, though, there's a slight difference in Blake's costume - he's just wearing his domino mask in the film, rather than the full-face leather cowl he was wearing by this point in the comic. My initial reaction was to wonder if the face-scarring Vietnam incident might be one of those moments sure to fall by the wayside in compressing a 12-issue series into a two-hour film, but subsequent publicity photos would suggest otherwise...
"The gravity of the situation."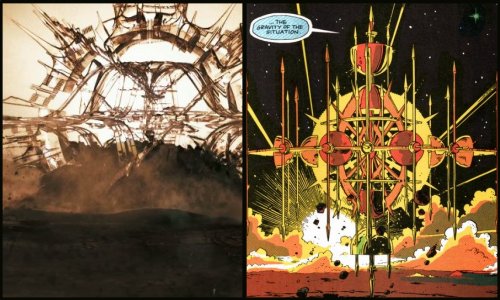 And we end with Dr Manhattan's Martian Domed Pleasure Palace. Or something. The design is quite different from the original, but in terms of what's happening, of course they're not going to mess with one of the book's most arresting set-pieces.
So as you can see, on the visual front at least, Watchmen already gets a massive tick. But doubts still linger over the abilities of Snyder and all concerned - or, indeed, the abilities of anyone - to take the thematic heart and countless nuances of Moore's sprawling masterpiece and effectively communicate most of them in the confines of a single film. Will it just end up being a superficially faithful but ultimately soulless action film about some washed-up heroes? We'll have to wait until next year to find out - but when you consider that in years past we might have ended up with Arnie as Dr Manhattan, or an opening sequence featuring a team called "The Watchmen" failing to stop terrorists blowing up the Statue of Liberty, we can at least be thankful that Snyder's effort has passed the first test...