Respectable
Nowadays, there seems to be a lot of kudos attached with being 'edgy' in comedy, and the BBC go out of their way to advertise series that are allegedly pushing back barriers. However, a series that really did try something new was shown on Five in 2006 with very little fanfare; Respectable, set in a suburban brothel and following the relationship that develops between a married man in his thirties and one of the prostitutes, Hayley, written by Harry Thompson, Shaun Pye and Alan Connor. It's a real shame that Five were so quiet about this show, because prostitution is one of the few subjects that sitcom hasn't often touched upon.
Naturally, as it involves intimate relations between humans, prostitution is a controversial subject, and, as with Porridge, the programme has been accused by some as portraying a sanitised image of its subject. The problem with this accusation is that you can accuse almost any sitcom of being unrealistic. After all, Father Ted is scarcely an accurate portrayal of the priesthood, and it is interesting that it has never been expected to be. For some women's groups, the benign portrayal of prostitution in Respectable is dangerous, hiding the murkier reality of a difficult and often dangerous profession, but I find this position untenable. As mentioned above, sitcoms are not there to present a realistic picture of the subject, as even sitcoms lauded for their naturalistic acting present a more extreme version of reality. The assumption that viewers will come away with an unrealistic idea of the subject of the sitcom is somewhat insulting, seeing as viewers of Porridge are unlikely to believe that prison is full of lags sitting around telling each other to "Naff off". Some members of the public may well be under the impression that prison is a soft option, but they're more likely to have formed that opinion under the influence of too many tabloid newspapers, rather than overexposure to Fletcher and co.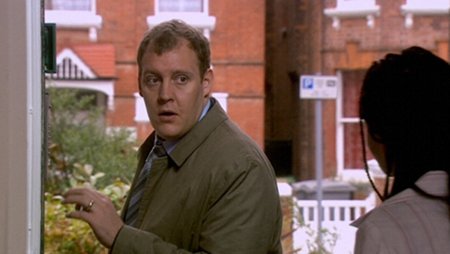 Michael, plucking up the courage.
Respectable certainly does portray a softer image of prostitution, with the girls under the brothel's madam, Maureen, being there under their own volition, and not having any nasty heroin addictions and the like. However, what's actually wrong with that? There are countless programmes out there showing the seedy side of sucking strangers off for money, and the idea that all prostitutes are in the business by force hides the fact that there are prostitutes who work for themselves and earn a great deal of money. A simplified view of this issue doesn't benefit anyone, seeing as it's called 'The oldest profession' for a damn good reason. The human sexual impulse will always be there, and, for many complex reasons, prostitution will always accompany it.
Regardless of the politics, though, there's another reason why Respectable was such a breath of fresh air (ahem). It's funny. Naturally, the humour is fairly broad, with knob jokes being inevitable, but there's nothing wrong with that, especially with a very strong sense of wit underpinning the whole thing. The programme benefits from very strong characterisation, with the lead character, Michael, being a depressed and bullied husband in his thirties, coming to terms with his career in financial services and trying to get his up-tight wife, Pippa, to re-live the fun times in their marriage. Pippa, however, is more interested in spending time with their boring friends, Mary and Josh, and doing up their house. They are assisted in their home improvements by their builder, Barry, who introduces Michael to their local brothel, Debonnaire. After some bumbling about, Michael starts to have regular appointments with Hayley, an extremely pretty and good-natured member of the team, who sits there and listens to Michael pouring out his troubles.
Hayley is a very interesting character, as she has more in common with the giggling wenches of Carry On Up the Khyber than with any prostitute in Band of Gold. She has an almost child-like approach to life, seemingly untroubled by her work and interpreting a good friend as someone nice who would like to sleep with her. She also has a very sweet nature, and could easily be interpreted as being completely innocent. In fact, Michael makes this mistake, taking Hayley out to dinner to an expensive restaurant in an almost parentalistic gesture, only to find out that Hayley and the rest of the team are regulars, and pay for their food in the best way they know how. The nonchalant way in which Hayley washes out her mouth with Lilt is beautiful to behold.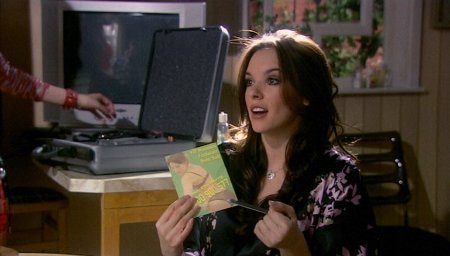 Hayley. Awwwwww.
Her employer, Maureen, is more of a traditional portrayal of such women. She's getting on in age, but more than makes up for it in experience, something Barry praises her for, and has a handy stock of phrases for when the script needs that extra special something, such as "No cash, no gash". As she likes to remind her girls, she built her business up from scratch: "When I were your age, I were bent over t'bins in't back alley behind t'fish shop 15 times a night. After a couple of years o'that, I thought 'I should get paid for this...'", and is game for anything, as long as she's paid well. Kate is a more positive picture of the profession; a bright girl whose hand jobs are paying off her student loan. Although she's more peripheral to the plot, she gets dumped by her boyfriend when he finds out about her part-time job, and is painfully aware of how prostitution could adversely affect her career aspriations. Although she's earned enough to pay off her debts, something keeps leading her back to the brothel, which disturbs her.
In contrast to Kate and Hayley, Yelena isn't a good example of a human being, let alone a prostitute. A proud daughter of Serbia, she makes enough dodgy remarks to hint that she's a war criminal on the run, and is only interested in men for money; a handy attitude to have in her job. It is her proud boast that she was regarded as the most beautiful woman in Yugoslavia, even before ethnic cleansing. She is vicious in bed as well, and is perhaps the only woman in the house who can terrify the adventurous Barry. She's not fond of Albanians, and has a bizarre fixtation with the perfectly-figured Kate being fat. Fantastically played by Barunka O'Shaughnessy, she has the privilege of delivering some beautifully tasteless jokes, such as:
"Knock knock.
Who is there?
It is Albanian.
Fuck off."
As you've probably worked out, Yelena is there to deliver the more wicked humour in the show, and even manages to look surly at her wedding to Barry, hastily arranged to get the Home Office off her back when they find her work permit has expired. A year or so ago.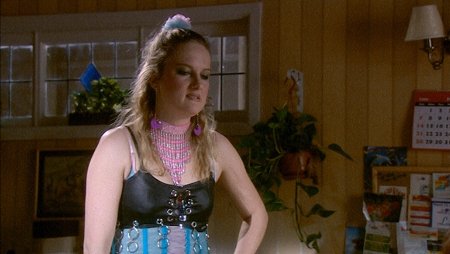 Yelena, ace war criminal.
Michael, although so sympathetic that you want to reach through the screen to hug him on occasion, does show a very naive nature, getting angry when Barry refers to being fellated by Hayley, insulting her lack of intelligence. Although Barry is blunt to an extreme level, and is the comic foil to Michael's sexual repression by trying everything once, he is also very honest, showing up Michael's slightly old-fashioned ideas about women. Because Hayley is so pretty and pleasant, Michael is unwilling to believe that she does what she does for a living, and, even worse, seems keen to continue it as a career. Hayley, although apparently unaware of the serious position she is in, does acknowledge what she does for a living, and is, in this respect, a lot more mature than Michael. However, Hayley does get into trouble in the series, when her adored father is released from prison. He immediately re-pays his daughter's loyalty by forcing her to work for him, pocketing the outrageous sums that he extracts from her clients with menaces. Michael uses the visit of a Japanese client to see her, walking unwittingly into a rather dodgy situation. He pays the money rather than endure a beating, but is smart enough to leave the client to cavort with the other prostitutes, and pays for Hayley's return to their town, where she thanks him and tells him her real name; Anne. Michael returns to his wife, and it is left unclear as to whether Hayley and Michael will see each other again.
Respectable manages to handle a complex and sensitive subject with great wit and feeling, layering the cock jokes with touching explorations of human emotion and questioning the taboos around sex work in British society. I would argue that with six very funny and warm episodes, Respectable has done more for the cause of sex workers than all the pressure groups in this country, because it refuses to deal in down-trodden stereotypes, giving the many women in prostitution in this country the respect they deserve.
Sadly, it didn't get its deserved second series, but happily, it's out on DVD.

About this entry
By Tanya Jones
Posted on Wednesday, May 06 2009 @ 10:15 pm