The Young Lady and The Old Girl
The casting of Scottish actor Karen Gillan as the full time companion for next year's fifth series of Doctor Who has caused the expected kerfuffle in the media, with even casual fans indulging in a moment of speculation as to her unnamed character. At NTS towers, however, we have simple tastes. We like to focus on less visionary questions. And after viewing the publicity shots issued by the BBC, we're more preoccupied by matters such as "Does it look like we've got a new TARDIS exterior for the next series?".
Analysis after the jump.
New and Old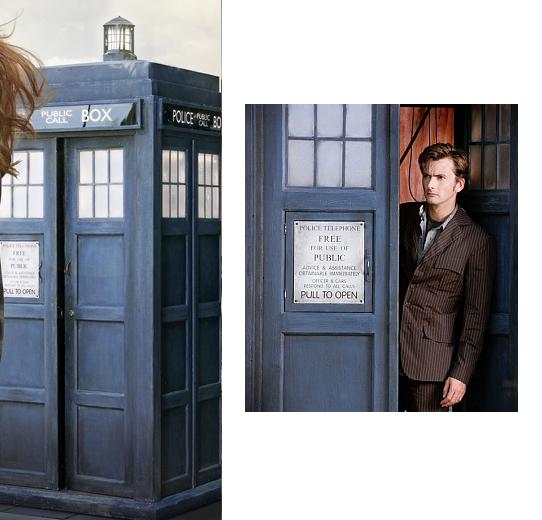 The version of the ship visible over Gillan's shoulder does indeed have a couple of differences, and brings to mind an observation by Steven Moffat as to the 2005 model. The new showrunner has previously gone on record as agreeing with those fans that felt that the windows weren't quite right in the new series' version of the ship. Comparing to earlier photos, the windows seem to have been smartened up somewhat, with some weathering removed. Interestingly, the bulk of the police box seems more battered, suggesting that the new production team want an even more aged look generally. The other thing to note is the 'Police Public Call Box' sign, which is shinier than we've seen it in a very long time.
While all of these details could have been photoshopped, the fact that the TARDIS door is left ajar, with neither the interior pasted in or the white light that's sometimes used, suggests a subtle attempt to flag up the craft to fans- we've never seen it like this in previous publicity photographs. At the moment it looks like we've got a new build from the 2005 design, with a number of details subtly tweaked…