Lab Rats DVD!
Well, I was hoping for one, and here we go - Lab Rats is being released on DVD on the 27th July. Hooray!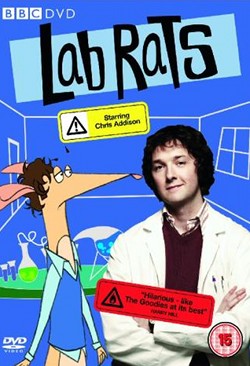 A lovely cover, too - although as a fan of the series, even I would query whether a comparison to The Goodies is likely to do anything but disappoint people. (Mind you, most comedy ever made comes off badly compared to The Goodies.) As for extras, nothing's passed through the BBFC; I'm hoping there's at least some commentaries on there, as I'm dying to find out a bit more about the production of the series, but I have a nasty feeling this might be a stick-it-out-with-as-little-effort-as-possible jobby. Which would be a huge shame, but then at least the show will be out there for people to reappraise. (If only the unbroadcast pilot is stuck on there... but I think we'll be disappointed with that, too.)
I admit to feeling rather protective of the show; it had some huge flaws, but also some fantastic moments, and for my money was rather more successful than the first series of the Perrin revival. See our reviews for more details; it might not be for everyone, but I thought it showed huge potential, and entirely undeserving of the reception it got. With a few tweaks, a second series could have been glorious, and the fact it isn't happening HURTS, DAMMIT.