The End of Time?
Lots and lots has been going on in the world of Doctor Who recently, and after the Matt Smith based excitement of recent weeks we've been brought back into the present thanks to that annual collection of whooping imbeciles, Comic-Con.
(Some of the below could be considered to be mild spoilers, but it's all stuff released through official channels, so I wouldn't worry too much.)
The Doctor shitting himself, there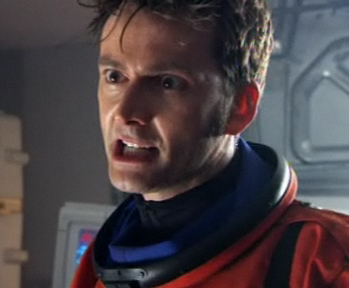 First up, you can catch the whole of Sunday's panel with RTD, Tennant and co. here, here, here and here. See if you can get past part 1 without wanting to throttle every single person in the audience with a rusty wire.
Anyway, the two big things to come from the event are a new trailer for Waters of Mars and, even better, a teaser for the Christmas Finale (which may or may not be called The End of Time.) The first can be found on the BBC site, and it's looking jolly good. It's a shame that my anticipation for the second special has been dampened a little by the astronomical shitness of Planet of the Dead and most of the current hype being about Tennant's last two episodes and Smith's first, but now I'm firmly looking forward to the Ford/Davies penned special. The trailer hints at some significant foreshadowing for the finale (unlike PotD's pathetic attempt) plus it looks genuinely interesting and scary, if a little similar in style to The Impossible Planet and *spits* 42.
Lastly, there's a recording of the 'End of Time' teaser trailer, in very poor quality but… well, it's enough to have me foaming at the mouth with slippery anticipation. It seems to be designed as a way to officially confirm the return of a certain (brilliant) character, and the voice over gives us an introduction to the as yet unknown character played by Timothy Dalton. Oh, and Bernard Cribbins. Christmas is going to be quite good, all things considered.