Booktext, March 07--One Flew Over the Cuckoo's Nest

March 2007
Spotlight:
One Flew Over the Cuckoo's Nest
Author:
Ken Kesey
Year:
1962
Length:
250 pages (appx.)
Publisher:
Viking Press
---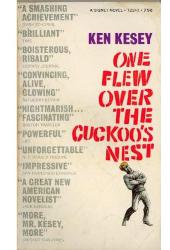 If we have to start somewhere, we might as well start with one of the best. Kesey's
One Flew Over the Cuckoo's Nest
is, simply, a masterpiece. It's one of those very rare books that has just as much profound meaning on its surface as it does at its depths. Whether you decide, as a reader, to dig deep or only to read straight through,
One Flew Over the Cuckoo's Nest
delivers a story that will haunt you for a lifetime.
Cuckoo's Nest is the story of Randle P. McMurphy, a convict who feigns mental illness so that he can spend the rest of his prison sentence in the comparative calmness of a mental-health facility. But what begins as a very selfish gesture becomes significantly more benevolent as he realizes the disrespect with which his fellow patients are being treated. McMurphy takes it upon himself to re-establish the patients as human beings in their own right--an imposing enough goal on its own that is made all but impossible by the cold-hearted matriarch of the ward, Nurse Ratched.
The story itself is a profoundly affecting parable of self-respect and individuality, but this moralistic spin does nothing to dull the impact of the characters themselves...none of whom are made to seem like mechanisms for the didactic purpose of plot. They all have individual personalities are they are all helpless in very distinctive ways. McMurphy's clash with Nurse Ratched never comes across as fable; it's always a very real struggle for the rights of very real human beings, and it isn't possible to read the unfolding drama without investing as much of yourself in the outcome as the other patients do.
In fact, it is through one of the other patients that we view all of the action: McMurphy's roommate, Chief Bromden. Bromden is a hulking Native American who is considered deaf and dumb, though he is neither--he's just been terrified into silence by the world (and ward) around him. He has, owing to his status as one of the most genuinely sick patients on the ward, more riding on McMurphy's success than any of the others...but he also sees most clearly the severe physical and emotional toll that it's taking on their hero.
Throughout the book the struggle for the rights of the men changes hands back and forth from McMurphy to Nurse Ratched, and it becomes a self-righteous challenge for each of them not to back down. Success isn't measured by who's right or wrong, but by who stands tall and who flinches. The unfortunate logic of this situation means that there is no runner-up position; one can triumph only through the destruction of the other. Kesey leads us bravely toward and into the only rational conclusion the book can possibly have, a profound and gut-wrenching tragedy that we've felt brewing all along.
It's exactly the sort of brave ending that most popular writers--perhaps out of a misguided sense of "fairness"--tend to shy away from. Think Golding's infamous copout at the end of Lord of the Flies. There is no last-second rescue in One Flew Over the Cuckoo's Nest, no authorial promise that everything works out after all. Kesey is interested in entertaining his audience, but is also, clearly, interested in doing it honestly.
Why Kesey succeeds where lesser authors would fail is because he paints his characters believably. While McMurphy may well be the hero and Nurse Ratched may well be the villain, we are never led to believe that McMurphy is perfect. He is, after all, a criminal (statutory rape being among his many offenses), and he is seen taking advantage of the patients' trust many times throughout the book. Likewise, Nurse Ratched clearly does care for the well-being of her charges...it's her unwavering conviction that only she knows best that makes her dangerous, as she will gladly run a patient into the ground following someone else's methods just to prove that they don't work as well as hers.
One Flew Over the Cuckoo's Nest is an important book for anyone interested in either reading or writing; it's one of the few books whose plot is just as rewarding as its theme. It's courageous and it's dangerous, it's hilarious and it's harrowing. It's a parable for modern times that both celebrates and condemns what we've become as social beings.
Oh, I doubt I'll be mentioning theatrical adaptations too often in this column, but it is probably important for me to add that One Flew Over the Cuckoo's Nest became probably the most satisfying film of anything adapted directly from an English novel, by far. It's also quite different, which might be why it manages to work just as well in a thoroughly separate medium.