Philip K. Dick - The Man in the High Castle
Title The Man in the High Castle
Author Philip K. Dick
First Publication Date 1962
Publisher Putnam
ISBN 0-244-15180-6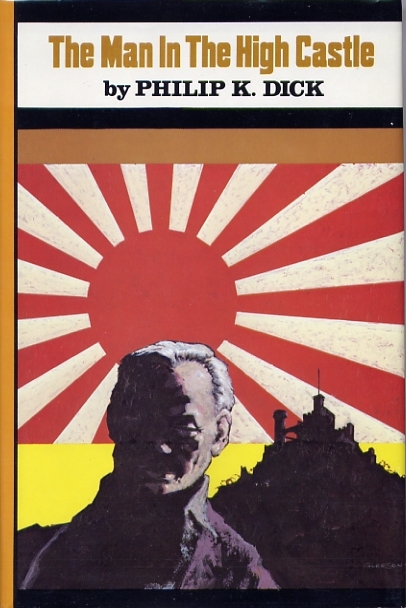 Philip K. Dick was a very strange person, perhaps the strangest of all science fiction authors, and science fiction authors are a strange bunch. Take, for example, Kurt Vonnegut's fictional author surrogate, Kilgore Trout. Philip Jose Farmer wrote his 1974 novel Venus on the Half-Shell under the nom-de-plume "Kilgore Trout." Farmer disguised himself for the jacket sleeve by wearing a false beard and a Confederate hat.
Dick was also a very troubled individual, and quite a few authors (science fiction or no) have or had a history of emotional problems. Alice Sheldon, who wrote SF under the name James Tiptree, Jr., was emotionally troubled her entire life, and eventually took both her own life and the life of her husband. Dick was psychologically afflicted with various and numerous phobias and drug-induced maladies throughout his life, at times to the point that one wonders how he was able to function in our social environment. From 1944 to 1946 he underwent intensive psychiatric treatment for fears including agoraphobia, the fear of experiencing a difficult or embarrassing situation with no means of escape. Agoraphobia is socially crippling, and the effects of that phobia were felt throughout Dick's life and work.
Dick "received" - believing his mind had been invaded by a transcendental entity – a series of visions which he referred as "two-three-seventy-four," which stood for February—March 1974. In various interviews, he described the initial visions as "laser beams and geometric patterns." When the visions became more intense, he would occasionally see pictures of Jesus of Nazareth and of ancient Rome, which tied into his belief that he led a double life – one as "Philip K. Dick," himself, and another as "Thomas" a persecuted Christian in Rome in 1st Century A.D. Dick truly believed that he had been contacted, or "chosen," by a god-entity, which he would refer to by several names, the most common being "Zebra," "God" and "VALIS," an acronym which stood for Vast Active Living Intelligence System.
He was also an extremely paranoid person, and wondered occasionally if he suffered from schizophrenia. He imagined that the KGB and the FBI were plotting against him. His house was broken into at one point, and several documents were stolen. Dick claimed that the KGB and FBI were both responsible, although he later came to suspect that he might have committed the burglary against himself, and then forgotten he had done so.
Which brings us—sort of—to the literary works of Philip K. Dick.
Much of his work dealt with the nature of identity (what does it mean to be human?) and has main characters/protagonists who suffer from mental disorders, either paranoia or drug-induced schizophrenia. Authors write about what they know, whether or not they consciously realize it, and Dick writes about what he knows. He writes about ordinary people in extraordinary circumstances.
The Man in the High Castle is one of the first books to make the sub-genre of alternate history a respected art form, at least in the science fiction genre. (The continual dismissal of science fiction as an art form is an entirely separate subject, for a much longer essay than this.) The novel, perhaps somewhat unusually for alternate history, takes place several decades after its point of divergence. In Dick's vision of reality, President Roosevelt was assassinated in 1933, which led to a string of weak American presidents, which in turn helped the Axis Powers gain a better foothold and, ultimately, allowed them to defeat the Allied Powers in the Second World War. When Dick introduces us to his reality, things have already more or less settled back into a pattern: The United States has been chopped up into several different sections, with the majority of the book's action taking place in Japanese-occupied territory.
Many alternate history novels worry about the main players in history. Norman Spinrad's 1972 novel The Iron Dream posits that Adolf Hitler, in some hereto-unknown alternate history, was a fantasy novelist. Dick's approach is different—he concerns himself with the people who will never have a chance to walk the halls of power, the people who "live lives of quiet desperation," as Thoreau said. In 1962 this approach was almost unheard of. Science fiction was about the importance of man or the vastness of the Universe or about important people in history, people who will change the world for good or ill; who wants to read about people who don't make a difference?
The novel The Man in the High Castle is far more subtle in its approach to questioning the nature of reality than many other stories and novels. Instead of giving us a definite reason to doubt the validity of the narrating characters, Dick places us in an obviously-fictional world and expects us to keep up as he follows these characters through their daily lives. As the book progresses, we begin to get bits and pieces of this world—and we begin to wonder just how real it is. At one point, Robert Childan is accused of selling historical forgeries instead of historical antiques. Childan attempts to discover who has sent him fake antiques, but is unable to do so—even the character that manufactures them is unable to tell without knowing which has more "historicity."
Compare that idea to when Juliana Frink finally gets to Hawthorne Abendsen's house and they consult the I Ching about the reality of The Grasshopper Lies Heavy. (The Grasshopper Lies Heavy is a fictional alternate history novel that most of the main characters of The Man in the High Castle are reading.) If the reader is paying attention, they will notice that The Grasshopper Lies Heavy is not our "true" reality, either—it is just another possibility, another falsity, another fiction, and we are left with nothing to prove that our own reality is any more correct than Frink's and Abendsen's or that reality depicted in The Grasshopper Lies Heavy. ("Curiouser and curiouser," said Alice.) Dick is not giving us a story for us to affirm our place in the cosmos—he is not saying that we are God's special children. He is saying that it is all just a guess, all of it, and if anybody thinks they have any answers they're deluding themselves.
Even the culture they find themselves in—some strange conglomeration of Japanese and American—rings false to the characters, and to the readers:
You cook the native foods to perfection, Robert Childan thought. What they say is true: your powers of imitation are immense. Apple pie, Coca-Cola, stroll after the movie, Glenn Miller...you could paste together out of tin and rice paper a complete artificial America. Rice-paper Mom in the kitchen, rice-paper Dad reading the newspaper. Rice-paper pup at his feet. Everything.
The book itself is written in unadorned prose. Dick is known for a certain type of style—particularly for creating a sense of paranoia in the reader—but he is not all that well-known as a stylist. Some authors make their reputation based primarily on style. (Some authors are best-known for nothing but their style.) People like Harlan Ellison, Samuel R. Delany, Gardner Dozois, Kelly Link, Howard Waldrop, Octavia E. Butler, and—perhaps the best stylist and novelist currently in business—Thomas Pynchon are all known for their unique, unusual and inimitable style. But when it comes to defining style, we suddenly find ourselves "galloping up Diarrhea Drive without a saddle," as Kryten once memorably said. Take any two of those authors—let's say Waldrop and Delany, for this experiment—and then examine their individual styles. Study a few of their stories and then compare the two. What are the similarities? What are the differences? You'll soon find that the differences greatly outweigh the similarities. (Waldrop, like Theodore Sturgeon and Robert Silverberg, is renowned for being a true literary chameleon, capable of picking the best voice, tone and character for each individual story; Delany is extremely good at creating future shock, and uses his prose and style to great effect at disorientating the reader.) In fact, maybe the only real similarity is that there is a certain quality about the prose, that utilizes what Sturgeon described as "prose rhythm"—that unstoppable beat of a well-written sentence, paragraph or story that doesn't allow the reader to stop reading.
None of this is meant to belittle the contributions of Dick as a stylist. His style is bare, but not absent. His sentences are short and to-the-point, but they are rich in meaning. Characters are developed—and well developed—in a surprisingly short space, and are continually developed throughout the novel. What Dick's prose can be said to lack—if it can be said to lack anything—is pyrotechnics. Damon Knight once wrote about Alfred Bester (another famous SF stylist), "Dazzlement and enchantment are [his] methods. His stories never stand still a moment; they're forever titling into motion, veering, doubling back. . . . Pyrotechnic as his performance is, it nearly always seems to end up somewhere." But The Man in the High Castle is a story about the unknowns, people whose lives are ordinary, whose ambitions are selfish and meaningless. Does the story really need pyrotechnics?
Dick realizes that the answer is no. Anything that distracts from his questions about reality is discarded, cast aside. He concentrates, instead, on his small-scale story of small-minded people, people unable to think beyond their social norms, unable to grasp the obvious, even by the end—neither their reality nor the reality presented in The Grasshopper Lies Heavy is the true reality.
But, Dick says, what if they're not the only ones? What if our reality is just as unreal as that of Frink and Tagomi and Childan? What if...?
* * *
"Any one who has common sense will remember that the bewilderments of the eyes are of two kinds, and arise from two causes, either from coming out of the light or from going into the light, which is true of the mind's eye, quite as much as of the bodily eye; and he who remembers this when he sees any one whose vision is perplexed and weak, will not be too ready to laugh; he will first ask whether that soul of man has come out of the brighter life, and is unable to see because unaccustomed to the dark, or having turned from darkness to the day is dazzled by excess of light. And he will count the one happy in his condition and state of being, and he will pity the other; or, if he have a mind to laugh at the soul which comes from below into the light, there will be more reason in this than in the laugh which greets him who returns from above out of the light into the den."

- Plato, The Republic