Toto The Hero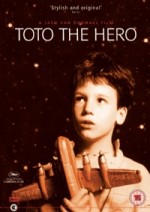 Toto The Hero is a low budget Belgian film from the early 1990s, which garnered some critical praise at the time, was screened once or twice on Channel 4, and subsequently faded into obscurity, due to the much-hyped director's failure to match the quality with his second feature (more of that later) or to do anything at all after that. It's a film that I found incomparably moving and profound when I first saw it, and one that has revealed much about itself on subsequent viewings the older I get. This isn't to me an interesting, quirky foreign film that should have been seen by more people - this is the genuine, cast-iron greatest film ever made, and it makes me bilious with rage that it is not recognised as such. I've always rattled on about it, forced the video into peoples hands, and watched a small army of converts form. And as it has recently been released on DVD, I'll use my first column on NTS to champion it.
Toto The Hero begins with Thomas, a young boy who believes he has been switched at birth with neighbour Alfred after a hospital fire. The suspicious Alfred, content with his bigger house and richer family, forbids Thomas to reveal this information, sparking a chain of events that will haunt both men their entire lives. I'll refrain from divulging any more plot details as in the age of the internet and spoilers it's rare to get a chance to see a film without having had the ending spoilt for you except in the case of someone recommending 15 year old Belgian films, and the emotional impact of the film when viewed without an inkling as to what will go on is huge. Save to say that it eloquently speaks of love, loss, friendship, rivalry, envy, compassion, innocence, coincidence, longing, fantasy and memory in an epic, human narrative that still clocks in at an arse-friendly 90-odd minutes.
The new documentaries on the DVD are wonderful - catching up with the child actors (one of whom - Sandrine Blancke, google image search fans - may be the most beautiful woman on the planet now she's not 10 years old) and reviewing the film with them, and providing in depth access to the complex working processes of Jaco Van Dormael, who provides many surprises about the film. For example, he speaks of the problem of the audience being able to fully identify with the a character that is played by a number of different actors, and reveals how the Michel Bouquet who plays the elder Toto also provides the dubbed speaking voice for the middle aged Toto, played by Jo de Backer. This is seamlessly done, and does create a subconscious association which makes the transition seamlessly believable. Such attention to detail in no way draws attention to itself in the film, but it is fascinating to see the various subtle ways that Van Dormael coaxes or manipulates the viewer through these kind of techniques, and also wonderful to see them explored in such depth considering this is a fairly low profile release. A seperate documentary entitled Architect Of An Unfinished Dream reveals how on the films timeline, the sections with the elder Toto were supposed to take place in a dystopian, Blade Runner-style future which was largely excised for budget constraints but even here the attention to detail and depth of research puts most Sci-Fi blockbusters to shame.
The characters fixation with the past and detachment from the present is recognised visually in their modes of dress and choice of transport etc marking them out, and the influence of their childhood on these aspects of them really bridges the gap between the different periods of the film, as does the poignant recurrence of locations. The waves of emotion that greet a return to say, a holiday destination from childhood that remains unchanged, and how such an experience can highlight changes in yourself, is one key motif of the film.
At this point I'd only been able to show it to a couple of schoolfriends who berated me for "just liking it to seem clever" because they didn't really get it. My attempts to dredge it up from the depths of obscurity were proving futile as I'd lent my copy to one unreliable character who didn't return it, and it was practically impossible to get hold of another copy. By posting stilted French on various messageboards I finally managed to obtain a copy of the soundtrack (composed by the directors Brother, a reknown Belgian jazz guitarist) as a kindly Belgian rented the long deleted CD from their library and sent me a copy, and picked up the script from a second hand bookshop in Canada via Amazon. Each item or brief online mention of the film was like water to a dying man, I was that obsessed with the film, eventually picking up a second hand PAL video of it that I couldn't even play online for a ridiculous price just so I could hold it and remind myself that it existed. My obsession with this film was truly terrifying, much like the fact that it's four in the morning and the lounge door just opened on its own. I now have to finish this article tonight, because I'm too scared to get off the couch.
Some time after this Jaco Van Dormaels second feature film The Eighth Day was screened on Channel 4. Much as I wanted to adore this film, I could barely watch it. Towards the end I was beginning to wonder if it was simply the burden of my own expectations, but I think the bit with the clown dwarves laughing and singing and buying candyfloss or whatever the bloody hell they were doing would stretch anyones patience. It's the story of a middle aged businessman who is a bit of a shit, but befriends a Downs Syndrome sufferer called George who teaches him to see the world with a childlike beauty and win back his family. It's notable for the performance of the actor playing George, a genuine sufferer of Downs Syndrome who gives a stunning performance. There's one unbearably sad scene where he gives a waitress a present and she seems to be enjoying his affections until she takes off his sunglasses and notices Georges disability. Sensing her shock and revulsion, he starts crying and pounding the ground, which is pretty much what I did too. But the rest of it is just utter, cloying, patronising, sentimental tosh. Overlong, stylistically overwrought, and with none of the assurance or panache that made Toto so wonderful. And in the ending, the Downs chap kills himself to be at one with a ladybird or something, it's stupid. I hate it.
Being unable to watch Toto The Hero for such a long time enabled me to come to the DVD with fresh eyes, and unsurprisingly for a film about a life, more aspects of it become resonant the more experience you accrue. I intend to watch it once a year until I die, and possibly have it screened at my funeral, and once a year around my grave until nobody can be arsed anymore. Despite the unlikely and fantastical narrative, it's a story that connects with the whole array of basic human experiences, and despite telling the tale of a tragic life, finally leaves you with a message of hope and joy.
Toto The Hero is available here for £14.99.
About this entry
Posted on Thursday, August 03 2006 @ 2:32 pm
Categorised in Film