Ignorance is bliss? [now with added footnote!]
Anime. You've probably heard of it, but you might not have paid any attention to it. Ever wondered why?
Disclaimer: The following is probably very biased and not well thought out. But don't let that stop you reading it!
For me, my earliest exposure to what I recognised as anime was when the Pokémon craze hit while I was in high school. Pokémon appeared to be a series of cheap low-budget, low-quality cartoons accompanied by computer games and trading cards, all designed to remove money from the wallets of parents. The very catchphrase "Gotta catch 'em all" flew in the face of the Gameboy games, where each version of the game blatently didn't include all the available Pokémon, thus to catch them all you had to battle with friends or buy two copies of the game. Needless to say I wasn't impressed with the influx of cheap anime such as Pokémon, Digimon, etc. This left me with the impression that all anime would be of a similar content and quality, making it wholly inferior to Western cartoons. This and the low exposure that anime is given in the West meant that for a long time I didn't pay any attention to it. Later I would also discover hentai, and come to the conclusion that most anime is either cheap kids cartoons or an odd form of porn. Or both. Neither of which particularly appeal to me or my family.
That is, until a few months ago when FilmFour became free. "At last, the chance of something decent on TV" I thought. Unfortunately most of the films on offer appeared to be the usual recycled cliche, and thus of no interest to me. There was one slot that stood out from the others - the Stuido Ghibli season - but my displeasure with all anime I'd previously seen meant that I ignored it until I had a chance encounter with one of the films.
During one afternoon of boredom I went channel hopping through the usual mix of shit on TV when I came across the start of the English dub of Kiki's Delivery Service on FilmFour. "Hmm, this looks cute" I thought. The synopsis said it was a heartwarming tale, and from what I saw in the first few minutes, that was pretty accurate. A simple, no-nonsense film. So I sat and watched.
This might surprise the two people who are reading this that know me, because I'm not usually one to go for cute. I commit assorted crimes in GTA, perform pre-meditated murder in Hitman, enjoy dark sci-fi, and listen almost exclusively to death metal and variants. When you look at some of the other films that were shown during the Studio Ghibli season, you'd think that Kiki's Delivery Service would have been one of the ones I'd be least likely to watch. Yet I was watching, and enjoying, something which at first glance would appear to be an ordinary children's cartoon. Once the film had finished I'd seen enough to know that I'd be interested in many, if not all, of the other films in the Studio Gihbli season.
So, what exactly is it about the films?
One of the things I noticed straight away was the animation style and quality. The backgrounds were incredibly detailed, moreso than your average animated Disney film. The characters, although not as detailed as the background, were realistic in appearance, unlike the manga-like exaggerated characters and expressions in your average Pokemon episode. The animation was smooth, and the voice acting was good. It was clear that a lot of time and effort had gone into the production, and it had paid off.

Disney's
Aladdin
(
image
) and Ghibli's
Porco Rosso
(
image
).
Note how the background to the Aladdin scene is deliberately fuzzy and lacks detail. This could be because they're trying to imitate the focus of a camera, or because they're trying to reduce the complexity of their scenes - or both. In fact, I've found it hard to find any screengrab from a Disney film that doesn't fuzz out the backgrounds.
However if you look at the screengrab from Porco Rosso, you can see that there is a great amount of detail on the peninsula stretching into the distance, even though it is far below the plane that's the focal point of the scene. This level of detail on far-away objects is also shared by an intense level of detail on near objects (or at least stationary ones), to the point where you can even identify the species of flowers shown in gardens.
Now for a bit of prehistory
Growing up in the 80's and early 90's, there were many great children's TV shows. But there was one show to rule them all: The Mysterious Cities of Gold. Originally a Japanese/French co-production, this epic 39-episode anime series has since been touted by many as the best children's show ever, but is still largely forgotten. Unlike most Western cartoons where each episode is a self-contained comedy, MCoG featured a continual storyline full of mystery, adventure, danger and death. Lots of death. After rediscovering and rewatching it a few weeks prior to seeing Kiki's Delivery Service, I'd been given a feeling of how mature a children's show could be. Although nowhere near the production quality of Stuido Gihbli's productions, it is still perfectly watchable today and could even teach you a lot about the history of the New World. Each episode even had a 3 minute documentary following it, to give more factual information about the history of the New World and it's conquest in the 16th century.
The full MCoG intro on YouTube. Now tell me you're not excited.
Joe's Web Hut, containing details of his FTP server where you can find all the MCoG episodes, in various formats. Joe = Your God.
Tentacles. Lots of tentacles.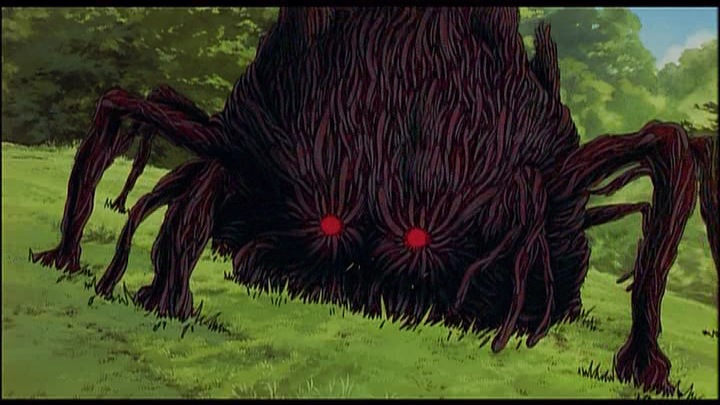 Now imagine those tentacles animated.
By hand.
That's what you're greeted with at the start of Princess Mononoke, the next Ghibli film I saw.
The synopsis was along the lines of "In 14th century Japan, Princess Mononoke brokers a peace between man, the animals, and the gods". Not exactly the most exhilarating description, and it gives no indication of the intended age range. I half expected it to be another children's tale, like Kiki's Delivery Service. I was wrong.
It was clear that this film wasn't designed solely with children in mind. In fact, children probably weren't the primary audience at all. A 12 foot tall demon covered in writhing tentacles rampaged across the screen, blighting the land around it as it moved. This film meant business.
At its core the film is a tragedy, highlighting the fragility of nature and how man's actions have shaped the world. It's a warning to the future, that we need to treat the world with respect or suffer the consequences. It's one of the best films I've ever seen. And I was left wondering why I hadn't seen it before.
Studio Gihlbi are described as the masters of Japanese animation, and after watching their films it's clear that they're more than that. They're the masters of all animation. Forget Disney, forget Pixar. The last "proper" animated Disney film I remember seeing was probably Aladdin 2 (Actually the last film was Lilo & Stitch, but I'll talk about that later). Compare the quality of the visuals to one of Studio Gihbli's films and you'll see how much better they are. CGI studios, on the other hand, are just riding on a gimmick. They use CGI to sell their films. Although you could say that they put an equal amount of effort into their visuals as Ghibli do, a CGI film's visuals are usually only impressive because of their technical nature. And for the most part the films will be comedy films aimed at children. Although there will be story, much of it may only exist to set up the jokes for the viewer. Gihbli on the other hand provide story-rich films which can contain both comedy as well as tragedy, and cover complex themes. Studio Gihbli are responsible for the three most popular films in Japan, yet until recently I had never heard of them.
Well, actually that's a lie. I remember vaguely hearing something about Spirited Away when it was released, and believe I saw a short part of it on Sky Movies once. Spirited Away was the biggest film in Japan at the time. But for whatever reason, it wasn't advertised well enough for me or my family to watch it. This could in part be blamed on its rather obtuse content when compared to other Western films, but there are also other factors at work.
Big Chinese martial arts films such as Crouching Tiger, Hidden Dragon and House of Flying Daggers are given a lot of press in the West. Yet big Japanese anime films such as those produced by Studio Gihbli are mostly ignored. When was the last time you saw an anime film on UK teresstrial TV? I can't remember ever seeing any, yet the TV companies seem to snap up martial arts as quickly as possible. I'm not saying this is favouritism at work, but there's definitely something wrong.
So, what could it be?
[warning: now entering full rant mode]
First of all, there's the stigma around cartoons. Most people would think that cartoons are for children. However the popularity of The Simpsons, South Park, etc. proves that cartoons aren't just watched by - or designed for - children.
But these are foreign cartoons. This means you'll either need an English dub, or subtitles. Subtitled films probably aren't very popular with viewers, especially cartoons. So they make English dubs wherever possible. Except that the studios that buy the rights to the English versions may feel threatened by the Japanese competition, and deliberately produce sub-standard dubs. Or they may see the films as filling a niche role, and not give them the attention they deserve. This is certainly true of some of the earlier dubs of Ghibli's work. There's also likely to be a mass of cultural references. Some of these will be completely alien to a Western audience, others are removed for the sake of Americanization. This can have a deep impact on the film. The first English dub of Nausicaä of the Valley of the Wind was ruined by Americanization. Over a quarter of the film had been cut, including most of the environmental aspect of the storyline. All to try and fit it into the format of a typical Western cartoon, and make it easier for poor little American minds to digest.
Now I'm OK with removing references to some things which people outside of Japanese culture would have absolutely no idea about. But other things are just pointless. The English subtitles for Princess Mononoke removed some cultural aspects, but the English dub went far further. Apart from the fact that our Japanese characters in ancient Japan now all have English or American accents, they've now decided to ditch the traditional Japanese beverage of sake and drink wine instead. I mean... why? What possible reason could they have to replace it with wine? The context of the reference means that even if you don't know what sake is, you can make a pretty good guess.
Apart from that, after watching the subtitled version, the voice acting for the English version seems incredibly poor. I'm no expert on Japanese, but the characteristics of the actor's voices are wildly different between the Japanese and English versions. Ashitaka is constantly too quiet, and Minnie Driver's version of Eboshi's hearty laugh is a mere giggle. And as soon as Toki opened her mouth I could tell she was being voiced by a black woman. A black woman's voice coming from a white Japanese woman's mouth? A bit out of place, I think.
When you're watching a Japanese film, set in Japan, containing Japanese characters, you'd expect them to talk with Japanese accents and talk about Japanese things. Yet the English dubs of many of Gihbli's films seem to miss this simple fact. I don't want big-name English/American actors to do the voices, I want Japanese people with Japanese accents. Anything else is just stupid.
So, you've got your English dub sorted. Unfortunately it sucks, and doesn't do very well. This means that TV companies are less likely to show or advertise it, which means even less importance is placed on the dub of the next film. You get the idea where this is heading. One poor dub leads to another, and until proper dubs start getting made (Or people learn that subtitled animations can be worth watching), anime will continue to be kept in the dark and away from mainstream TV.
As far as I know, that's basically why anime isn't shown on mainstream TV. But perhaps I should go into more detail about why it should be shown, and in effect convince you to try some if you haven't already.
So far I've only been exposed to two animes: MCoG and Studio Gihbli. If you've got a penchant for 80's children's TV, then you should probably give MCoG a go. However if you don't, I'll save myself the trouble of trying to convince you to watch it and instead go straight for Studio Gihbli.
What makes a Ghibli film?
The first thing you're likely to see are the visuals. The backgrounds are all hand drawn on animation cells and contain immense detail. Character animation, and much of the scenery animation, is done by hand. However in recent years computers have been employed to perform some of the animation, producing breathtaking effects compared to the high-poly, low-detail fully CGI scenes presented in most CGI films. Computers are typically employed whenever 3D movement is required, for example the movement of Howl's Moving Castle or the horseback (or rather elkback) scenes in Princess Mononoke. You'll know them when you see them.
Both were created with the help of computers, but it's clear which one makes for more impressive viewing.
Then there's the soundtrack. The films typically have orchestral soundtracks, which help to bring out the emotion in the scenes. Apparently the English versions (even the subtitled ones) often have more music than the Japanese originals; I don't believe this has detracted from the experience.
Then there's the characters. These are often cute or comical in appearance, for example the fuzzy Totoro or numerous Old Hags.
Then there's the storyline. Whether based an original creation or based around a book, this will cover a wide range of subjects in a no-nonsense manner. Some will have strong moral messages contained in them, for example Pom Poko. Although the storyline and constant cultural references make it one of the strangest films I've ever seen, I was still able to decipher the moral message of "Shit happens, but don't let it get you down."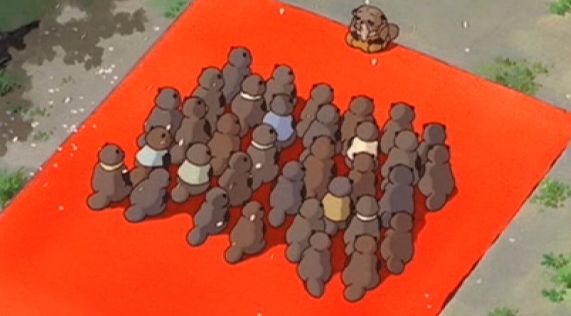 "Now then, what do you think the carpet you are all sitting on is?"
No matter the subject of the film, you're always given something to think about, whether it's the message conveyed by the story or about an aspect of Japanese culture.
The show ain't over yet
So, you've gone out and watched a Studio Ghibli film or two.
Well, that's not all that's available in the wonderful world of Anime.
I'm curently awaiting the delivery of my first Ghost in the Shell DVD, and I know that I'm going to enjoy watching every minute of it.
Oh yes, those two.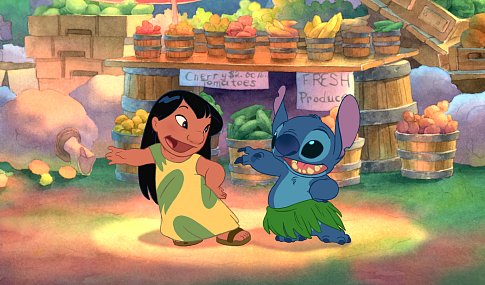 Now my memory isn't exactly great, but I remember it being a bit of a departure of animation style compared to other Disney films. In fact the large-mouthed smiles remind me of Ghibli's anime, as do the colourful watercolour backgrounds. Coincidence or conspiracy? I'll leave you to decide.
(No, really. I can't be bothered researching it enough to write a proper argument :-p)
Footnote - 4/10/06
I guess the real intention of this article wasn't to tell you how great Studio Ghibli are, or about how the west has mistreated their work. I don't mind if you love them or hate them, or have different feelings to me for why you like them or not. I just want people to open their eyes and try things which they might not have considered before, and to help others by sharing experiences. There's a whole world of cool stuff out there, just waiting for you to discover it.
About this entry
By Jeffrey Lee
Posted on Saturday, September 30 2006 @ 11:13 pm
Categorised in Film