London MCM Expo - Q & A With Simon Pegg and Nick Frost
This weekend, James and myself attended the 10th London Movies, Comics and Media Expo at the Excel Centre in Docklands. Although the initial draw was the many comicbook and action figure stands urging us to part with our hard-earned money, just a few days prior to the event, we were delighted to discover that Simon Pegg and Nick Frost would be taking part in a Q & A session as part of the show's Hot Fuzz promotional presence. Although my memories of specific details are already quickly fading, I've done my best to transcribe some of the session's more interesting points for your reading pleasure.
That's what I'm talking about.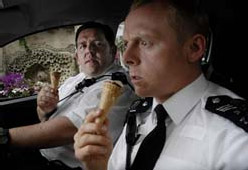 After initially joining the line for the Q & A, and subsequently waiting in it for quite some time (the queue itself was filmed, presumably an extra for Hot Fuzz's eventual DVD release?), we were eventually ushered into the makeshift auditorium where we took our seats. After yet more waiting, the large overhead screen crackled to life, and we were presented with Edgar Wright's ("Director of Zombies Party!") beaming face, who, despite not being at the show, welcomed us to the Q & A, spoke very briefly about Hot Fuzz, and then introduced Simon Pegg and Nick Frost, who came bounding onto the stage.
For the initial part of the session, Pegg and Frost were quizzed on various facets of Hot Fuzz's production by a representative from Empire magazine. The conversation eventually turned to the introduction of two new teasers. I don't want to say too much about these; I'm fairly sure they're actually taken from the movie, rather than being specially shot teaser trailers (possibly) like the two clips that were recently posted on the Working Title website. The first of these was a dialogue-driven excerpt, where Nicholas Angel (Pegg) explains to Danny Butterman (Frost) why he decided to become a police officer. Just before the scene becomes too sentimental, Butterman jams a fork in his own eye, spraying 'blood' (ketchup?) over Angel. The second clip involves an undetonated water mine, and the hilarity that ensues from kicking said undetonated water mine.
After the cheers and applause had died down, the floor was opened up for questions from the audience. The question of a third series of Spaced was soon raised, and Pegg seemed genuinely unsure himself, stating that the logistics of getting himself, Frost, Wright, as well as Stevenson, Heap and co back together seems more unlikely with each passing year. He slipped a resigned "probably not" at the end of his answer, though he acknowledged that the Spaced story needed to continue and resolve somehow, mentioning the possibility of "comics or a book or something".
Many of the other audience's questions were fairly predictable, the answers to which are rigorously documented, either on various websites or the Spaced and Shaun Of The Dead DVDs. In fact, a good proportion of the audience seemed more concerned with asking Pegg and Frost for free Hot Fuzz t-shirts than asking decent questions or even listening to what they had to say.
The inevitable "What's next for Simon Pegg and Nick Frost?" question was eventually raised by another member of the audience, and after some amount of off-mic conferring (considering whether they could even say anything at all), Simon Pegg mentioned that they had already started to throw around some ideas for a film with a "definite sci-fi bent", which would be written in the next few months and filmed next year. Progress on Scott Pilgrim (hurray!) was also mentioned on behalf of Edgar Wright, as well as Simon Pegg's other, somewhat lower key film, Big Nothing.
And that was that; some interesting scraps of information making me realise how badly I'm hurting for a third season of Spaced, and also how far away Hot Fuzz's release on February 16th seems. The sci-fi approach for the new film also sounds interesting; I really like the way that Pegg and co seem to be working their way through their favourite genres. It sounded like Edgar Wright wouldn't be taking on the directorial duties for this movie, so it'll also be interesting to see who Pegg chooses to work with, or indeed whether he'll decided to try on the director's cap for himself. At any rate, there's probably plenty there to keep the fires of speculation stoked over the cold winter months, anyway. Fried gold.
About this entry
By Josh Barton
Posted on Sunday, October 29 2006 @ 3:11 am
Categorised in Film