Futurama teaser poster surfaces
Has anyone seen this before? I came across it linked to from a message board, stashed away in somebody's Photobucket account...which means I wasn't actually able to trace its origin. But it certainly looks official to me..."read more" to see it.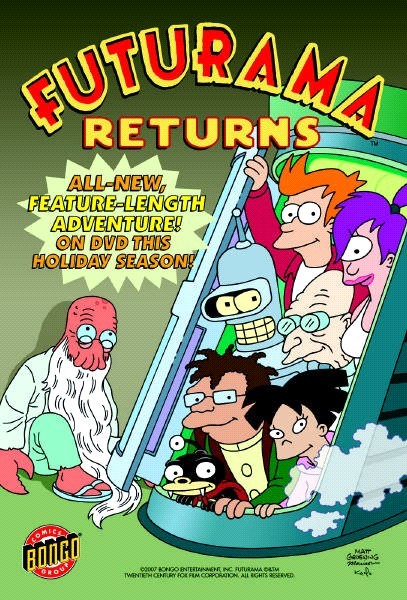 Hmmm. A bit of oddness in the coloring, but that could be down to a very poor scan…it looks official to me…
…and it looks like a confirmation of the entire principal cast returning. (Phil LaMarr was the only one I've not seen specifically confirmed—well, and Tom Kenney, if you count him—but Hermes is there in the flier so it looks like a full cast reunion after all.)
But does anything about this poster catch your eye? Two things struck me at once.
1) The Bongo logo. Bongo, I thought, just handled the comics end of Futurama and The Simpsons. Which might lead people to think that this is a flier for the comics that just happens to mention a feature film on the way. But then why is it headed FUTURAMA RETURNS? The comics haven't been on hiatus…only the television show has. Also, there is a copyright notice for the Twentieth Century Fox Film Corporation at the bottom. Hmm. Perhaps Groening himself put up some of the distribution funds through Bongo?
2) THE ELDERLY ZOIDBERG AAHHH!!!
Is it out of line to consider that this might be a plot detail? After all, it could potentially jibe with what we've already heard: a) the missing time between season four and these films will be accounted for within the film itself and b) the film takes several years after the series ended.
Well…the team being placed in suspended animation—for whatever unknown reason—would explain both of those things. So why wasn't Zoidberg frozen with them? Was it something as simple as the fact that he couldn't afford it? Did they forget him? Did they leave him intentionally behind so that he could unfreeze them after a short period but accidentally left them in for 50 years? Is nobody else creeped out by a lobster man with facial hair?
Of course there's a chance that none of what we see on the poster factors into the film at all…but with the voice-work on all four installments done and a good deal of the animation squared away—not to mention a quickly-approaching release date in December—there's bound to be a few leaking details…
…so unless this poster is a visual reference to something I can't place, I'd say it's not totally unsafe to assume it contains a hint or two about the film we're all waiting for.
About this entry
By Phil Reed
Posted on Sunday, July 22 2007 @ 9:08 pm
Categorised in Film