The Darjeeling Limited
I'm writing this while listening to The Kinks. I've never really been particularly fond of The Kinks. I've never found any of their stuff particularly captivating. Of course, the only tracks of theirs that I was ever really familiar with would be "You Really Got Me" and "Lola," the former being overly simplistic and the latter being far more interesting but ultimately ruined for me by a Star Wars-themed "Weird Al" Yankovic "cover" version.
Fast forward to The Darjeeling Limited trailer. Actually, no – stop when you get to the first time I saw Rushmore, for the seeds of Wes Anderson - The Music Man - were planted then. There were plenty of great songs in Rushmore. He used "Oh Yoko!" to great effect. The Rolling Stones - "I Am Waiting." The Who - "A Quick One While He's Away." All great. All well-placed. All improving the overall film.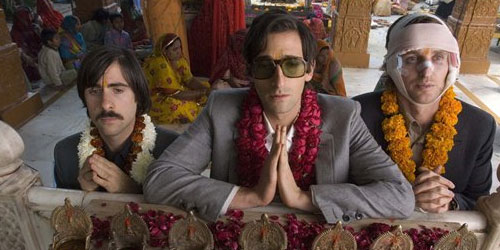 But there was one song in there that I never thought about until one Miguel Sanchez pointed it out to me the other day. Then I recalled the song, and I went back and I listened to it again. Let me set the scene: Bill Murray is throwing golf balls into a swimming pool. He's smoking. Drinking. There's a painting in which he is nearly identical to his present state – cigarette sagging from his lips, dead expression painted on his face. He climbs onto a diving board, cigarette and drink in hand, and jumps into the pool.
Without music, this scene would be effective. With music, it is devastatingly so. The Kinks take a back seat in this scene. Anderson uses a song I'd never even heard of - "Nothin' In the World Can Stop Me (Worryin' 'Bout that Girl)" - and it fits so perfectly.
He is prone to do this.
Elliott Smith's beautiful and deadly "Needle in the Hay" puts Richie Tenenbaum's suicide attempt into lyrics. The Faces' "Ooh La La" is the perfect outro for Rushmore. Perhaps Anderson's best move, musically speaking, was to have Seu Jorge sing David Bowie in Portugese.
Enter The Darjeeling Limited, for which Anderson made another interesting choice; namely, to not have Mark Mothersbaugh supply the score for the film, and instead to rely on Indian library music from older films. And it works. Very well. It establishes the tone of the film very early on, and it does so well. The film has some great music in it. There are three (three!) songs from a single album, which is unusual for Anderson. "This Time Tomorrow" plays over the opening sequence with Adrien Brody and Bill Murray; "Strangers" scores one of the saddest scenes in the film; and "Powerman" plays over another sequence with trains (this time near the end). All three songs are from Lola versus Powerman and the Moneygoround, Part One, a Kinks album which I'd honestly never even heard of before.
I do have a grievance with the films of Wes Anderson; not actually with the films themselves, but with the way they are treated by the press. Phillip Parsons in The Times said that Wes Anderson makes movies for hipster twenty-somethings. Well, I looked up "hipster" in my dictionary and it said, "Hipster (noun); a person who is unusually aware of and interested in new and unconventional patterns (as in jazz or fashion)." Aside from their being NO PROBLEM WHATSOEVER with that definition—is there really any problem at all with unconventional patterns?—there is an implication in that kind of blanket statement that Wes Anderson's films are glib and unemotional, intended for a specific kind of person rather than as artistic statements that happen to be far more unique than the average film.
Walking into a Wes Anderson film is an act of courage. You never know what you're going to get. You could end up laughing at stuff that nobody else laughs at, crying at stuff that no one else finds sad, connecting with characters that others find unappealing or downright abhorrent. There is always something to glean from his films, some aspect that can move you. If you give it a chance.
It seems that is a very big "if."
For me, The Darjeeling Limited's best aspect was the interaction of the three brothers. Perhaps this is because I grew up in a similar environment, having two brothers close to my own age. Others may have found the road trip aspect the best, or the reconciliation with their father's death, or their relationship with their estranged mother. It is an extraordinarily well-written film, and you can take many things from it.
Many reviewers tend to go on about Anderson's films dealing with the same subject, implying that this is somehow a bad thing. It is true that Anderson's films deal with similar subjects: dysfunctional families, estranged father figures, rediscovering relationships with family and friends after many years. The implication in these reviews seems to be that Anderson is to be thought of as creatively impotent as a result of the shared themes of his films, when instead he is developing an interrelated series (almost a "rock opera") of films. Every author, from Stephen King to James Joyce, deals with similar subjects throughout a career. Writing is a personal business. You express what matters to you most, and this is almost always a good thing.
The movie opens with thirteen of the most perfect moments ever crafted, in the form of the short film Hotel Chevalier, which lays the groundwork for one of the film's main characters and offers some explanation without becoming too overbearing with backstory. It features Anderson's unique use of color, sound, awkward pauses, and slow motion. It also has Natalie Portman, exposing herself in one of the most awkward scenes of the film.
Part 2 is where the main story begins. We see The Businessman (Bill Murray). He is late for a train; this naturally upsets him. He begins to run after the train when he is overtaken by Peter Whitman (Adrien Brody). The Kinks' "This Time Tomorrow" begins to play, and we are treated to some more Anderson slow-motion as the remarkably lanky Brody makes it to the train and Murray is left behind, shoulders sagging.
Most of the film is about the interaction between the three brothers: Peter, Francis and Jack. Francis has had them travel to India to "become brothers again like [they] used to." The interaction between these three very different and very similar brothers is what drives the film; to attempt to describe it would be useless, as this is a film to be experienced, not encapsulated. Suffice it to say that I found this movie to be funny. Very funny. Yet underlying the humor is a sense of sorrow; everything these brothers do shows how shallow and self-centered they are. (At one point, the three of them are "praying" to an idol. An argument ensues about Peter having stolen Francis's belt, after which Peter walks away, saying, "I'm gonna go pray at a different thing.") Yet it's not the film that has religious pretense. Francis Whitman (Owen Wilson) has aspirations to bring the family back together, and attempts to reunite himself and his brothers with their mother, who ran away many years previous. He uses religion as a mechanism to attempt to bring the family together again, even attempting to use it to physically locate their mother.
There is way too much really, really good stuff in this movie to talk about, and I feel like I've done a poor job reviewing this film. I wasn't sure what I was going to write about after seeing it; it's a powerful film, a film that deserves an audience, a film that deals with subjects that are clearly very personal to Anderson, Coppola and Schwartzman...but they've tapped into something greater. As I mentioned before, all writers deal with subjects they are subconsciously obsessed with; good writers incorporate these subjects into their work in a personal sense; great writers are able to make audiences feel the work is personal to their own lives.
The Darjeeling Limited is a very personal film to me. It deals with things that I have dealt with my entire life, and will continue to deal with. Just like with Rushmore, The Royal Tenenbaums and The Life Aquatic with Steve Zissou, Anderson has crafted a film that I want to protect and take home and gently stroke until it falls asleep.
I think I'll end there.