The Dark Knight
SPOILERS ABOUND
"Hmmm, Tumbler or gliding?" - Batman checks the traffic before another of his outings.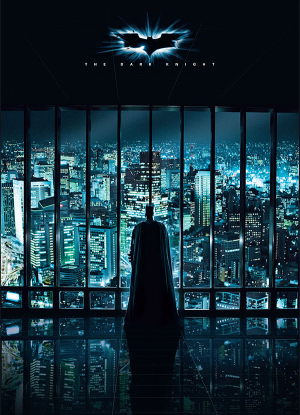 Never before in my entire life have I looked forward to a film as much as I was looking forward to The Dark Knight. This in itself isn't really remarkable as the main bulk of my tastes tend to be rooted in television. I'm far more likely to be wetting myself with joy as Benjemin Linus turns a big wooden donkey wheel to transport The Island to somewhere unknown than getting excited about the latest superhero adaptation, now with added explosions!
However, a cunning mixture of my favourite hero from childhood, a truly brilliant first film, a recent personal foray into graphic novels such as Year One, The Long Halloween and Dark Victory and the sort of pre-release hype that wouldn't fail to get coma patents all hot round the collar led me to be ridiculously excited about this film. And, with that, of course, came very high expectations.
I'll say right now that those expectations were fully met, then fully met AGAIN, and finally fully met a third time over. This film is spectacular, let's be clear on that. As expected the excellent ground work of Batman Begins is built upon here, with the more realistic and raw approach. It's definitely the best style for Batman by far, especially when we're surrounded by brightly coloured CG fests with other comics adaptations. There's nothing especially wrong with that, but Batman certainly sticks out when everything about it is so visceral and CG is relegated to creating city-scapes and background detail rather than… well, doing absolutely everything. It's amazing what difference it makes when you're looking at these stunning visuals which Nolan gives you (there's just a million and one different frames I wanted screenshots of while I was watching this – it's SUCH a brilliantly directed film) are composed of physical elements it just all seems so much more satisfying. One of the most striking image in the film is the Joker walking away from a hospital being devastated by a series of his explosions, with a massive 'EMERGENCY' sign over his head. I laughed out loud. This film takes you to dark places.
Second Opinion
I should probably start with the honest admission that I am not the type of person comic-book movies (or, I should say, movies about comic-book characters) are made for. I like my wit dry, my characterizations subtle and my action sequences...non-existent. It's just the way I was born; I think there were serious complications in the womb.
But this movie did an awful lot of things exactly right, and though my expectations might have been lower than a lot of other people's, I think it's pretty safe to say I would have been impressed no matter how much I was expecting.
Yes, there was a bit of that too-witty-to-be-anything-but-scripted banter going around, but so much of it (particularly between Bruce and Alfred) was appropriate for the type of relationships at play. And yes, these are the kinds of villains defined by costumes, scars and deformities, but only a fool at this point would say that Ledger didn't take his Joker far further than that, or that Eckhart's subtly show-stealing Harvey Dent wasn't a rich enough character from his very first scene. And, yes, there were a lot of people falling off buildings, blowing things up and slapping each other around...but, you know what? When the movie is good, the action--even the kind that might not advance the plot--is really kind of fun.
I'd by lying if I said the film blew me away--it didn't--but it did benefit tremendously from one of my favorite characters in recent cinema: our aforementioned Harvey Dent. This is the kind of film, after all, where our hero is beautiful and our villain is hideously scarred. Two-Face seems tailor-made to slip comfortably right in between these character definitions, just perfectly enough to interfere with our concept of what flanks him on either side. Yes, Two-Face existed long before this film. But has the character ever been realized--or utilized--so well?
It's the kind of film I probably wouldn't have liked on its surface. I have to thank Chris Nolan, then, for making "the surface" so unimportant here.

Arg, it's no good. I'm on my fourth paragraph and it's time to start talking about Heath Ledger's Joker. Perfect is the only word for it. All that talk from his co-stars about how Heath so completely inhabited the role and threw everything he had at it is clearly bang on the money. It's a performance that not only flawlessly and precisely communicated the script's intention for the character but also more than justifies making the character almost the whole plot. There's no real grand conspiracy to be solved in this film, just the depiction of various events in Gotham and how the Joker sweeps through and starts demolishing everything. Anyone who's caught The Wire (and, really, with all the current hype about it, there's no excuse if you haven't) might draw some parallels between The Joker and Omar Little. They both tear through their respective cities, giving no mind the established hierarchy (crime or otherwise), proving to be the most terrifying, all encompassing menaces around. They're both simultaneously shocking and an utter joy to watch, and when you see them lock horns with the characters that surround them, what you get is something mesmerizing and unpredictable. They're both characters that bring out the absolute, unabashed best (acting wise, at least) in everyone around them. The Joker's sequence of encounters while he's locked in a holding cell just show what an all encompassing and electric antagonist he is, and the scene where he's taunting the cop about the work colleagues he's killed was just punch-in-the-gut fantastic. "In a way I knew them better than you did… want to know which ones were cowards?" Brr.
Something that's equally as important as the Joker in this film is the characters that surround him. As with Begins, the mob are present for purely functional purposes. It's effective to see The Joker cross them the way he does (and was it just me, or did I spot flickers of insecurity or even fear coming from the Joker when he first gatecrashes their meeting? Understandable, I guess, seeing as this is undoubtedly his first truly big move and his testes are on the line), as we already know what a grip they have on the city, and as a result they're marginalised for now. If there is something I would put high on my Third Nolan Film wish-list is a more involved plot surrounding the Falcones, but for now Sal 'The Boss' Marone - played well by renegade Timelord The Master - does the job fine. So, we have the Joker messing with the mob, while at the same time Gotham's 'White Knight' Harvey Dent is having a crack at them from the other side. The character is seen here in a much more faithful light than the prick we saw in Batman Forever, even just for the fact we actually see Harvey as something other than the disfigured Joker wannabe as played by Tommy Lee Jones. Aaron Eckhart plays the role perfectly and, not for the first time, obvious inspiration is taken from the excellent Loeb and Sale book The Long Halloween. As in the book, we see Dent almost entirely consumed with the task of cleaning the streets of Gotham in a very public way, and as a result he's lauded as this savour of the city. However, he's a man clearly troubled with the enormity of his task (a task that gets just too big once the Joker starts fucking things over), and it this that plays a big part in his mental undoing. He has his big victory but, of course, that's also ripped to shreds by the Joker, and is topped off with the killing of Dent's fiancée, Rachel Dawes. This truly shocking joke (tricking Batman into saving Dent as a warehouse full of explosives takes care of Rachel) marks the pinnacle of The Joker's terrorising of his two greatest enemies. Nothing he does in this film fails to shock, but for the first time he does something that isn't met with grim delight from the audience.
While we're on major character's deaths, I can't help but feel a little cheated by Gordon's trick. Now, don't get me wrong, I love the character and I'm glad he's still with us but I was genuinely sucked in by his apparent offing. I convinced myself that Nolan and Goyer really are that brave, even if killing off a character before he reaches his most famous of ranks didn't truly make sense. He's back though, and I'm glad – but I would've rather the trick wasn't played in the first place, as it was the closest the film ever came to delivering a cheap shot.
One scary motherfucker.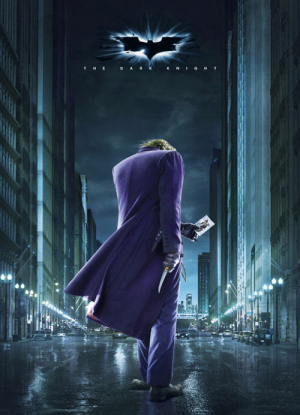 To be honest, I feel if I talk more about the movie's main plot points, I'm just going to start repeating myself, especially when it comes to Ledger. Needless to say, his final stand off with the boats was a brilliant, classic Joker setup, the conclusion of which offered one of the few rays of hope the film was willing to give out. It's quite an optimistic ending, all things told, as the mob remains roundly buggered and The Joker's soon to be locked away in Arkham, but a lot of terrible things had to happen before we got that. And, after all that, it had to end badly for someone…
… and by shitting Christ, did it end badly for Batman. Taking the rap for five murders just to preserve the hope that Harvey Dent inspired was a bold move, not least for Nolan himself. Ending the film with the main hero villainised to such a degree is most certainly the bravest thing anyone has done with the character on screen. Even the slightly disappointing marginalisation of Batman through the film is made up for here, as the character gets an excellent pay-off and arguably a much more tantalising teaser for a possible third film than the Joker card at the end of Begins. If we do get a third film, I can only imagine the brilliant things that could be done with Batman's new found fugitive status, especially since he's still got Gordon as his one and only law-side ally. The big questions will be, will we see a new actor plaything the Joker and is Two-Face still alive and well in Arkam? Yes and yes, please, even if the encounters with the new Joker are shrouded in shadows, allowing for just a vocal impression of Ledger and not a visual one, too.
So, in summary… the more I think about it the more I'm having trouble finding real, true fault with this film. It has its glitches, but nothing that's ever created will be free of glitches - it's all part of what makes them real. I find myself reading some of the less enthusiastic reviews and for the first time ever having absolutely no fucking idea where the hell they're coming from. The film is boring and too dark? I can accept people think it were too dark, maybe, but I've never had such a long film feel so perfectly weighted and exciting throughout. Batman is annoying? Is he nowt, he's utterly brilliant – growling and all. He may be overshadowed by the Joker and Harvey, but he does everything he needs to do in this film and, mark my words, his time will most certainly come again should we get a third film (and it's hard to think we wont.)
The Dark Knight was an absolute masterclass in scene setting, character building, scene demolishing and character destroying. It's hilarious, gut wrenching, gob smacking, exhilarating and features one of the most stunningly high quality collection of script, direction and performances. This film is everything.