Block to the Future: A Tetris DS Review
Tetris DS
Developer Nintendo • Platform Nintendo DS
For as long as civilisation has been recorded, man has loved to shift blocks. From the ancient monument of stonehenge, to the pyramids of egypt, block-pushing has been one the most popular passtimes. It was no surprise, then, that when Alexey Pazhitnov created Tetris in 1985, it went on to become one of the world's most popular video games and virtually spawned an entire genre of gaming. Which, a couple of decades licensing loopholes and legal wrangling, brings us to today. Tetris has seen its latest release, this week, in the form of Tetris DS, for Nintendo's latest handheld, coincidentally called the Nintendo DS.
Anyone above the age of about 16 (I dunno, really, when did the original Gameboy's stop being down with the kids?) will no doubt remember than almost every Gameboy sold came with a copy of Tetris. That game alone almost single-handedly ensured the dominance of the console, not least because it implemented the 2-player versus mode that allowed you to turn a simple single-player puzzler into a frantic battle of logic and dexterity. At the time, this was done through an arcanely constructed and precarious network of link-cables, and you all needed a copy of the game (though that wasn't unlikely.) However, it's the future now, and the NDS has wireless capabilities, and multiple units can download games off a single card for group use. I think you can see where this is going.
Marathon mode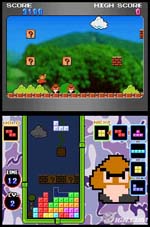 On Friday, 21st April 2006, Tetris DS hit UK shelves. I've barely stopped playing it since. As an avid tetris player for literally as long as I've been into gaming, I was incredibly excited to see a new version of the game crop up, but also slightly concerned. After all, it's Tetris, but then, it's Tetris. Is there any reason to buy a game that's so widely available already, and basically free at that? The answer, predictably, is 'of course'.
Nintendo have updated Tetris. It's that simple. It's got new features, new modes, the classic game is there, intact, and most importantly, it's more fun to play than ever. Drawing on their own back catalogue of games, Nintendo have created retro-landscapes on which you play, with Donkey Kong or Mario or Zelda sounds and screenshots peppering every aspect of the game. In single-player marathon mode, as you raise up through the levels on the bottom screen, the top screen shows Mario running through various Mario levels, with accompanying new versions of the classic themes. Pass level 10, and you're treated to even more NES classics.
The new features might upset purists, but for someone ready to use them, they can propel the gaming experience to new heights. It was initially unclear to me why they were added, but don't worry, I'll get to that. The changes are relatively unobtrusive - you get 6 preview pieces, instead of 1, a piece won't settle until you've stopped moving it, and you can hold a piece in waiting if you want to (useful for hanging onto I blocks ready for the Tetris.) Optionally, you can show ghost pieces which display where the tetromino (or tetrad) will land, and in what amounts to an utter godsend, the debate between insta-drop (the block falls to rest immediately) and fast-fall (the falling block speeds up) will be killed forever because you can use BOTH. I am in tetris-nerd heaven.
These new features undeniably change the game a little. For a start, it's made much easier. You can generally turn these features off for the classic experience, but before you do, be aware that the second effect it has on the game is to make it virtually endless. The bottleneck of the game is no longer the speed at which things happen, but your own ability - unlike almost any other version, you could conceivably play indefinitely. The increased reliance on individual skill soon makes sense, when you get involved in the crown jewel of the game - the WiFi Challenge mode.
If you've played Mario Kart DS online, you'll know how much fun it is to pan other people at a game. There's a satisfaction there that you just don't get when playing against the computer. You learn new tricks, and discover new secrets, things that might not have occurred to you in a million years. WiFi Tetris is no different - well, in fact, it is, because you get an online ranking, a score that shows how good you are compared to anyone else, based on how many games you've won and lost, and how good the people you beat were. I consider myself, a little arrogantly, to be a Tetris God. No-one I know in real life can remotely come close to beating me in a consistent manner, so to say I was looking forward to taking on the rest of the planet is an understatement. And this is where the new features really come into their own - the level of strategy involved in the game has increased massively, and as a direct result of the stuff that's been added. You can plan 6 blocks ahead, you can save blocks if they're needed later, and so on - it's no longer all about dropping blocks and hoping for the best. It's quite possibly more addictive than crack.
Puzzle Mode
Which covers the basic game. There's so much more than that. There are a whole bunch of new modes, some multiplayer versions, some taking advantage of the touchscreen, all united under the Tetris banner, the best of which is probably the puzzle mode where you get a limited amount of blocks to clear the screen. Sure, they all come down to arranging blocks in the long term, and none of them compare to the original mode, but a little variety never hurt anyone. In WiFi multiplayer, there's the ability to join up to 4 other people (or 10 in a local WiFi connection) to play a version of teh game that introduces Mario-Kart style items into the mix, and with it the same amount of rage and glee that you get from multiplayer 'Kart.
As you can tell, I love this game. I love this version of the game. I love thrashing people online, and the seemingly futile struggle to beat those better than me. I love the use of updated sound and graphics from the NES games I grew up with, and I love the new modes for the variety they bring. Is it worth £30? Fuck yes. But that's not to say that the game is flawless...
Any minor niggles I might have aside, my only real complaint relates tothe sound, specifically in WFC mode. For each round, the music is simply the original Mario Brothers theme repeated over and over and over. And Over. It's enough to drive you totally up the wall, such that I just turned the music off eventually. I love that tune, but when I'm playing Tetris the last thing I want to be thinking about is doing "The Mario." I play multiplayer so much I can't figure out why they didn't add in some variety. When the rest of the music in the game is all brilliant, why restrict it to that one theme? It just makes no sense.
I can't find anything else bad to say about this game. It's nothing less than a must-own. All that I've got left to add is that my friend code is 187863-956800, my name is "Urth" and I'm willing to give you an appropriate schooling if you think you're up to the challenge. Which you almost certainly aren't. Bitch.

About this entry
By James Hunt
Posted on Monday, April 24 2006 @ 12:59 am
Categorised in Games