New Super Mario Bros.
New Super Mario Bros.
Developer Nintendo • Platform Nintendo DS
Version Reviewed USA • UK Release June 30th 2006
It's been 15 years since Nintendo released the last 2-D Mario platformer, Super Mario World. At the time, many people considered it the finest example of the genre, nay, of gaming itself - athough some prefer the previous incarnation, Super Mario Bros. 3. To this day, the debate still rages in gaming circles as to whether SMW or SMB3 was the superior game, because that's just how good they were. That's just how much people cared about them. Or so it might seem.
Perhaps the reason this argument never went away is more a reflection about how Nintendo didn't really revisit the series in such a way again, following the release of Super Mario World. The official sequel, Yoshi's Island, was a huge departure from the stylings of the previous games, and while developing its own following, couldn't match up to the titans of SMW and SMB3. Nintendo preferred to explore other genres, making RPGs, puzzlers, racing games, taking Mario into tennis and karting and then into the third dimension. Following the release of the GBA, Nintendo simply remade previous Mario games, concentrating on bringing the new incarnations of Mario - 64 and Sunshine - to the respective flagship consoles. For people like me, patiently waiting for the next Mario game in the classic mold, the chances were looking ever slimmer.
Always wary of moving backwards, one gets the impression that Nintendo wouldn't release a game of this kind again, at least until they found the right take on things to avoid repeating themselves. Finally, with the release of the DS, Nintendo have found the necessary angle to bring Mario back to the style of gaming that has kept people some combination of passionate and rabid for over a decade. And what's the innovation that brought Mario back to 2-D platformers? Er, it's in 3-D.
The appearance of this guy LITERALLY scared the crap out of me (not literally.)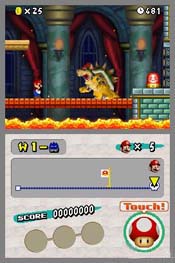 Rather, it's not 3-D, but the odd marrying of 2-D and 3-D which has gained some notoriety under the name 2.5-D, whereby the world is rendered in 3-D, but the game is played on a 2-D plane, as with the recent Sonic Rush. The port of Mario 64 shows that the NDS hardware is more than capable of doing a full 3-D game, so the fact that Nintendo have done all this in 2-D shows that to a large degree, they're interested in appealing to the nostalgia gaming set. As you might have discerned from my reverant tones and gushing Tetris DS review, to say that New Super Mario Bros. falls somewhere around the type of gaming I enjoy is somewhat understating it.
No-one came to this review to read a history lessons, though. You came to learn about the game. Let me put your mind at ease, just in case there any doubt remained: It's fucking fantastic.
Every element of the game is tinged with nostalgia, but just as much, it all feels so... new! Incorporating the moves (the butt-stomp and wall-jump) from Mario 64 brings a whole new range of possibilities for exploration and attacking, and much like how half the fun in SMW was finding the hidden exits, I've played half the levels two or three times just to go back and find the secrets that unlock more and more of the map. Sure, you could probably blow through this game in a couple of hours, but if that's what you're after then you should probably go and get yourself a copy of Tomb Raider Legend instead. NSMB isn't a game for people looking for a cheap thrill, it's for people that want - and have - a love affair with the game itself.
The word "new" in the title seems to stick out a bit. After all, we've all seen the screenshots. This quite clearly appears to be Old Super Mario Bros. There's undoubtedly some element of marketing in calling the game New, but the fact is that it's still brimming with updated features. You've all seen the screenshots of Giant Mario, who fills the screen with his sheer size, but did you know about Micro Mario, who can reach areas and fit through pipes you otherwise couldn't? Did you know about the blue shell power up that allows Mario to become, essentially, a Koopa? You can even withdraw inside it to spin around the screen in a delicious reversal of every time you've ever kicked a shell only to have it bash you in the face. There are also new star coins, three per round, which when collected allow you to buy your way into other areas of the game.
The old-but-new overworld map.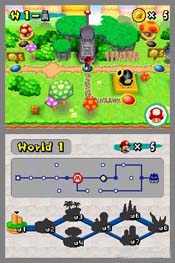 Returning from previous games is the trusty fire flower, the traditional super mushroom, the invincibility star, koopas, goombas, lakitu, and all your other favourite SMB elements - and this game does owe a surprising amount to the original. There're mushroom houses, themed lands, and Bowser Jr. from SMB3, and the overworld map, some villains, and the powerup in waiting (activated by the touch screen) from Mario World. NSMB draws on all the previous Mario games to create something that does feel genuinely new.
The touch screen of the DS, in addition to activating the stored power up, also shows your position in the level and a variety of other statistics. The best use of the touch screen easily comes when you go down a pipe into an underground secret, and find yourself playing on the bottom screen. It's the little touches like that (no pun intended) that make this game such fun. Graphically and musically, the game is just perfect. It looks great, moves fluidly, and the music is probably about 80% all new tunes, with only the barest hint of the old stuff turning up from time to time. Given how Tetris DS has been psychologically torturing me with its constant rendition of the original SMB theme, I'm more than glad to see that NSMB has sidelined it somewhat.
One of the many gimmicks of the DS is its wireless multiplayer feature, and when I saw that NSMB supported it, I couldn't wait to give it a try. The result is a meeting of Mario 64's "Collect the stars" game and the original (non-Super) Mario Bros. where two of you fight it out over several screens of (wrapping) playing field full of power ups and enemies, based off environments from the game (grass, underground, ice, etc.) There are 5 levels in total and they're all great fun. Like any multiplayer game, the largest element of fun comes from the trash-talking and curse-inducing frustration of playing against a human opponent. If that weren't enough, there's an utter wealth, something like 30 in total, of minigames that have simple Wario-Ware style concepts, that you can engage in alone or multiplayer. All of the above can be experienced with just a single copy of the game, as well (download play, we love you.) I've not yet seen if 2 copies can extend the options available, but even in its current form it's more than enough.
Mega Mario! Less confusing than it looks.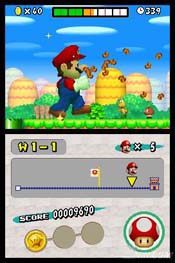 The fact remains, not every game is perfect. My only complaints with NSMB are about what's been left out. Part of the problem with doing a game that owes so much to nostalgia is that, try as you might, you can't cram in everything. In stealing stuff from the previous games, Nintendo have also succeeded in drawing attention to the things they haven't re-used. Why can't Mario fly? Where's Yoshi?! Despite the wealth of new features, I'm left pining for even more of the old ones.
I was initially concerned about what the the length of the game might be. After waiting over a decade there was never a chance it was going to be long enough, and it's a portable game, so there shouldn't be too much of an expectation on it taking forever to play through. It's the replayability factor, though, that will extend the game's lifespan near-indefinitely - Mario platformers have always had longetivity beyond the initial completion and this one i bound to be no exception.
If there was ever a reason to buy yourself a DS, this game is it. Assuming, of course, that Tetris DS wasn't it. I was on the fence myself until I played Mario Kart DS, but since I got my own console I've become a total convert. There is no longer any excuse. The DS is inarguably a must-own piece of kit for anyone with a love of gaming, and New Super Mario Bros. is yet another reason to add to the pile. There's only one rating a game like this can receive.