An Hour and a Half Late!
I rarely do things on a whim. I'm not a whimmy person. But when you happen to be walking along the street in Bath, and come across the beautiful Theatre Royal advertising a play starring Mel Smith, I had to go and book tickets there and then. I've never seen Mel Smith live before, and just to watch him do a big poo for an hour and a half would be a special thrill, let alone a rare theatre appearance. Belinda Lang was also exciting; me being a philistine/poor* (*delete as appropriate), I've never seen any of her West End performances, and simply know her from 2point4 Children - but a great sitcom performance is just as revealing as a great theatre one, and she's pretty damn wonderful. I was sold.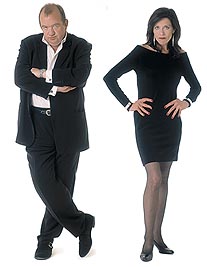 The setup of the play is simple enough - Mel plays Peter and Belinda Lang plays Linda, a married couple whose spark faded out long ago. Linda refuses to go to out to a dinner, and the couple end up "discussing" thirty years of marriage over the next hour and a half. Cue the usual revelations, recriminations, and... reconciliations? (That's my attempt at professional writing out the way. I promise I won't bother you with it again.)
The set is absolutely amazing; I broke into a large grin as soon as the curtains opened. A luxury riverside house (the centrepiece being the living room), beautifully designed with two levels, with a spiral staircase. The view from the large windows on the sky changes throughout the play; a lovely touch. Excellent work here from designer Christopher Woods.
It's billed as a comedy. Does it succeed? Well, the funniest moment for me was Mel sitting there talking about sex whilst waving around a limp hotdog in his hand. I think this means that I am at the same level as the women who shrieked at any mention of bedpans in the Doctor series of sitcoms, of who Graham Chapman and John Cleese both despaired. (For their opinion on these people see How to Irritate People.) If I'm honest, though, I think the show could do with a few more bankable woofers; if a show is billed as a comedy, I expect to laugh slightly more than I did. That's not to say it's not funny; there's some excellent material that I laughed my head off at which won't ruin for you. A few less wry smiles and a few more wide grins might have been welcome from me; but then you know my views on comedy, and they're sometimes incompatible with anything else a show is trying to achieve.
The main meat, however, is the exploration in the relationship between Peter and Linda. There's nothing groundbreaking here; the woes of middle-class married life and getting older have been explored countless times before, and whilst there's certainly material that makes you think, there's nothing really that new here. But it doesn't matter too much, because Mel and Belinda are so superb. Mel plays his character pretty much as a variation of his usual stage persona (albeit a distinctive one); this is no bad thing. Belinda's character also has elements of her portrayal of Bill, but this is no problem either. Both put in a marvellous performance, and work beautifully together as a believable couple. If it wasn't for them two this would be a three star play at best, based on the material; they manage to elevate it to something really worth watching. Well worth going to see.
Also, I've decided I really want to do Belinda Lang.