TedFest '08 - It's Great Being a Priest Reprise
John and I decided to attend this year's TedFest because we'd missed TedFest '07, due to only learning about it at the last minute. We knew there'd be fun when emails from the organisers ended with 'Careful Now'. But just how much? Read on...
We arrived on the Sunday night, ready for the start of TedFest on Monday afternoon. Our guest house was a lovely family-run place, and I discovered to my amusement the next morning that the view out of the window was so Father Ted, that the incidental sting played in my head every time I looked out. We were also wise to hire a car, as this meant we could have a look around the area at our leisure.
Typical TedFest revellers.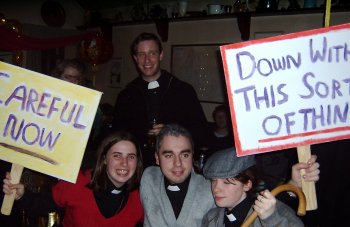 So, after looking around Shannon, we headed back to Kilfenora for registration at Linnane's Pub, at the top end of the village. We'd taken the decision not to bother with fancy dress, which resulted in us feeling like the weirdos when we stepped into the pub, as it was packed with priests and nuns. Most people there were young Irish folk, but there were a few middle-aged bishops around if you looked carefully. Registration was where you got your wristband, which guaranteed you entry into TedFest events, and you also had the opportunity to sign up for the Milk Float Push on Tuesday (also known as Mustard Day) and the tour on Wednesday. Attendees slowly made their way down the village to Vaughan's Pub, where the Chinese Reception was being held, as this was indeed the very pub where Father Ted entertains the Chinese community in 'Are You Right There, Father Ted?'. As the evening progressed, we met, completely by chance, a group who were staying at our guest house. They'd brought their own protest placards, and were to spend most of TedFest in Priest Casual. As this was the Chinese Reception, some women turned up in Chinese fancy dress, which entertained John no end. I rather enjoyed the Chinese Irish band that were booked to play in the corner, and was amused by the increased quoting of 'Careful Now' and 'Down With That Sort of Thing' which accompanied the prolonged consumption of alcohol. One of TedFest's youngest attendees decided to throw a miniature rugby ball around, which was all going well until John got his angle tragically wrong, bringing down a metal plate and some of the bunting. Needless to say, there was much booing and shouts of 'Careful Now!' and 'Down With That Sort of Thing!'.
Festival organiser Fergal McGrath (known as Father Mink Delaney for the duration of the festival) called us all outside, an hour behind schedule, for the opening ceremony. This consisted of Fergal telling us the reason behind TedFest, whilst being interrupted by lots of cheering, and a frankly hilarious reveller shouting 'Fookin' 'ell' at moments of silence, which I think me and John enjoyed more than anyone else. Fergal and the guest of honour, Dara Molloy (a Celtic monk on Inis Mor), paid tribute to Dermot Morgan (as the tenth aniversary of his death was on February 28), as well as promising more fun at the Inis Mor TedFest. After more cheering, we entered Vaughan's Bar next door for the Ecumeniceili and Trad Disco. The Ecumeniceili offered a famous Kilfenora Ceili band with an experienced announcer, but even her capable efforts couldn't avoid the general chaos caused by inexperienced, but enthusiastic, dancers. Needless to say, much fun was had, and we stayed to watch some spookily-dressed ceili dancers before leaving the youngsters to their disco. As our guest house was a kilometre out of the village, we had a very dark walk back, which is the sort of fun you can only really have once.
Mustardday kicked off at lunchtime with the Milk Float and Banger Parade. The very milk float used in Ted was being pushed all around Ireland before the festival, and turned up in Kilfenora for Mustardday. After a visit to the local school, where it was surrounded by lots of overexcited children, it was accompanied by old cars, which were spray painted by teams who pushed them up the village behind the float, and spent some time going round a special Ted roundabout at the top end of the village. Excellently, news teams from RTE and TV3 turned up, interviewing perpetually chirpy priests and the like, including TedFest's one Japanese attendee, Yoko. We had fun watching the people staying with us on the tea-time news, but only managed to catch the TV3 report.
The mobile Mass reprised for TedFest.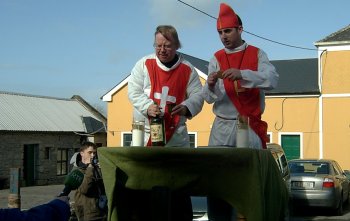 After a break for lunch, there was the All Ireland Blondes Only Snakes and Ladders, which neither of us qualified for, and Brick Fada, an adaptation of the traditional Irish game, but with, erm, bricks. We decided to leave the games to those more ready to brave the brisk wind, and went to Ennis for the afternoon. On our way, we did see a priest doing exactly what we were expecting from Brick Fada; trying to hit a brick with a metal bar. We felt relieved that we hadn't left our car in their vicinity.
We returned in good time for Graham and Arthur's question and answer session in Kilfenora Community Hall. Being silly English people, we turned up 10 minutes early, meaning we met Graham and company coming out of the community hall, causing Graham to say hello to us in his surprise. After trying to not to look like stalkers, we were reassured by seeing TedFest revellers still at Vaughan's Pub, and after a bit of mucking about, the event started a little late. The unveiling of the plaque commemorating the filming of the series at Kilfenora was a bit of an anti-climax, due to the organisers having to actually cover it up before getting Graham and Arthur to, erm, unveil it again, apparantely for the second time that day. Ah well. Free refreshment was on offer for the question and answer session (nice touch), and the loos were labelled 'Priests' and 'Nuns' for the occasion. Graham and Arthur's question and answer session was captured in full by local station Clare FM, and Graham's blog features a far better photo of the plaque than I managed to take.
Before the double treat of Graham and Arthur, a local amateur drama group took us through a medley of Father Ted sketches, and they did an excellent job, especially with their reconstruction of John and Mary. They only appeared once, but it was unforgettable ("Titface! You've got a face like a pair o'tits!").
Graham and Arthur proved, unsurprisingly, to be both entertaining and informative, revealing just how much influence Geoffery Perkins had on the look and sound of Father Ted, the importance to them of casting Irish actors, and that Dave Allen asked for too much money when they approached him to appear in 'Escape to Victory'. They both think that may have been a diplomatic way of turning them down! They also revealed that, bizarrely, Tom Baker auditioned for the show. Can you imagine him appearing? No, I can't either. They also put the oft-repeated rumour that RTE turned down Ted to rest, explaining that RTE didn't (and still doesn't) have the available resources to produce a sitcom, and that both of them were living in Britain when they were writing Ted in any case. Graham also, despite the disagreement of the audience, felt that series 3 was beginning to run out of ideas, citing 'Chirpy Burpy Cheap Sheep' as an example. Fergal was given an opportunity to express his love of the show and his motivations for organising TedFest, with a hilarious interjection by Graham to Fergal's statement that he wasn't an anal fan; "I'm not an anal fan". Heh heh! Frankly, this couldn't have lasted too long for us, but the lads were granted mercy after about an hour in order for Nagles' pub to host the Elvis Night (too packed for us!) and for Linnane's Pub to host Acoustic Karaoke with The Singing Postman (apparantely a real-life local relief postman). We decided to wait for the Lovely Girls competition in Vaughan's, but we missed it due to being a bit confused at why people didn't seem to leave the pub when it was announced, and also being diverted by Graham's reaction to some women dressed as hairy babies in Vaughan's; "What scene is this from?". Their costume was impressive, as it gave the impression of many Mrs Doyles carrying a hairy baby on her back. Well done to them!
The view from our guesthouse.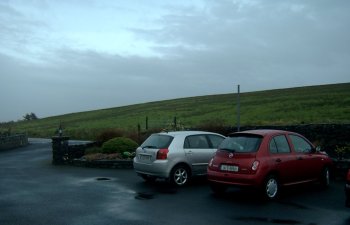 We wandered over to Vaughan's Barn in time to see the winning Lovely Girl being congratulated (she was indeed lovely), and stayed a short while for Mrs O'Reilly and the Hairy Babies, but soon went back to bed like the boring old farts we are (I'd decided to drive down, too, which meant I couldn't drink). It did mean, however, that I was fresh for the tour on Wednesday morning, which John decided not to take part in, due to his dislike of minibuses. He missed a real treat, since the one thing Ireland is not in shortage of is fantastic scenery. Firstly, we went to the Parochial House, which is actually just outside a village called Killanaboy, near Kilfenora. It's something of a surprise to see that the house oversees some really beautiful countryside, as the series does a great job of making it look as desolate as possible. We hung around the gate, as the guide told us that the owners of the house get bothered all the time, and we didn't want to annoy them too much. Graham accompanied us for part of the tour with his wife and child, which was nice and lent an even cosier atmosphere to the convention. After Killnaboy, we went back to Kilfenora to look at the row of houses which Pat Mustard serviced so happily, then followed the road to Lisdoonvarna, where we were told some amusing stories about the annual singles' festival (it's Ireland's [and Europe's] biggest singles' festival, I hear). This was the ideal entry point for The Burren, the area of even more outstanding natural beauty, and the home of the picnic site in Ted. We stopped at Fanore beach to peer at the Arran Islands over the water, and someone marked the occasion by writing 'TEDFEST 2008' in the sand. The tour finished at the town of Ennistymon, which was the base for cast and crew, where we went to see the small waterfall which The Falls Hotel is so famous for. We were then dropped back off at Kilfenora with, well, not a lot of ceremony, and the rest of our stay in Ireland was up to us.
The TedFest crowd outside Vaughans.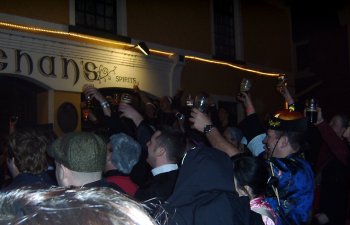 TedFest was a lot of fun, although I think the organisers are right to say that if you come in fancy dress and get involved in all the games, you probably get the most out of the event. I would also suggest that groups probably have the most fun as well, but that's not to say that if you arrived on your own or in a pair, you wouldn't have a lot of fun either. Being veterans of traditional conventions, we aren't used to that sort of thing, but we still had a lot of fun, and very much enjoyed the fact that the whole village of Kilfenora seemed to be having fun as well, with Vaughan's being signposted as 'Chinatown', and the local mini-market having a sign saying 'Biscuit or Cake?' in the window. The area as a whole is fantastically beautiful, which the convention benefited from, and I'm sorry we couldn't get to the second part of the convention in Inis Mor, as I'm sure that would have been fantastic as well. This is very much a fan gathering rather than a traditional convention, so if you're thinking of going along next year, don't expect a lot of guest stars, but if you're game for dressing up and playing silly games, you'll have a fantastic time.
Careful now.