Diesel Park West - Shakespeare Alabama
In 1989 something happened that changed the popular listening habits of the mainstream. A band came along who yanked guitar pop back into the public focus and their influence is still felt today, as it has been felt over the last 16 years. That was The Stone Roses, of course. BUT, it's fair to say that Diesel Park West had their hand in this revolution, too, despite lacking the popular position they craved. Their debut album, Shakespeare Alabama was probably more influential than you might think, and in August 2005 EMI re-mastered and re-released this seminal classic.
But first, a bit of background:
Diesel Park West first came to the attention of the public (and a fair amount of big name labels) with their 1987 indie single When the Hoodoo Comes. EMI were quick to invest in the band's record label, Food, the following year (and eventually took full control in 1994) in order to get hold of DPW - into the bargain they also inherited some young band called Blur. Blur? Nah, I've never heard of them, either.
Still, the deal was done, DPW had a major label and their debut album, Shakespeare Alabama was released in October 1989 to a shower of critical acclaim. This was it! They were the next big thing! An overnight sensation! They were to single handedly resurrect rock and roll! Well... in the end, the album sold 100,000 copies and things started to move on very quickly without them. DPW had missed the popular boat.
However, the critics were right. The record is utterly stunning. What especially stands out with DPW is the magnificent duo of John Butler (vocals, rhythm guitar) and Rick Willson (lead guitar). John's powerful and sometimes defiant lyrics are matched perfectly by his soaring and powerful voice, as Rick backs everything up with what's likely to be the best psychedelic riffs you're ever likely to hear. Together with a rhythm section comprising Geoff Beaven giving off some prominent and funky bass lines and David "Moth" Smith frenetically drumming away, you start to wonder why more people didn't find this band and actually allow them their big break they so definitely deserved.
From left: John Butler, Rick Willson, David "Moth" Smith, Rich Barton and Geoff Beavan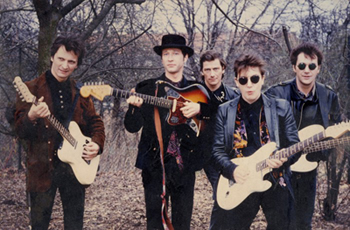 The opening track, 'Like Princes Do', speaks of a very obvious disillusionment with the right-wing, corporate and greed powered mentality of Thatcher's era, whilst organised religion suffers a kick in the shins in the track All the Myths of Sunday. It's not an overly angry album, by any means, but nor is it wishy washy and meaningless, either. Most of the the rest of the album is inhabited with more personal songs - some of which are about love - but they stay free of cliché. A House Divided refers to the falling apart of a long term relationship, yet you feel no hardship listening to it as your foot taps along appreciatively. Here I Stand is another stand out track for me, a slow moving number with definite autobiographical meanings in John's lyrics, as if defending his opinions aired over the previous tracks on the album and going someway to describing what drives his music and how he airs his opinions through that: "I got a burning heart that keeps me moving, keeps me looking for life... And all my heroes are either gone, dead or forgotten... here I stand, here I am, right or wrong"
To fill in the basics of the rest of the DPW story, they released one further album through Food/EMI entitled Decency which failed much in the same way as Shakey (save for one 'near hit' Fall to Love, which reached the heady heights of 42 in the UK charts) as once again the critical acclaim was ignored and the buying public passed them by. Alas, it was to be independent releases and pub gigs from this point on.
In addition to the 10 original (but cleaned up) tracks from 1989, there's a whopping 8 bonus tracks tagged on the end. Ranging from previously released b-sides, unreleased tracks, a remix of All The Myths on Sunday and the original single version of When The Hoodoo Comes - the track that brought both DPW and Food to EMI's attention, in the first place. It's always nice to get more for your money, but you can't help but notice a marked drop in the quality of the tracks once we move onto the extra stuff. It was, after all, deemed to be not up to album standard the first time round, anyway. The flow and feel of an album is very important, and I can't help but think that by almost doubling the tracks count with bits and bobs that the original feel and flow has been degraded somewhat.
So, why did EMI decide after all this time to re-master and reissue Shakey? Well, DPW have maintained a constant but steady presence in the industry with 4 independent albums released in the years following their split from Food/EMI, and their small but stalwart group of fans have made sure that such releases never go unsold. The band (and later on John Butler's solo albums) have always enjoyed critical acclaim and there was no doubt this release would bring with it favourable reviews, hopefully bringing the band into the focus of the public, and maybe, just maybe, allow the lads to claim their pound of flesh, at last. I'll let you guess whether or not this has happened or not.
It's certainly nice little re-package of what could well be the most influential, yet criminally overlooked, records of the last 20 years. I heartily recommend this album to every last one of you - be it the remastered or original edition. Just buy it.