The Best of British Comedy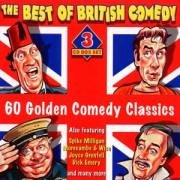 Artist Various
Title The Best of British Comedy
Released October 28, 2002
Label Disky

---
Sometimes you make a lucky impulse purchase which fleshes out all you have heard about something. So it was with "The Best of British Comedy", a three CD box set which I bought for a tenner at a Road Chef recently. I have to admit that the purchase was a mix of 'have money, must buy', 'I'm fed up with all the other CDs in my car', and 'Ooh, I'd LOVE my own copy of "You're the One That I Want" by Hylda Baker and Arthur Mullard".'.
Although Hylda and Arthur do not disappoint (there's also a cover of 'Save All Your Kisses for Me', which is bizarrely credited to Hylda and Arthur English), there's lots of other gems in this set, which more than make up for some absolute stinkers. Sadly, they start with a below-par offering from Al Read, 'What Is a Home', but thankfully they salvage his reputation in the second and third CDs with 'You're Seeing Too Much of the Telly', and 'Our Joe Won't be With Us Much Longer', which have made me wish I hadn't missed Mark Radcliffe's recent documentary on him.
Benny Hill is also well represented, showing his mastery of accent and love for cod-German rudery in a Tour Guide sketch, with a fascinating interview as a terrible modern poet, 'The Andalucian Gypsies' and, naturally, the classic 'Ernie, the Fastest Milkman in the West'. I already know that there was more to Benny Hill than his 'angels', but it's delightful to have evidence, although 'The Andalucian Gypsies' would be hard to justify today. Another little-praised bastion of British comedy is Bernard Cribbins, so it is a thing of beauty indeed to have 'Right Said Fred' included, as well as the less famous 'The Hole in the Ground'. Joyce Grenfell makes a welcome appearance with her 'Nursery School' sketch, and a wonderful song 'I Don't 'Arf Love You', with Norman Wisdom. On the other side of the coin, there's also Norman's 'Don't Laugh At Me', which must top some chart out there for 'Most Mawkish Records Ever', and I'm sure Mike and Bernie Winters have made their own contribution to it with 'How Lucky You Are', and 'Music Maestro Please'. On this evidence, I think Schnorbitz was an improvement, but I hope something is out there to prove me wrong. Dick Emery's contributions 'Willy' and 'The Vicar of Belching by the Sea' don't do him justice either, as well as the sole song from Charlie Drake, 'Mr Custer'.
Although Max Miller provides some proof for his reputation as a genius with 'The Girls I Like (Live)', his two live appearances with Lonnie Donegan 'Tit Bits' and 'The Market Song', are, in my opinion, bloody rotten. Talking of bloody rotten, the two examples of Tom O'Connor's stand-up are pieces I'd be happy not to hear again as well. Tommy Cooper's two pieces, 'The Sheikh of Araby' and 'We'll Meet Again' are also rather lacklustre. George Formby makes an appearance with 'Happy Go Lucky Me', and although it's not unpleasant, I can see why he's seen by some as an acquired taste. Ken Goodwin manages to give some credence to the oft-argued point that observational comedy isn't that good, and throws in a pointless song for good measure which redefines the 'light' in Light Entertainment. There's also an appearance by the stars of 'The Army Game' (Bernard Bresslaw, Michael Medwin, Alfie Bass and Leslie Fyson), but as the whole point seems to be so Bernard can say '"I only arsked" in that voice of his, they really needn't have bothered.
It wasn't all nasty surprises, though. Roy Hudd amazed me with the good music hall-like 'The End of My Old Cigar', and the fantastic 'The Spaniard That Blighted My Life'. Flanders and Swann prove themselves to be bloody brilliant live, with 'The Hippopotamus Song', 'A Transport of Delight', 'The Gasman Cometh' and 'The Gnu Song'. Stanley Unwin also makes some interesting contributions with 'Classicold Musee (Live)' and 'Goldyloppers and the Three Bearloaders'. Clive Dunn surprised me with 'Too Old' and 'I Play the Spoons', and 'My Brother' by Terry Scott was a wonderful discovery. Frankie Howard and June Whitfield also make a great duo with 'Up Je T'Aime', although, interestingly, the third performer is uncredited. Another example of odd crediting on this collection is the 'Zoo Keeper' sketch, which I'm almost certain is performed by John Cleese and Tim Brooke-Taylor, but is credited to David Frost, and the other sketch credited to him, 'Deck of Cards', is certainly not David Frost, unless he's better with voices than I remember. I actually have no idea who it is, but it's certainly not the best sketch I've ever heard.
Obviously, any collection of classic comedy is incomplete without some contributions from the Goons, and, happily, we have plenty. As well as a group effort with 'You Gotta Go Oww!' live, Spike pops up with 'Will I Find My Love Today', 'The Python', 'The Sewers of the Strand' and 'Ning Nang Nong'. Peter Sellers is represented by 'Balham (Gateway to the South)', 'I'm So Ashamed', which has continued to be relevant since it was recorded, 'A Drop of the Hard Stuff', 'Party Political Speech (Live)' and, gloriously, 'Goodness Gracious Me', with Sophia Loren. Harry Secombe also smashed my lingering memory of him as 'that old sort who used to present Highway' with a strong performance of 'The Heart of a Clown'. Eric and Ernie also make three appearances, all of which are unmistakable, with 'Bring Me Sunshine', 'Just Around the Corner' and 'Boom Oo Yatta-Ta-Ta'. All go to prove that their reputations are well-deserved, as even when they are being the epitome of old-fashioned Variety, I still love them.
The two most interesting songs, however, belong to Danny La Rue and Reg Varney. Danny provides a preposterously limp-wristed rendition of 'Copacabana', which I was singing for days afterwards, and 'Come and Tickle My Fancy' by Reg was another track on permanent replay in my head, which is a fascinating parody of Vaudeville. It says something for Reg Varney's versatility that I can't reconcile his performance of Stan on 'On the Buses' with this song.
In conclusion, I think I can confidently say this box set was one of the best tenners I've ever spent. Even when faced with some really terrible performances, I can't ever deny that this collection is full of surprises, and I've certainly had more enjoyment out of it than with any other CD I've bought recently. But then, if that wasn't the case, I wouldn't be writing this, would I?