Arctic Monkeys - I Bet You Look Good on the Dancefloor
Before I start, let me say that I won't be making a habit of reviewing singles for NTS. There's far too many of them, and they're usually left redundant once the album review comes out, anyway. But with Arctic Monkeys' first single released today, I felt it couldn't pass without mention.
So, who are the Arctic Monkeys? Chances are you'll have heard of them by now, hyped as they are by the majority of the music media. Put simply they are a quartet from Sheffield - namely; Alex Turner (Vocals, Lead Guitar), Jamie Cook (Rhythm Guitar), Andy Nicholson (Bass) and Matt Helders (Drums) - and if their record sales match their attached hype, they will soon be the biggest band in the country.
From left: Jamie Cook, Andy Nicholson and Alex Turner playing a landmark gig at Leeds Festival in 2005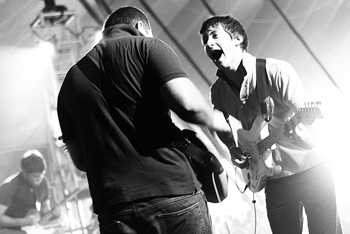 Yet before today's release of I Bet You Look Good on the Dancefloor, Arctic Monkeys had only released one, very limited edition, single. It was entitled Five Minutes with Arctic Monkeys and was the record responsible for my falling in love with the band. Armed with the tracks Fake Tales of San Francisco and , released on Bang Bang Recordings, it was the band's first foray into the commercial market. If it was its job to make people in the music industry sit up and pay attention, then it worked. A few months on and they'd be embarking on their biggest nationwide tour, following two successful festival appearances, and signed to one of the best labels in the country. But more on that later.
After devouring Five Minutes, I was delighted to stumble across one of Arctic Monkey's master-strokes. They had slapped up pretty much every demo they'd recorded online, for everyone and his dog to get their teeth into. By the time I came along, file sharing programs were teeming with demo tracks such as Mardy Bum, When the Sun Goes Down (formally Scummy), A Certain Romance, Wavin' Bye to the Train or the Bus, Still Take You Home, Dancing Shoes, On the Run from the MI5, Riot Van, I Bet You Look Good on the Dancefloor, Bigger Boys and Stolen Sweethearts - just loads and loads of the buggers. And it was with these fantastic demos, that I became irretrievably hooked.
But Arctic Monkeys, like most guitar bands, thrive on their live music, and they've already built up a reputation for being one of the hottest attractions in the country. The steady hype machine, that has been building up since the start of the year, finally went mad after the Monkeys played highly memorable sets at Reading and Leeds (and I REFUSE to call them Carling Weekend: Leeds and Carling Weekend: Reading... Carling is SHIT, it tastes of wee and I HATE IT). There wasn't even enough room in the Piss Water Stage's tent to accommodate the masses of rabid fans, desperate to see what they knew would be landmark gigs. The buzz and energy surrounding any of their live shows really is amazing. This made even more exciting by the fact that large swathes of crowd are dutifully singing back lyrics to songs that have never actually been officially released. Of course, all this action never went unnoticed by the record labels and soon Arctic Monkeys were signed to the home of Franz Ferdinand, Domino Records. In fact, they were signed up long before Leeds and Reading 2005 ever took place, but it was the amazing shows at these festivals, and the announcement of this very single, that really kick-started everything. Their current UK tour has completely sold out, paving the way for extra dates, venue upgrades, and some quite staggering ticket prices on eBay. A hell of a lot of people are buying into Arctic Monkeys at the moment, and their ascendancy seems to be unstoppable.
Rhythm guitarist Jamie Cook at Leeds Festival in 2005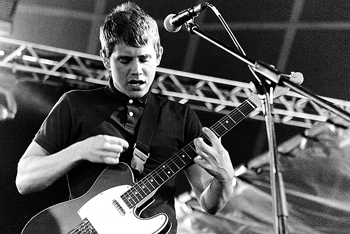 I think one of the reasons so many people love Arctic Monkeys is the simple, refreshing and down-to-earth style to their music. The broad South Yorkshire accent of front man Alex Turner spits out his sneer filled opinions and observations of life, as he sees it, in the UK. Spotting a girl you fancy in a club, having a moan about your sour faced girlfriend, despairing at some older kid coming along and stealing your bird, being dumped and complete loathing of Britain's current 'chav' culture. It's not necessarily stuff you'd recognise from your own life, but the soap opera lyrics ring true, all the same. Some of his chosen subjects are clichéd, shallow, one note observations and could all too easily turn into boring, forgettable tracks. But the witty and poetic lyrics of Turner, coupled with the toe-tappingly wonderful music, holds your attention and delivers a very satisfying package. It's all rather good.
And so, what of the single? It could be easy to get caught up a 'The Songs Were Better as Demos' opinion (and many online fans have), but I think that slightly misses the point. We already have 20+ plus demos to get our fill of the more raw sounding Monkeys. That leaves the studio stuff to get on with it's own thing; deliver a more polished sound and just get these guys the hell into the mainstream. Entertaining lyrics, some of the most perfect guitar pop tunes you'll ever hear and some good producing will ensure that. Besides, after listening to the single on loop for a very unhealthy amount of time, I can confidently say that the studio versions are superior to the demos.
The single opens with the manic pace of I Bet You Look Good on the Dancefloor with Alex musing on the fickle pursuit of a young lady in a nightclub; "Oh I bet that you look good on the Dancefloor / don't know if you're looking for romance or what / I don't know what you're looking for". Then to the slower, ska-like second track, Bigger Boys and Stolen Sweethearts, which boasts some of Alex's most entertaining lyrics, this time on the subject of having your girlfriend nicked by a lad a few years above you; "There's always somebody taller, with more of a wit / and he's equipped to enthral her, and her friends think he's fit / and you just can't measure up, now, you don't have a prayer / wishing that you'd made the most of her, when she was there". Last up is the b-side Chun Li's Spinning Bird Kick, a mainly instrumental track kicking off with a rousing; "Show us yer special move!". It's nothing wonderful, but it's always nice to hear some stuff that's not already got a demo or live recording floating about.
This double a-side release is certainly a good choice to go out first, as the songs really do sum up what the Arctic Monkeys are all about; chronicling their travels through life in an endearing, witty and entertaining way, whilst setting it all to music I defy you all not to tap your foot to. It leaves me with a huge appetite for the debut album (due for early 2006), and I'm fascinated to see how it all shapes up. They've got a wealth of album quality material with their demos and new tracks, which they're currently airing in their UK tour. I've never been this excited with a new band before. Not ever. It's going to be a joy watching their inevitable and continuing rise.
Special thanks to Andrew Kendall for permission to use his Leeds 2005 photographs.