The Elected - Sun, Sun, Sun
Cor, it's like there's a Rilo Kiley explosion going on at the moment. Despite the fact that their third, breakthrough album More Adventurous was released in the US as long ago as August 2004 (finally making its way into the UK in January of last year), their level of meeja attention and hype in this country has steadily gathered momentum over the past twelve months, so much so that the recent release of frontwoman Jenny Lewis' solo album is practically being treated as a new RK record. But Lewis - upon whom the majority of said attention seems to fall, for admittedly somewhat obvious reasons - isn't the only member of the band releasing an album at the moment, and it would be criminal if her perfectly listenable effort was allowed to overshadow the release of Sun, Sun, Sun, an album that continues what Blake Sennett appears to be turning into something of a quest to give "side-projects" a better name.
Blake Sennett (l) and Mike Bloom (r), Rilo Kiley by day and The Elected by night (possibly).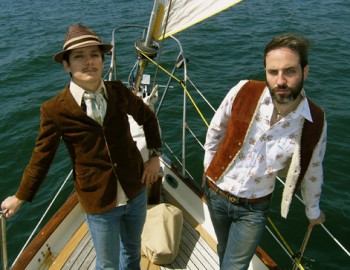 Right from Rilo Kiley's inception, singer and guitarist Sennett has always been just as much of a creative force in the band as Lewis, contrary to the assumption that his ex-girlfriend is the band's main songwriter. However, More Adventurous certainly seemd at times to be far more Lewis-centric than the band's previous efforts. A possible reason for this became apparent upon the release, that same year, of Me First, The Elected's debut album. Arguably as good as, if not better than, Rilo Kiley's latest effort - although certainly not without its flaws - it didn't seem too much of a stretch to suggest that Blake was saving all his best songs for his side project.
However, with his sophomore effort, Sennett has made a conscious effort to make The Elected work as a band in their own right. It's not an easy task, given the overloaded schedules of not only Sennett himself and fellow Rilo Kiley member Mike Bloom, but also that of bassist Dan Brummel, who spent much of the last year bouncing around various projects - including his own solo record - before reforming his "main" band Ozma in January. It's to the entire band's credit, then, that Sun, Sun, Sun is such an absolute triumph.
It is, for starters, a far more coherent experience than Me First. On that album, Sennett at times indulged his experimental side, and while there was still some excellent material, the curious mix of weird electronica and heavily country-influenced melody and instrumentation led to a quite disjointed feel. While a strong album, it did feel like a side-project - because it felt like someone exploring all the ideas they couldn't play with in their "day job". With Sun, Sun, Sun, however, there's a far more consistent tone to the album, the country and Sixties pop sides of Blake's songwriting having taken a firmer hold. If you're not a fan of lap steel, or Californian harmonic arrangment, you're unlikely to find much to engage with here.
While the opening track, "Clouds Parting", is less than a minute, it pretty much sets the tone for the entire record - summery, countrified pop with occassional ventures into Polyphonic Spree-style lush swellings. And so Sennett's trademark knack for gently catchy and lilting melody runs through the album, on tracks like "Would You Come With Me" and "I'll Be Your Man"; while "The Bank And Trust" allies the lighter side of Blake's tunesmithery to the darker undercurrent familiar to any Rilo Kiley fans (it's unsurprising, in fact, that it's one of two songs that Lewis provides lyrics for).
Jenny Lewis contributed lyrics to two songs on this record, and sings on one. That seems as good an excuse as any to print a picture of her. *sigh*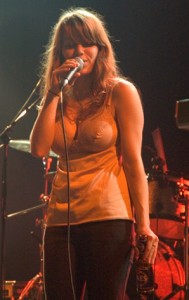 The standouts, though, are obvious, by virtue of deviating from the template that the album sets out. "Fireflies In A Steel Mill", for example, saunters along amiably enough for three minutes before suddenly launching itself into a further minute of irresistably jaunty bounding. Album closer (save for a brief reprise of the opening track) "Biggest Star", meanwhile, is a seven-minute-long triumph, ruminating on a rock star's sense of self-importance with that much bombast that the listener is left wondering just how tongue-in-cheek Sennett is actually being - "I'll leave it up to you," he sings, "but either way you choose - oh honey, I can't lose". After swaggering its way along, saxophones lazily draped over the background, there's a sudden kick into something approaching outright pomposity, but as the pace builds to a frenetic conclusion, you can't help but love him for it. At the opposite end of the scale, though, there's the gorgeous "It Was Love" - a gentle, largely acoustic ballad featuring Lewis on backing vocals, with Blake's fragile voice fitting the tone of the song in a manner almost akin to Elliott Smith in a good mood.
The real plaudits, however, must be saved for the album's centrepiece, the gobsmackingly-good "Did Me Good". With a confidence that belies his age and experience, Sennett delivers an absolutely stonkingly brilliant rock'n'roll ballad in the very finest of traditions. In a pounding 3/4 time, driving the melody with piano but drenching it in organs, saxophones and trombones, he alternately croons and barks (his spoken/shouted treatment of the second verse, which comes off sounding more like Jack White than anything, has to be heard to be believed) his way through the sort of tune you just can't listen to without a great big cheesy grin on your face. Completely cheesy, corny and overblown it might be, but you'd have to look far and wide to find a more downright unashamedly enjoyable listening experience than it in these current climes.
Given that it's extremely unlikely to garner the sort of attention that its more illustrious sister spin-off project is currently enjoying, it's hard to file Sun, Sun, Sun under anything other than the "hidden gems" file - which is quite a sobering thing be saying at the time of its release, rather than a few years down the line. A far more rounded effort than its predecessor, and arguably the equal of the "main" band's recent form, it should at least stand as a pleasant discovery-in-waiting for those yet to learn that Sennett has just as much of a knack for writing a bloody good song as his higher-profile bandmate.