Protocol - Websites For 'Em

Well, I thought it was about time I got a column round here. And seeing as I enjoy spouting off ill-informed bollocks about the Interweb, I thought I might as well do one about that. It'll be at least weekly, and probably more than that - seeing as I'm currently trying to make my living by doing freelance web design, I'm sure I'll find plenty of time to spout off when something fucking pisses me off I mean write informative articles thanks let's get on with it then OK good.
---
Forums. They're great. I will never understand why some people seem to think that spending loads of time on the internet is somehow antisocial, and only done by sad nerds with no friends (although why people pick on "sad nerds with no friends", rather than trying to help them, I don't know) - what with my personal emails, mailing lists I'm subscribed to, various forums I visit, and IRC, I spend far more time interacting with people online than I do in "real life". Ah, yes, another thing that bugs me - as though people you speak to online are somehow less "real" than the people you meet down the shops. But I digress. Forums are, basically, great.
However, for a forum to work, you need a community. And this is a problem that new sites often have - when you get started, unless your site has grown out from another website, or from an, erm, bollocks, "real-life" concern like, say a Scouts group - there is no community. You have to build it up. And yet it seems that, for a lot of sites, having a forum from the day of launch is de rigeur.
I believe people do this for two reasons. The more noble one is, simply, the site owner wants to provide a place for their visitors to talk about things. This is fair enough, although there is a problem, as I will explain below. Unfortunately, there is another reason... and that is that setting up a forum is so much easier than actually writing some decent content for a site. Stick up a few nicked pictures, set up a forum, put a badly-spelt welcome message up, and some people seem to think that you've got a site that people will actually want to visit. (I deliberately won't give links, but let's face it - you don't need me to.)
As to what will happen, here's a clue: they'll visit it, see there's fuck all there, and bugger off again. Leaving your forum untouched. And that achieves nothing, apart from the site owner being able to boast that "I've got a website". Well, hoo-fucking-ray.
Even worse than that, is people who don't even pretend to have any content on their site; they set up - taking a programme completely out of the air, honest - a Red Dwarf forum, post the link to various messageboards, and expect the visitors to come flooding in. Erm, except they won't, because those people are already on a good, established Red Dwarf forum - why would they want to bother with yours?
But back to the more sensible type of person - those people who actually bother to provide some decent content, and want people to talk about it on their site. The problem is - you need to build up your audience first. Because all that happens, unless you're very lucky, is that after a year, people will be visiting your site, enjoying the content you've built up, going to visit the forums... and find somewhere pretty much dead. If the last post was six months ago when your site was less popular, and by a guy called Bill who just posted "I LIKE THIS SITE WHY DOES NOBODY ELSE POST BTW LOL I LIKE FIRM ONES", then you're not going to get many people joining in. It's a vicious circle. And it works the other way round, of course - a busy forum takes on a life of its own, and gets busier and busier.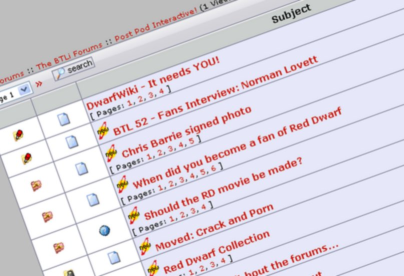 BTLi: The good side of web forums, with a large ready-made audience
I have been known in my web writings not to practice what I preach - like doing huge posts about site validation on a site that, erm, didn't validate. But you'll notice that neither Ganymede & Titan doesn't have a forum - and at its height a couple of years ago, G&T was a pretty damn popular site. (Oh, it will be again, don't worry. Oh, you didn't. More on that soon, anyway.) But after discussions with Ian, and indeed with the site's visitors, we decided that the site simply couldn't sustain a forum. Now, bearing in mind we decided that about a fairly popular site, you can see why I don't think it's a good idea that sites that are just starting out should have one.
But it's true that one of the major advantages of the net is interaction. (That's the web, not you News 24 or Sky - I am not interested in hearing that Brian from Plymouth thinks that rapists are bad and should be locked up. Spend your airtime with the experts.) But there are ways of achieving this that don't have the same problems as a forum. Guestbooks have, somewhat unfairly, gone slightly out-of-favour in recent years - indeed, they've received quite a bit of stick. I don't really know why, as with a bit of skill in presenting them, they can be turned from a collection of "LOL COOL SITE" remarks, into an ongoing discussion about various things your site covers.
But even better, is the route me and Ian took with G&T - allow comments on your news or site updates. It still lets people interact - but again, it doesn't have the same problem. Conversations will spark up far more easily than on a dead forum - becuase something you posted yesterday won't feel old. And there's also something that you've posted to spark off a debate - people aren't entering into a comments system cold, like a forum. Before you know it, if you're posting good content, you'll start getting quite a lot of comments - and that's how you start building up a community. And in a year or two, if things are going well, maybe a forum would be a good thing to add.
Providing comments systems used to be more of a problem for people in the early days of the web. But if you've got your own webspace, blogging software is pretty easy to install these days - and if you haven't, you can easily set up a free blog and base your site around that. You can always move it later if you want to - the point is, you can start building up your audience properly, and getting that interaction.
You may think I'm being unfair with this article - that the kind of practice I describe is done by 13-year-olds, and that they'll grow out of it. That's true to an extent, but I've seen plenty of people who should know better setting up pointless forums, most of them rather older than 13. And, of course, it ignores the fact that a lot of 13-year-olds make valuable contributions to the web, so it's a little patronising to excuse people simply because of their age. A bit like some bus drivers, who seem to think that if you're under 16, you're trying to rip them off because you didn't know the bus fare had gone up by 10p. (Yes, I still have issues.)
But really - the important thing is that forums are not the be all and end all of providing an interactive site. People do have a limited amount of time each day to spend on the net (currently mine is 19 hours) - if they're to put aside the time to visit another forum, it'd better have a damn good USP. Just think about every forum you visit to realise how important this is. There will be something about each and every one of them that makes them special - that makes them worth your time.
So, just think to yourself when you're next doing a site: "do I desperately need a forum now?" Or can it wait for a bit, whilst you build up a community? And the way to do that is simple: have interesting content. You can always have a comments system or guestbook, so people can still do the whole interactive thing. But unless you're pretty damn sure you've got a ready-made set of people just dying to hang around on your site, leave it for the moment.
Because the one thing the web doesn't need is yet another dead forum. They're just a bit... depressing.
About this entry
By John Hoare
Posted on Monday, June 26 2006 @ 4:33 am
Categorised in Net