Homer Simpson, This Is Your Wife
Watching current-era episodes of The Simpsons can make for uncomfortable viewing, particularly if you're a long-time fan of the show. And even more particularly if, like me, you're the sort of person who can rattle off the scripts to just about every episode from the first seven or eight seasons, and can still be moved to actual tears of laughter by episodes from season four (as I was last night, watching Homer at the All-You-Can-Eat seafood buffet in "New Kid on the Block"). It just feels wrong, these days. The voices, for example, all sound completely different - this despite the fact that, to my recollection, the show has only lost three of its "main" voice cast (Phil Hartman, Doris Grau and Maggie Roswell) as the years have gone by. As well as the grating noise coming out of Homer and Marge's mouths these days, even supporting characters voiced by the usually-reliable likes of Hank Azaria and Harry Shearer now sound like pale and harsh imitations of their past selves. And that's even before you get down to the nitty-gritty of the plain and simple fact that the show just isn't particularly funny any more. No amount of madcap, slapstick humour, altering core fundamentals of characters (Barney sober? Patty lesbian?) or ridiculously stereotyped trips to foreign climes can mask the fact that the golden touch of class that ran so wondrously through every one of those early episodes has long-since dulled.
Next week : Alan Partridge appears on Family Guy. No, not really.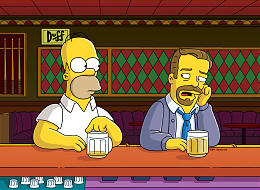 But "Homer Simpson, This Is Your Wife", which aired on Sky One this week shortly after hitting American screens last month, isn't about looking at the current (and, indeed, long-standing) failings of a once great (nay, once impeccable) television institution. Perhaps even more for UK audiences than for the Americans (who, like us, saw the episode open with that brilliant live-action version of the titles, originally an advert made by Sky), this is a one-off, an episode to be looked at with new eyes in the context not of the show's current status, but the fact that one of "our own" - Ricky Gervais, in case you've been living under a rock - was taking the helm for twenty-two minutes.
And, you know, it's not half bad. Of course, it's naive to assume, given the way American television works, that the episode was entirely written by Gervais; but his hand is clear to see, whether through the distinctly Brent-style humour shown in the second half of the episode, or even his apparent love of the way The Simpsons used to work with some more "classic" touches earlier on.
The first half of the episode rattles along through a number of scenarios; starting out, pleasingly, in a quite "normal" setting, with a relatively undramatic story - Homer falls in love with Lenny's new HD TV, and decides that he wants one himself. All well and good, and there are some amusing bits littered throughout, particularly Homer's grumbling about "regular" TV not being good enough for him any more. Suddenly, though, we're thrust uncomfortably into later-season "wackiness", with the family going on a tour of the FOX studios and being invited to appear on a Wife Swap-style show. That's not to say these scenes don't contain some good moments - somewhat surprisingly, they do, with the appearance of "Dan Castellanetta from The Tracy Ullman Show" and the "American Idol holding pen" particular highlights. But it's still symptomatic of the horrible "The Simpsons are going to Japan/England/Jamaica/Mars!" gimmickery the show has been guilty of for a good five or six years (or more). The pop culture references are also quite strikingly overt and topical - The Simpsons has always, of course, mined pop culture for much of its humour, but in the past would usually do so in more subtle ways, and would usually make reference to far more timeless sources so that the jokes wouldn't date so damned quickly. The American Idol gag might be fine in Family Guy or the more-deliberately-topical South Park, but here it feels jarringly out of place, funny or not. And a good number of the gags still just don't work, particularly the drawn-out "I'll do it!" bit from Marge, who by this point in the show's life has become almost unbearably irritating.
Still, though, we needed a hook to get Gervais' character in, and given that this is something of an "event" episode, it's less disheartening to see it rely on a more "out-there" plot; it's just a shame that it comes in an era of the show where this sort of thing seems to happen every week. And once David Br- err, sorry, Charles - arrives, the humour level is ramped up somewhat. It comes across as a very strange mix, though, because Gervais is doing what he always does - playing himself-slash-Brent. His naturalised performance and cringe-making gags and asides ("Bit of British humour, there") just aren't the sort of thing you'd normally see in The Simpsons, with the result that the whole thing comes off feeling more like some kind of weird crossover rather than a simple guest appearance.
That said, though, it's still very funny at times. Once you get over the shock of hearing Gervais' voice in the show - and, unlike many previous British guest stars, he actually still sounds like himself - there's plenty to enjoy, and pretty predictably he gets all the best bits. Indeed, aside from one quite funny bit with Homer ("What's that delicious smell?"), you wish they wouldn't bother constantly cutting back to the Simpson household and uninspired and unfunny character of Charles' wife, and just stick with Charles' attempts to woo Marge. Which, by and large - from the joke-telling to the already-famed "Lady Di" song - are pretty funny stuff. The plot by this point is pretty much nonexistent - Charles falls in love with Marge, she says no, and Charles' wife runs off with the oh-now-she's-a-lesbian-she-has-to-wear-a-lumberjack-shirt Patty. But it doesn't really matter so long as the rib-ticklers keep flowing, which they admirably tend to (quite what this says about the show's current reliance on convoluted plots at the expense of honest-to-goodness good jokes, I wouldn't care to speculate).
All in all, this curious experiment does, just about, stand up to scrutiny. Gervais has delivered an episode of The Simpsons geared towards his own comedic sensibilities without making it feel too markedly like a completely different show, and on that basis, for him, it can be judged a success; particularly as it stands up so well in comparison to the last couple of series. For the makers of the series, however, it's harder to see how this does them much credit - all it really does is show up the inherent flaws in the current setup, by demonstrating that an outsider (and, furthermore, an outsider who frequently admits to being a massive fan of the show as it used to be) can come in and outdo them. Given that the show is still massively successful, no matter how lacklustre it's become, it's hard to envisage them treating this episode as the template for a bold new era, regularly turning the show over to guest writers from outside the usual sphere. As such, while Gervais can stick this on his CV as a successful attempt to do something else (even though crossing the Atlantic and moving into a different medium didn't stop him from employing the same sort of comedy - and the same character - he's already known for), in terms of the Simpsons canon this looks destined to go down in the annals as an amusing curiosity rather than a significant landmark.