Big Brother's Little Tosser - Day 8
Well, it's been an eventful first week. Two people have left already, and in both cases, we're not entirely sure whether they jumped or were pushed. We've seen some pretty bizarre and disgraceful behavior, from both sides of the Shahbaz vs The World battle. There's been a brand new spin-off show launched, and apparantly there's an eviction on tomorrow. Where shall we start...?
Poor sod.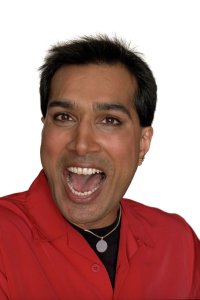 Obviously, the big story of the week is Shahbaz. What a bizarre story we've seen unfold there. For the first few days, I thought Shahbaz was a bit touchy-feely and a bit over-camp, but pretty much harmless. His biggest crime was using being gay as a defence for being a bit weird; he couldn't seem to grasp that Glyn didn't object to Shahbaz touching him because he was gay, it was because he was a creepy old fucker.
But then Shahbaz stayed up late on night, wandering around the house mumbling to himself, threatening the air and hiding *all* the food in a big box in the garden. That was a little weird, and made me wonder if he had all his marbles. I don't mean that in a Digital Spy forums "omg hes a nutter lol" way, I was concerned for his wellbeing. He clearly had, shall we say, 'issues', and the BB house is never the best place to confront those. All the stuff about it being 'his final curtain call' and him 'coming into the house to die' set alarm bells ringing.
So when he left the house on Tuesday evening, I was quite relieved. He was a bit annoying, and it was for his own good to get out now. But after seeing last night's show, any sympathy I had for the other housemates for having to put up with him completely evaporated. Now, I've never been convinced with the use of the b-word in describing activities in the house before now, but this was textbook bullying. Sezer threw Shahbaz's cereal in the bin twice, so the other housemates swarmed around him and ranted at him for wasting food. Then he went and sat in the lounge, and every single housemate (bar George, who I found myself having an ounce of respect for, for the first time) walked out to leave him on his own.
I could go on... and I will. Shahbaz did absolutely nothing wrong in that conversation with Bonna regarding getting some fresh air. But she snapped at him, for some reason, and before he had a chance to retort, the rest of the herd jumped in and told him to stop picking on people! And the clothes thing. Normally, this would be a little prank, nothing to worry about... but it was the way they went about it that pissed me off. Especially Nikki, the twat, saying "hide them, that will hurt him more". That will hurt him more? For fuck's sake.
Undoubtedly, it was still the right decision to let him go. He couldn't have coped in there much longer. But the sympathy is 100% with Shahbaz now. He did some stupid things, and to some extent he bought the bullying on himself, but when it's thirteen versus one, and the digs and belittlement are so relentless, he didn't stand a chance. And while I'm glad he's gone, I will miss his way with words. "I feel like that guy in The Prisoner. I'm not a number. I'm sick of being a National Insurance Number", and "I wouldn't suck your dick if I was suffocating and there was oxygen in your balls" are two that spring to mind.
What's going on with this one?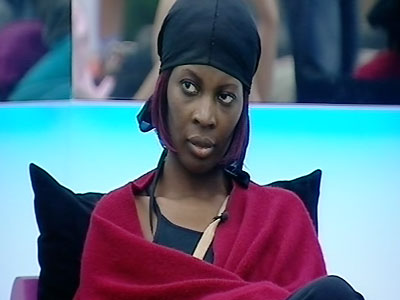 And now, another one has bitten the proverbial dust. And it's quite confusing as to why. See, yesterday, the Big Brotherhood task reached its conclusion, with everyone but Bonna, Dawn and Glyn being inducted. As such, the remaining three face eviction on Friday, and were told they would not be recieving their suitcases ever. Which is quite amusing, seeing as Glynn has nothing but a pair of shorts and a float. Dawn reacting badly to this, instantly proclaiming that she'd walk. At the time, I thought this was just attention-seeking behaviour, but nevertheless, she's gone now.
However, according to Big Brother, Dawn has left because she broke a fundamental house rule: communication with the outside world. Apparantly, her family sent her a message, via the producers, that her sister was ill. They do allow people to recieve news like this, and have done since 2000. We don't usually see it, as it's considered a little too private. But apparantly, 'your sister is ill' is a coded message, meaning 'you're getting bad press'. This was considered an abuse of the system, and she had to go.
But... doesn't this strike you as being really, really weird? I mean, a housemate can expect to recieve bad press from at least one of the papers for the entire time they're in the house. Was she expecting the producers to believe that her sister got ill two or three times a week for the next thirteen weeks? Christ, she'd be half-dead by the end of it. I don't think Dawn is that stupid - especially as she apparantly announced the rest of the group that she'd been communicating with the outside via code.
It's a bit fishy. There's no doubt it's convenient for Endemol to kick her out for rule breaking, rather than having two housemates walk within two days of each other. Especially considering Dawn was going on all last night about how damaging this would be for the show, and how it indicates that the producers have misjudged both their choice of housemates and the harshness of the Big Brotherhood task. It would seem that Dawn would have gone either way, and that this way saves a little bit of embarrassment for Endemol.
In other news, Sezer and Imogen have been snogging, as have Mikey and Grace (who looks about ten years older than she actually is). Meh. It's looking like Pete and Lisa might go the same way as well, which would interest me more, as they are my two favourites so far. The two of them came together after Pete revealed that he has a massive cock. Even I was quite impressed by it. Nice one, Pete.
There's been some good unintentionally funny behavior from the housemates this week too. George coined the term 'top-spec bitches', which is both hilarious and infuriating at the same time. Also, Nikki's furore about Dawn's alleged body odour reminded me a lot of Morwenna Banks's little girl character from Absolutely. "Sezer said he did go in to the bathroom and Dawn did make the towels STINK of BO, she did, it's twue!" Also, she keeps on insisting that Sezer is called "Felix", which is great. She's still a twat, though.
Big Brother's Big Brain launched this week! Meh. There are two good things about it: 1) more Dermot O'Leary for your money; and 2) it keeps all the cod-psychological bollocks off the main show. Other than that, it *is* just the bollocks cod-psychology bits from the main show, but for half an hour. The first half was taken up by a bloke analysing the way that the housemates hugged each other as they entered the house, and guessing their basic character traits and flaws on the basis on that. Fuck off. A *proper* psychological assessment of the house would be great, but this simply isn't what we get. It's just pop psychology and advanced obviousness-stating, for idiots.
Tomorrow, I predict that Bonna is going to go, and will be promptly forgotten forever. You know, I'd assume that selective editing and all that tosh were to blame for Bonna and Glynn getting so little airtime, but I've watched quite a lot of the live footage, and I've yet to see either of them say or do anything interesting. I think Glynn has the potential to be a good housemate, but he's too shy and inarticulate. Bonna is very annoying, though. Stupid voice, stupid face, just stupid.
In the meantime, let's hope that Shahbaz and Dawn's replacements are nice, that we find out what the bloody hell went on with Dawn, and that Sezer impales himself on a big spike. I've been Little Tosser, you've all been top-spec bitches.
About this entry
Posted on Thursday, May 25 2006 @ 4:49 pm
Categorised in TV