Doctor Who - Rise of the Cybermen
I'm really gutted I'm not giving this episode five stars. We at Noise To Signal haven't given an episode of series two five stars yet, which to me is a massive oversight simply because last week's The Girl In The Fireplace was one of the most wonderful pieces of television I've seen in a very long time.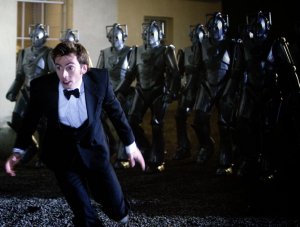 Still, though, I can't give this five stars, because it wasn't quite perfect, even despite the completely spot-on title (surely the best episode title of the RTD era, full-stop). Maybe it's because I was looking forward to it so bloody much - I've even been listening to the brilliant Big Finish audio play Spare Parts, whose writer Marc Platt got a "Thanks" credit on Rise, in anticipation - but in a number of ways it didn't quite deliver the thrills I was expecting.
From the first time it was mentioned, I was intrigued by the idea of a "parallel universe" idea showing up in New Who, as it's just not something I associate with the series. In Red Dwarf? Sure. But when you've got a series that's so inherently structured around time travel, it seems quite out of place to start hopping dimensions as well. Still, it was nicely set up - with an at least vaguely convincing in-show-logic reason for it happening - and the opening scenes on the "other" Earth played out well. I don't really think, though, that it's been followed through particularly strongly so far - perhaps because the story of Rose and Mickey exploring a different Earth is, of course, jostling for space with the story of the genesis (let's call a spade a spade, here!) of the Cybermen. As such, there's no real room for explanation of the various divergences, such as why Pete Tyler is such a success on this Earth selling what is, essentially, Crap Pop.
Second Opinion
This is the episode of series 2 that I've most looked forward to. As with any icon of the Doctor Who canon, it was crucial that the Cybermen came back looking, acting and sounding more impressive than any of their previous incarnations. Now the BBC are actually bothering to spend some money on the series, the Doctor's old enemies are being given the treatment they deserve. Boy, have they spent some money. The Cybermen look beautiful, tough, and really rather scary. No wonder Russell T Davies was gibbering with excitement over them in Doctor Who Confidential, because they ooze eerieness and danger. At last I got the true meaning of the Cybermen: they are us, but in a terrifying form. I'm happy to hold off buying my very own Doctor doll, but I'll be first in the shop door when the Cybermen dolls are released.
The story anchors itself firmly in the present day by using Cybus Industries' earpieces as a metaphor for our increasingly technology-obsessed and media-dominated society. It's not a new issue, but it's fair to question the potential for control that arises when we let governments and large organisations dominate our world view. The current controversy over ID cards is commented on through those who either refuse or are unable to wear Cybus's earpieces: they are outsiders, unable to participate in their society. The earpieces give permission to take part in mainstream society; in other words, permission to exist.
The Doctor realises yet again how difficult working with human beings is, as Rose wants to discover what she never had, despite the Doctor's warnings that they aren't her parents, and this isn't her world. Mickey, after proving to the Doctor that Rose is more important than him, then tries to find a role for himself in this alternate universe, but finds that his search to prove that he can be useful leads him into a situation he could never have predicted. It is gratifying to see Mickey come into his own at last. There's some fantastic performances in this episode, with Don Warrington giving a dignified performance as the President of Great Britain, Roger Lloyd-Pack hamming it up as John Lumic, and Mona Hammond giving Noel Clarke something to work with as Ricky's grandmother.
Graeme Harper does a fantastic job of directing, managing to convey the full horror of the Cybermen and the apparent helplessness of even the Doctor against them. The Cyberman kicking though the Tyler's window is the most intimidating and beautiful shot so far of the second series, IMO. The brutality of John Lumic is realised in perhaps the most uncomfortable scene we've seen so far in the new episodes, although, with all good drama, it's what we don't see that made me squirm and squeal on the sofa.
In summary, this was the best episode of series 2 so far for me, as it achieved the remarkable feat of making 45 minutes seem like 10. I really can't wait to see how the Doctor gets out of this one...
Mickey continues to improve, which is of course a sure-fire sign that he won't be around much longer (well, that and the fact that we know that only the Doctor and Rose are travelling in the TARDIS when The Idiot's Lantern comes around). Opinions differ as to how he'll depart, but there seems to be a definite sense of rounding out his character to the extent that his staying in the alternate universe will feel like a genuine and natural progression. I like the idea of taking time out to establish things that we - like the Doctor - had never even thought to ask about him, and I also felt that in the early scenes he made for just as good a companion as Rose, with the way in which he understood the alternate-Earth concept and applied "our" sort of approach to it. Noel Clarke's performances this series have been a world away from series one, and this was still the case here - but he convinced rather less as the tough "Ricky".
Indeed, acting was a bit of a mixed bag this time out. Byker Grove Bloke (as he will forever be known) was a bit flat, while I was extremely disappointed to have been so unimpressed with Roger Lloyd Pack - but I really didn't think he nailed a suitable sense of menace, nor was there anything particularly compelling about Lumic as portrayed. Better, of course, was the ever-reliable Don Warrington, and I was also impressed by Colin Spaull, whose Mr Crane surely owed a debt to Spare Parts' Thomas Dodd.
Despite some assured direction from Graeme Harper, I really didn't think the pacing of the episode was up to much. Of course, it's best to judge the story as a whole when we've seen two parts - but therein lies the problem, really. Unlike Moffat's expertly-woven Empty Child, this didn't feel like part of a well-structured two-parter - it felt like a lopped-off half of one ninety-minute-long story. As such, rather than having a cohesive beginning, middle and end, the episode instead felt like a lengthy beginning and the warmup of the middle. I should expect, again, that this problem will matter less come The Age of Steel next week, but I'm not wholly keen on the apparent lack of consideration being given towards making the first part a well-constructed episode in its own right.
It almost goes without saying, though, that the episode improved immeasurably once the Cybermen got some proper screentime. You just know that part two is going to be much, much better simply for their extended presence - they were absolutely brilliant. The voices, though disappointingly not as good as Nick Briggs' earlier interpretation in Spare Parts, were chilling, and they really were as relentlessly cold and terrifying as all good Cybermen should be. I liked the bits of detail we got about the horrifying nature of the Cyberising process - particularly the excellently written and delivered line "Because it hurts" - but I'm a little less keen on how polished and robotic they are. They look wonderful, and you can imagine them as a later evolution of the species - but if what we're seeing is the early days of their existence, then I'd have preferred to have seen a much eerier, hodgepodge of bits and pieces, with more evidence of the original human inside. Indeed, while some I've spoken to have interpreted it slightly differently, I got the impression from the episode that what was happening was that the brains were simply being implanted into robotic bodies - and if that is the case, I'm not happy, because that's really not what the Cybermen should be. And I know I'm being quite influenced by Spare Parts here, but I really do think the lack of exploration of the idea of people "upgrading" - sometimes even willingly - to eventually become the Cybermen was something of a missed opportunity.
It's not as if there wasn't plenty to enjoy in the episode - there was, but the majority of it came as a result of the production and direction, rather than the script. It's a little disappointing, after all, that an episode entitled Rise of the Cybermen ended up treating its eponymous scenario almost as the "B-plot", with the bulk of the episode being an exploration of Rose and Mickey's possible alternate timelines; with many of the ideas - and indeed some of the dialogue - being cribbed straight from Paul Cornell's Father's Day. This should have been something truly brilliant - if not a startlingly good piece of television in every respect like the Moffat episodes, then certainly at least something epic and thrilling to rank alongside last year's Dalek appearances. Instead, the moments of genius were just that - moments, instead of something that infused the whole.
But let's at least give it until next week, and judge the story as a whole once we've had some proper action from the old boys themselves. Because on the evidence of the last five minutes of Rise, they're back in style, and we should be in for a cracker.