Doctor Who - The Girl in the Fireplace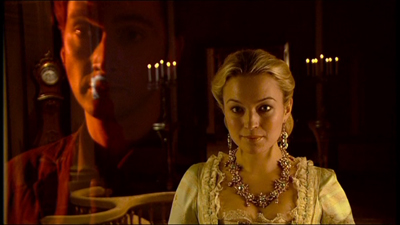 I was getting worried there, for a minute. Doctor Who was beginning to feel like a bit of a letdown; what was going on? New Earth was good, but had some serious internal logic problems (zombies taking a shower in an intravenous solution brings about the next stage of human evolution?), Tooth and Claw was enjoyable but had a slightly patchy script, and School Reunion was entertaining but under-developed and left too many unanswered questions to be truly satisfying.
That's all changed, though. Who is back!
The one and only Steven Moffat penned The Girl in the Fireplace. Moffat, currently nominated for a Hugo Award for Best Dramatic Presentation, Short Form for last year's The Empty Child/The Doctor Dances (counted as one episode on the ballot), seems to be an author fascinated by history. Instead of World War II, however, he now takes us on a journey to the 18th century, where the Doctor meets a little girl by the name of Jeanne-Antoinette Poisson, soon to be known as Madame de Pompadour.
The episode kicks off in style, with a lovely picturesque 18th century French home being harassed by some unknown force. Even though the music sounds a bit like Monkey Island, it's a very effective opening. Then the TARDIS arrives 3000 years later on an abandoned spaceship. I quite like the feel of this ship - it reminds me a bit of Allen Steele's Hugo-winning novella, "The Death of Captain Future" (1995). The plots of The Girl in the Fireplace and "The Death of Captain Future" are completely different, but the atmosphere of unnatural desertion is strong in both works.
The basic storyline of The Girl in the Fireplace - a living ship searching for repair parts - is not entirely unfamiliar to long-term SF fans, but Moffat is good enough at what he does to take that concept and make it his own. Moffat embraces the fact that Doctor Who thrives on a sense of fun, and not necessarily on strict logical sense, and really makes the most of it. For example: despite the fact that the Doctor uses a rotating fireplace to travel to 18th century France, and despite the fact that he quite literally encounters a monster-under-the-bed - despite this, Moffat still manages to scare the pants off of us with what is, in essence, a cheap trick of every horror movie.
Second Opinion
As someone who was head-over-heels in love with the first series, it's pained me slightly that something has continued to feel slightly off about series two, despite its steady improvement. Thank Christ, then, for Steven Moffat's episode coming so early in the series and blowing all of that out of the water. This was sheer, unadulterated, joyously wonderful stuff.
It hit the ground running, too. Barely ten minutes in, and wham! - a moment that will give children (and many adults) across the land nightmares. To be fair, the episode wasn't particularly scary after the initial shock of the masked robot reveal, but it didn't need to be - we were hooked by the initial shock, one that played on our eternal childhood fears of there being something lurking under our beds.
What Moffat really gets, though, is that modern-era Doctor Who is at its best when it's funny, scary and moving in equal measures, and The Girl in the Fireplace threw together this balance in such a way as to make almost every other episode of the RTD era (save for his own Empty Child, and perhaps The Parting of the Ways, which was brilliant for completely different reasons) look painfully ordinary.
The laughs were genuine, with an array of endlessly-quotable lines to stack alongside previous Moffat gems. The pathos, too, was heartfelt rather than schmaltzy - enough was done with Jeanne-Antoinette as a character that we genuinely felt for her, being unable to realise her dream of seeing the stars, rather than simply feeling for the Doctor and his loss (which, of course, we also did). Plenty of that was to do with Sophia Myles' portrayal, an excellent guest turn dripping with class and no small amount of chemistry with you-know-who. Who, by the way, it's difficult to say anything new about - he simply continues to dazzle, extending his range and making this Doctor very firmly his own. The plotting was tight, with the reveal at the end beautifully handled, and the episode was simply littered with terrific ideas and touches - it's not hard to see why the Doctor fell "in love" with the machinery of the clockwork robots, who were as well-realised as they were well-conceived, while every appearance or mention of the horse was simply the icing on the cake.
If there's anything I have a quibble about, it was the apparent readiness of the Doctor to leave Rose and Mickey stranded on a spaceship with no hope of escape. It's certainly not something the Ninth Doctor would have done, and while it's in keeping with the more impulsive nature of the Tenth, I'm left wondering if it's something they're going to address in later episodes, because it did leave a slightly bitter taste on what was otherwise a near-perfect forty-five minutes of television. Still, though, this is why we love it so much - because when it's on form like this, nothing else can touch it.
So, what about the rest of the episode? Well, the Doctor outwits a six-foot clock, and returns to find Madame de Pompadour as a young woman, who, despite her aristocratic upbringing (or more probably because of it), relishes the sense of danger and recklessness that emanates from the Doctor. Enough to plant one on him right after he shows up the second time. She's not one to waste any time, is she? Even so, at this point in the episode, it's a complete mystery why she has been singled out by the ship, or what exactly the ship is trying to do.
Any good literary critic will tell you that certain themes come up time and again in an artist's work. As Lucius Shepard once wrote, "Writing fiction is like taking a rubbing of your brain. All the bulges and convolutions and fissures will show up in your work whether you want them to or not." In Moffat's case, one of those themes seems to be masks. He used them to excellent effect in The Empty Child, and The Girl in the Fireplace uses them again.
The next time we encounter one of the masked clocks, it's a major step forward in terms of plot. We find out that they are programmed to obey Madame de Pompadour and, more importantly, what exactly happened to all the crewmembers. This is where the episode really gets interesting. The ship is merely executing repairs, not out for revenge or something equally silly. This idea struck me as being reminiscent of several different SF works. Perhaps the most notable work that came to mind is James Patrick Kelly's superb 1990 novella, "Mr. Boy," where Mr. Boy's mother has genetic surgery to transform herself into a two-story house in the shape of the Statue of Liberty, and uses aspects of her personality channeled through robots in an attempt to continue living after death. This ship, however, does not have the maternal sense that "Mr. Boy" had, but instead thinks in terms of necessity: The ship needs to repair itself in order to function, and it will do everything possible to repair itself. It's not a question of murder or humanity. It is reminiscent of the type of thinking that the dinos had to teach Michael Burr in Kelly's "Think Like a Dinosaur" (1995) - it doesn't matter that they're human, what matters is balancing the equation.
Anyway, back to the episode. Rose and Mickey are captured by the repair droids, the Doctor reads Madame de Pompadour's mind (and she is somehow able to enter the Doctor's mind as well), and the repair droids find the correct time window. They attempt to take her brain by force, the Doctor saves the day and inevitably becomes trapped in the 18th century. Madame de Pompadour had the fireplace moved to her new home, where it is exact in every detail. I'm still not sure that I buy the idea that moving a time window will leave the connection intact, as it seems too convenient - it's a bit too much of a deus ex machina to be truly believable.
I've still got a few minor quibbles with the episode. Some parts are musically over scored, the idea that these time windows had never been discovered is somewhat ludicrous (you'd think that at one point someone would bother to look behind the tapestry), the characterization of Madame de Pompadour falls flat, and as a result the chemistry between the two of them isn't quite what it should have been. (I will say, though, that the most resonant part of the episode is that she did more good for him than he did for her.) It pains me to say it, but I have to give this episode four stars. It was a near thing, though, and it's undoubtedly the best episode of the new series so far, but five stars indicates something that is absolutely perfect in every detail (or is charismatic enough in its storytelling to make you forget its faults) and unfortunately this episode left a few lingering doubts in my mind.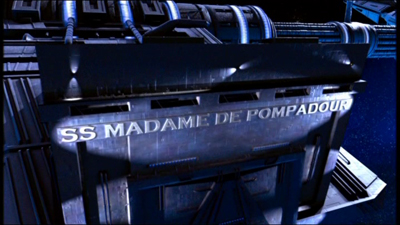 But there's so much good, as well. Mickey was relatively unannoying, for one. There is some genuinely decent - though unoriginal - SF concepts, the performances were fantastic and the writing was solid throughout. The end scene revives this episode a great deal, in particular one gorgeous visual where Madame de Pompadour's body is being carried from Versailles for the last time. The very last shot, where it is revealed that the ship's name is SS Madame de Pompadour gives the episode one final resonating note; due to a corruption in the ship's files, the ship assumed that it needed Madame de Pompadour's brain in order to function properly. It was all a mistake.
But a good mistake. Through that error, someone was able to make a true connection with the Doctor - something relatively rare in this series. Despite her efforts, though, Tennant shows us through his performance in the final scene aboard the TARDIS that one lonely little boy still hasn't quite learned how to dance.