Big Brother's Little Tosser - Day 19
Christ, it's been a while. Usually, at this stage of the game, I wouldn't have missed that much. But in the eleven days since my column last rose to greet you all (during which I've been working and going to gigs, so sorry about that), we've had three housemates leave, two new ones come in, the first round of nominations and Sezer having the smug look wiped off his stupid face. I'll try and start from the beginning...
Bonneh went. Ages ago. And I was right, she has been completely and utterly forgotten about. They couldn't even be arsed to keep her on BBLB for the full week, instead showing a few VTs called "Everyfin and Everyfin", in which Bonneh gave her opinions on current affairs. It would be good to see how they pitched that to her: "you're really thick, you see, Bonnie, so we're going to make you talk about things you don't know about, and then people will laugh at you. Haha! Do you see?"
This was the best photo I could find of the two newbies together.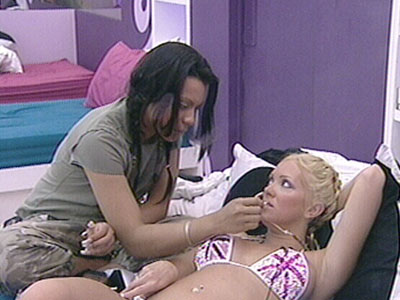 Then we had the Meal or No Meal task, which was pretty good. There were rumours a while back that they were going to do their version of Deal Or No Deal, with Noel hosting. That obviously didn't happen, but we did get an attempted gunging, in the true spirit of Noel's House Party. The culmination of the task was, of course, the arrival of two new housemates! Although, it would have been hilarious if Pete got those two questions wrong. Or indeed he got the speedboat question right, and they had a whopping great speedboat in the garden for the rest of the show.
The first new contestant revealed was Aisleyne, a "ghetto princess", apparantly, although she has admitted that she had quite a nice upbringing and chose to leave home and live in a hostel at seventeen. Silly cow. The entry of two new housemates temporarily wiped Sezer's smug look from his face, as he set out on a campaign to, in his words, "bully them". Aisleyne's now quite recovered from this, and is facing a wall of twattery from the housemates, but I don't know. By rights, I should dislike her, but she's building up a nice partnership with Glyn. Who, incidentally, has come on leaps and bounds since the first week. I really like him now, especially his singing; his rendition of Children of the Revolution was great.
Also new is Sam, a half-Indonesian/half-Scottish half-man/half-woman. So far, she's become a figure of hate in the house, because she's smiley and pleasant. The BITCH. The animosity shown towards the two newbies is staggering. One of them will be gone this week. I was surprised when Davina revealed that Sam was born a man, as she didn't strike me as too masculine-looking. But when you know, it's pretty obvious - the hands give it away. I've heard conflicting reports as to whether she's a pre-op transsexual who wants to become a woman, or a cross-dressing man who intends to stay that way. All we know for sure is that she's got a cock and she fancies men, thanks to Nikki's excellent interrogation ("you do realise they'd have to be gay men, don't you?"). Speaking of whom, I'm starting to quite like Nikki. Obviously, I still think she's a despicable human being, but she's very entertaining.
Anyway, after them lot went in, George decided to bugger off. This was just plain weird - he suddenly decided he didn't want to be famous after all. What a plum. He's not really been missed since he's been gone, despite The Twatty Group moaning about how it's going to fuck up "their" chances of winning. When are people going to learn that housemates with gameplans don't win? It's that simple. The public hate it, much preferring to vote for the affable, laughing and more honest candidates. As Sezer found out, when he had the smug look wiped off his stupid face.
Imogen and Sezer were both banned for the week, due to discussing their nominations. That wiped the smug look from Sezer's stupid face, good and proper. Then, excellently, Imogen did it again and got banned for another week! By rights, Lisa should be punished too, as she's twice broadcast to the house that she nominated Lea and Richard. There were three housemates up for eviction: Lea, Richard and Sezer, which wiped the smug look off his stupid face. Sezer would have been saved if he and Imogen had been allowed to nominate, and at least one of them had chosen Lea. Ah well.
Sezer's stupid face, sans smug look. Prick.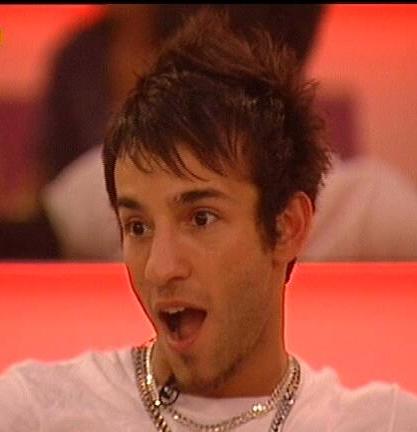 And so on Friday, Sezer had the smug look wiped off his stupid face, when he was evicted with 91.6% of the public vote. That's ninety-one point six per cent. In a three-horse race. 33.34% would have sent him packing, but oh no - Sezer gathered 91.6% of the public's hatred. Hahahahahaha! What a prick! Now, I expected him to go, based on the odds and various opinion polls on BBLB, but 91.6%! I also liked the way that Lea saw the result as an indication that people accept her as a person and that she is part of society and all that. Whereas actually, she was kept in just because everyone hates Sezer so much. You could have had Sezer up against Hitler and General Pinochet, and he'd still have had the stupid smile wiped off his smug face.
Coming up this week, the golden ticket winner goes in. Rumour has it that the housemates will draw one name out of a hat containing the names of all the golden ticket holders. It's going to happen on Friday, in a show that will have to compete with the first day of the World Cup. We don't know yet whether the golden ticket winner will be George's replacement, or whether there'll be another one going in. They were planning the golden ticket thing from the start, so even with that one in, they'll still be one housemate down on what they expected. But I doubt they'll bring a fourth newbie in so quickly - maybe after a month or so when things have calmed down a bit.
Mind you, I've been expecting things to calm down a bit for two and a half weeks now, and the series is still fucking nuts. So far, though, I've really enjoyed it. Which further backs up the theory that odd-numbered series of BB are the best, which is true so far. I liked Series 2, but 4 and 6 were a bit shit. I know it's a bit early to be saying this, but BB7 has got a great mix of housemates, is constantly entertaining and could yet prove the doubters wrong...
About this entry
Posted on Monday, June 05 2006 @ 8:11 pm
Categorised in TV