Doctor Who - Fear Her
Fear Her was always going to be a bit of an oddity. One one side, you've got the deliberately format-breaking Love & Monsters, guaranteed to provoke a strong reaction either positive or negative, and on the other side you've got the two-parter that the entire series has been building up to. In the middle of this, you've got an episode that would really have to pull out the stops in order to impress.
A good joke, there.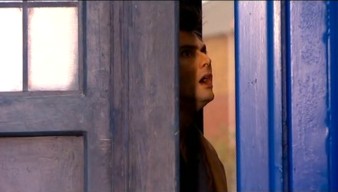 And sadly, Fear Her just doesn't quite manage it.
Individual moments were great. The squiggle attack on Rose was excellently surreal, and exactly the kind of great, weird concept that the show doesn't back away from doing. The monster in the cupboard was superbly realised (as I've said before, less is more sometimes, and a cupboard, a drawing and a red light are a lot more scary than most CGI monsters), and The Doctor's dialogue as usual sparkled ("No ta!"). In fact, the comedy in the episode worked very well - "I'm reporting you to the council!"
Indeed, I love two sections that have been singled out for criticism; the stadium disappearance, and The Doctor lighting the Olympic Torch. The former was just a wonderfully odd idea - but unlike some, I love Huw's bewildered commentary. As much as anything else, it's true to what would have actually happened - but also, I get the idea that people would have liked that sequence to be explicitly spooky, rather than being at least partly played for comedy. Well, the joke about the presenters disappearing as well was worth it for me... but I believe the sequence managed to be spooky and hilarious at the same time thanks to the commentary. Sequences don't have to be one thing or the other - they can be both.
As for the lighting of the torch, which many people have complained about... if someone could tell me exactly what they didn't like about the sequence, I'd love to know. All it did with me is put a great big grin plastered all over my face.
But - and yes, there's a but - the problem is that the excellent individual set-piece moments (the TARDIS landing the wrong way round, there's another one) were only those - moments. I felt that atmosphere that should have been there in-between was largely missing - although the hint of suspicion of The Doctor being a paedophile was very well done, in its understated way. I hate it when reviewers criticise a show for doing exactly what the writer intended to do. Here, it's pretty obvious that Matthew Graham wanted to see what happened when the TARDIS landed just up the road from you. Which is great, and could work. But the danger was always going to be that unless it was extremely well done, the show would end up coming across as pedestrian. It's difficult to be pedestrian when you're shooting down Cybermen, however it's done. Here, the show just needed a bit more... well, oomph. Despite all the fantastical happenings, it still felt too ordinary for Doctor Who - and not in the way that worked so well way back in Rose.
The NSPCC were not amused.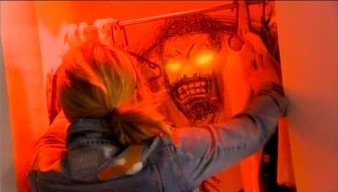 I don't wish to be too critical of the episode. It has been said on various forums that Who fans look too kindly on bad episodes. I actually think the reverse is true, at least for me - reading this review back, I've been way, way too harsh. If this was a new show and it did this episode, I'd be more than pleased. But this is Who, and I have high - perhaps unrealistically high - expectations of it. So when a perfectly good story comes along, albeit with its faults, I can't appreciate it as much as I should be able to. Which is a shame, but that's the price you pay when you produce the best show BBC ONE has seen this decade.
One very good thing about the episode is that it didn't shy away from the central concept - it's made pretty obvious that Chloe's father was a very violent man. It is to the episode's credit that this wasn't diluted, as it could have so easily been in lesser, more cowardly hands. Sadly, although this was made pretty clear, it didn't resonate with me quite as much as it should have done. It comes to something when an episode that is essentially about child abuse comes across as slightly... boring, at times. I do, however, get the feeling that a second viewing would be kinder to the episode - once you know what to expect, it's probably easier to appreciate the good stuff.
It became a cliche ten minutes after the show was broadcast - the trailer for Army of Ghosts (excellently structured with Rose's voiceover) was more interesting and exciting than the rest of the episode put together. But sadly, just because it's a cliche, it doesn't stop it being true.