Doctor Who - Love & Monsters
Well, I would.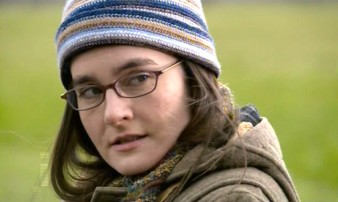 At some point in nearly every show's life, we get the format-breaker. Whether it's a production necessity (Voyager's Bride of Chaotica! - produced because the bridge set was unusable for a week due to a sprinkler going off), or purely an artistic decision (The X-Files' Post-Modern Prometheus, shot entirely in black and white), or the writer simply want to see what happens when Victor Meldrew has to hang around the house for half an hour, the results are usually at least interesting - and often end up being amongst the best of a shows episodes. Bringing up the question, of course, as to whether the show's format is usually too rigid.
Not that this can be applied to Who - the whole joy of the show's format is that there is no format... theoretically, at least. In practice, the cliches of people running up and down corridors away from scary monsters are actually, well, completely true - however excellent a format that is. Still, here we have a show that, by production necessity, did not involve The Doctor and Rose much (the team were shooting two episodes at once - and your stars can't be everywhere at once). Did it work? Or was I left with the same disappointment I was left with after last year's Boom Town?
This episode seems to have - predictably - split opinion across the net. And chief amongst the charges against the show is that it was too silly. Yes, you've got the quick cut to Elton John. Yes, you've got The Doctor and Rose doing a Scooby Doo/Benny Hill chase across a set of corridors. Yes, you've got a man at the end talking to his girlfriend embedded in a paving slab. Of course, Who has always had a certain amount of silliness, but it's rarely been this all-out mad, even if most of it can be explained by the fact the tale is exaggerated by Elton, as RTD mentions this in the online commentary. (Some people have asked how they were supposed to know this, but it's a fairly standard unreliable narrator device.)
Anyway, the silliness. And the thing is: I like silly. Silly makes me laugh. Silly is not a pejorative term, in my world. Hell, stupid isn't necessarily a pejorative term. It all depends on how its done. I find silly farting aliens are funny. I find Tennant pulling faces is funny. And I find all of the stuff I mentioned above also funny. If that's not your sense of humour, you're going to hate the episode. I happen to absolutely love it, and get slightly irritated by people who don't - because, whether they mean to or not, they sometimes come off as being above such things. Well, if that's the case, I'm perfectly happy to slum it with the dirty scum who find big tits and bums funny. People may complain that Bliss's face on the Abzorbaloff's ARSE was predictable... but surprise is not the only facet there is to comedy. Sometimes having your expectations confirmed can be equally as hilarious. The anticipation heightens the comedy.
Second Opinion
If nothing else, Love & Monsters was a statement of intent. "You can think all you want," says Russell T Davies to the fans, "that this show still belongs to you, but you're wrong. Enjoy it, if you will, by all means. But you don't own it any more, and you don't get to tell us to stop it from growing and changing, because it's back in the hands of the general public, and we want to have fun, we want to experiment with what this sort of drama can do." He might not have said that, of course, and he may not even think it - but it's the attitude that comes across from the exceedingly ballsy L&M. He's getting torn apart for it, of course - I don't think I've seen such a nasty and vindictive spew of vitriol from the ever-lovely fandom since the new series began. But as much as you may want to hate the Davies administration for this so ostensibly un-Who-like episode (and I say "ostensibly" deliberately, although others have elaborated better than me on how many of the core Who elements remained in place), how can you when it was this bloody good?
I think what enabled them to get away with doing this ep was how charming the whole thing was - and crucial to that was the performance of Marc Warren. From nowhere, he stepped up to the plate to take the lead role in the first episode of Doctor Who not to prominently feature its lead character since Mission to the Unknown in 1965, and he did so with aplomb, making Elton a thoroughly sympathetic, believable and downright loveable guy - cheesy dancing to ELO and all. Indeed, it's moments like the ELO bits that remind you just how much fun they're still having making this - the scene in the launderette's, for example, was completely silly, but still laugh-out-loud funny.
Aside from Warren, the cast were generally excellent, Shirley Henderson in danger of stealing the whole show if only she'd had more to do, a pleasantly surprising appearance from I'm Alan Partridge's Simon Greenall, and they even had the decency to do away with the annoying girl from Two Pints... quite early on. The attention, though, was - of course - all on Peter Kay - and he did exactly what he needed to. Let's not pretend this was a serious role - even as Victor, he was hamming it up ludicrously (sounding like a That Peter Kay Thing character), while he was an absolute hoot as the Abzorbaloff (I particularly loved the line about the name of his planet).
This was an episode so infused with a simple sense of infectious joy, despite its darker message about the inevitable results of having one's life cross over with the Doctor's, that it was difficult to dislike - unless you're a grumpy, bitter sod, that is. It was also beautifully constructed - and the gimmick of showing the Doctor's life intersecting with that of an ordinary guy, aside from being inspired in itself, gave us the fantastic (if a little predictable) flashbacks to series one. It's surely a credit to how well put-together it was, and how strong Warren's performance was, that it wasn't until I looked at my watch and saw it was about 7.35 that I even realised we'd barely seen the Doctor yet.
It wasn't anything like perfect - quibbles would include not taking the opportunity, given the story's subject matter, to make reference to Clive; and the fact that the stuff about Elton's mother seemed unnecessarily tacked-on - and I really wouldn't want to see the show doing this every week. But this episode was always going to be "offbeat" as soon as they let the monster be designed by a 9-year-old competition winner - so why not have a bit of fun with it? If the episode had been a shambles, I'd be up there with the loudest complainers - but when the result is an episode as effortlessly entertaining as this, where's the harm in a one-off experiment?
I love the fact that they actually had the nerve to do this episode. Occasionally, I've accused the series of playing things a bit too safe - not so here. This is a show that almost invites a certain type of person to hate it. And that's fine - because from the trailer, the show will get right back to the more usual episodes next week. You're allowed one in thirteen episodes to go a bit mad. If it was up to me, it'd be rather more. Even people who hate the episode should be encouraged by it - because the production team having a bit of balls behind them to try things is always a good thing. Next time, those balls will be used to produce an episode you love.
So, onto our main character for this week - Elton Pope. In an odd way, he was a bit too ordinary - ELO aside - a few more distinguishing characteristics wouldn't exactly have gone amiss. For all that, Marc Warren carried the episode very well. As for Peter Kay... well, he was being Peter Kay, but luckily didn't play the part too knowingly. If you don't like him, you're not going to like his character. I happen to like him - although ironically, his funniest moment came in Confidential where, standing in full costume and make-up, he informed us all that he was "getting the alien costume tomorrow".
As for Jackie - I remember, back in the early days before the first series, where I moaned about RTD's decision to include Roses' family. "They should be out there, exploring new worlds, not coming back, blah blah blah". Well, first off, what's wrong with going back home occasionally, anyway - and secondly, I wouldn't trade the comedy scenes here for the world, alien or otherwise. (I was in hysterics for most of the laundrette scene.) Perhaps I should have expected there to be a point behind it all - the impact on family and friends of The Doctor being one of RTD's obsessions, after all - but it's all good stuff. Although, like School Reunion, it felt slightly more shallow than I would have liked - although that didn't matter nearly as much in this episode as there was far less resting on it.
So: more foreshadowing of people hanging around with The Doctor getting hurt. Well, it wasn't exactly subtle, but then subtleness is often overrated. Sometimes I like shows hitting me across the head with a sledgehammer. The sad thing though, is that we could have had a genuine moment of shock in the last episode - instead, we all know what's going to happen. I don't mind fansites reporting on things - some people want to be spoiled, and you can give appropriate spoiler warnings. But for the mainstream media to do this, where you can't give proper warnings - it just Pisses Me Right Off. I guess that's just how the media works these days, but that doesn't stop it being as annoying as fuck. As it is, all the foreshadowing isn't nearly as effective as it should be - but then, that isn't the episode's fault.
The whole L.I.N.D.A. scenario is obviously a riff on Who fanclubs - and a lovely nod to real fandom, rarely portrayed in the mainstream media. (People prefer to bang on about acne and Spock ears.) Who fans in particular are rather good at being creative - as they basically took over the franchise after 1989. That's what real fandom is - being creative, musically or otherwise - not copying out episode guides for the 25th time. I was less moved by each individual character's death, than by the fact that the group fell apart.
I just love the fact that the show can be so deliciously nasty at times. The production team may bang on about not showing blood and "scarying, but not terrifying kids" - but they know as well as I do that what you don't see is sometimes more unpleasant than what you do. It just so happens that this also helps them fall within BBC guidelines. I'd argue that despite, or indeed partly because of its silly tone, the episode was actually more disturbing than the last, supposedly dark, two parter. A building with two people walking past it followed by a distant scream is a lot more horrible than someone being sucked out a window - because it's all about what you don't see.
And as for the oral sex joke - more please, BBC.
But in reality, was the show much of a format-breaker? True, The Doctor and Rose are mostly absent, and the silliness-factor was sky high... but you've still got the monster. You've still got running. You've still got horrible deaths. Hell, you've still got The Doctor saving the day at the end, however unconventionally. It was funny, moving, and just plain weird. It's still undeniably Doctor Who - and there's plenty of places to go in the third series, where the show could really break format. And that's great - because in TV, formats are there to be broken. Because often, that's what makes a show special. There's a reason why Back To Reality is one of the best-loved Red Dwarf episodes, after all.
In the end, whether you like the show or not rests on whether you appreciate RTD's sense of humour. I do - the highlight being Bella Emberg's "Oh, that's Rose Tyler!". If you don't like it, you're not going to be able to get past it to appreciate the rest of the episode. Which is a shame, but humour is indeed subjective, no matter how many online debates that statement effectively shuts down.
So: laughs. Scares. Likeable characters. Deeply unpleasant things happening to the likeable characters. Great stuff. Again, perhaps not reaching the extreme heights of brilliance that Who can achieve, but a well-deserved: