Doctor Who - The Satan Pit
"Want to play twenty questions?"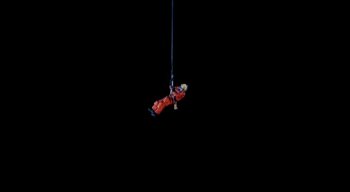 The concept of Satan/The Devil (capital letters included) seems to be a concept that surfaces far more in film and television SF than in the genre's literature. From Futurama's Robot Devil to The Omen series, Satan seems to be a recurring character. And now Doctor Who tackles the Beast Itself.
Luckily, though, that is not the only SF angle the episode deals with. You've got a black hole, planetary excavation of an ancient civilization and telepathic extraterrestrials – all wrapped up in a classic Who storyline centering around a core group of individuals on a (relatively) abandoned base. There are a lot of good, solid SF concepts in here, and while they may not be original, they certainly contribute to the effectiveness of the show.
Let's start at the beginning. Unlike The Age of Steel, this actually has a halfway decent cliffhanger resolution. It may have been a bit obvious, but what else could happen? Rose was, aside from a few incidents, not all that annoying in this episode. Her character seems to be undergoing some sort of change, where she grows more and more cocky and superior, but this episode did not showcase that aspect all that much. She actually uses her brain in this episode, taking charge of the remnant crew to find a way to reach Ood habitation.
David Tennant has toned down—slightly—his eccentric performance from last week, and his comments about being human seem more real as a result. Instead of hugging the captain, he holds an interesting conversation with Ida about "the little voice in the back of your head." And even though you know at this point that he has to go into the pit at some point in the episode, when he opts to retreat, it shows that his character has developed slightly from the first few episodes.
Second Opinion
Yes. Yes yes yes yes yes. Fucking yes. Finally, Tennant's Doctor gets a story his performances deserve. The Satan Pit rounded off a two-parter that will stand side-by-side with last year's Empty Child, and how welcome that is. I wouldn't say it quite touches the quality of The Girl In The Fireplace, but then, it's a different kind of story. Arguably, the new era of Who was still waiting for a genuinely thrilling, explosive piece of utterly compelling, honest-to-goodnes "proper" sci-fi. Well, finally, we've got one - and I can only hope that, this time, my American comrade (who shockingly only gave TGITF four stars last time we were the reviewing team) has seen fit to give this episode five of the best; because, boy, does it deserve it. The Impossible Planet was just the appetiser - this was a rip-roaringly good main course.
I'm a real sucker for 1970s disaster movies, The Poseidon Adventure chief among them, and The Satan Pit tapped into that spirit perfectly - giving us an identifiable set of characters, each with a Damoclean sword hanging over their head. Because death is such a constant theme of Who, we're left with no idea who will die and who will survive, and this created some genuinely palpable tension, most especially in the terrific tunnel sequences. Plenty of this was down to James Strong's excellent direction - at turns eerie and atmospheric, but with plenty of superbly-handled fast-paced moments. In addition, the episode just looked a million dollars throughout. Highlights were obviously the Beast and the cavern, in addition to the in-flight shots of the rocket (and how wonderful, while we're at it, was the scene with the rocket being towed by the TARDIS?), but the overall look and feel - part Doom, part Alien - belied the fact that this was a BBC Wales production, on a BBC drama budget, and not a Hollywood blockbuster.
Rose, meanwhile, was back on her absolute top, series one form - both in the writing and performance. Back in an in-control, foreground role, she again showed why she's such an important companion; and the performance was littered with great moments (I don't know why, but I really liked the way she blurted out the "It's me! I'm here!" bit at the end, cheesy as it was). It says a lot about an episode, too, when even Murray Gold (who I think gets plenty of unfair stick, I must say) turns in one of his very best scores. Who cares if he's been watching too much Firefly? Every note was nailed-on, perfectly judged.
If I have to gripe about one thing, one area where this falls down to the RTD-era's undisputed masterpiece so far, it was the lack of wit. There were a few gags here and there, and good ones too; but the balance didn't feel as effortlessly judged as in Moffat's episodes. It's a minor quibble, though, when you consider that that's not the kind of episode this was trying to be - and in terms of achieving what it set out to, this delivered one hundred percent. I know we at NTS get criticised a little bit for seeming too "fanboy"ish about Who, with even the weaker episodes getting decent ratings - but when you see episodes like this, you can see the unbelievable watermark the show sets for itself. And how good it feels to know it's still being reached.
The scene with Rose and co. crawling through the chutes to reach Ood habitation was quite an effective scene, due in large part to the lighting. Even though this sort of thing is something we've seen in countless other films and television shows, the scene is well done and the Ood are genuinely scary. The only grief I have with this scene is the way that they played Mr. Jefferson's death. Jones tried to write the scene as though it was a terribly emotional event, and while it was moderately effective, the fact is that Mr. Jefferson was not as developed a character as he needed to be in order for the scene to be truly effective. Honestly, about all we know of him was that he was "haunted by the eyes of his wife."
At this point in the episode, the Doctor and Ida are trapped in this ancient civilization, with nothing to do but abseil into the pit. I'm not entirely sure why the cable snapped in the first place—yes, the base shifted, but I don't know if I buy the fact that this would snap the cable, particularly at a point where they have ten miles of unused steel cable with which to abseil into the Beast's pit. I suppose that the Beast could have snapped the cable to force the Doctor into a confrontation, but this still doesn't make much sense, as the Doctor would be forced to destroy the planet. I can let it slide, though, as the next scene is good enough to draw attention away from this.
Again, the Doctor speaks about the voice in the back of your head, with Ida speaking of that urge coming from the time when our ancient ancestors once swung from trees. The Doctor disagrees, saying that it's the urge to fall. They run out of cable—it's a deep pit—and the Doctor decides to take a leap of faith the rest of the way down. It's quite a nice scene, with Ida's character showing a slight sign of life as she says she doesn't want to die alone. In keeping with the Doctor's slightly reckless personality, he concurs, but jumps anyway.
Now, onto the character of Satan itself. As I said, the character of Satan seems to be more at home in the visual media for some reason. When it is used by SF writers, the stories about the Devil tend to be clever and amusing, such as Alfred Bester's 1959 story, "Will You Wait?" about a man getting caught up in the legalities of selling his soul to the Devil.
Matt Jones decided to take a different route, wherein Satan is an actual being trapped by mankind before time. This uses elements of SF and religion. Obviously, the imprisonment of the Devil refers to the Christian story wherein Satan is cast out of Heaven. The Satan in The Satan Pit is a creature of some kind, a living, breathing creature that seems to hold as much in common with the Shadows from Babylon 5 as it does with Christianity. Jones has mixed the two together—religion and SF—to create a Beast that has elements of both the normal and the paranormal. It can control the Ood, but is that because it has mystical powers in the religious sense or because it has telepathic ability?
One of the main problems I have with the scene between the Doctor and the Beast is that there's quite a bit of exposition in it. Obviously, there needs to be quite a bit of backstory, but as in many Who episodes, the Doctor talks his way through the end scene slightly too much. The show generally seems to be aimed at a family audience, but it's still unfortunate that Jones and other Who writers seem to take one step too many into over explaining the situation. With a visual media, it's obviously a little bit harder for the characters to not speak at all, and it was well done for what an exposition scene, but I still can't help but feel that Jones should have trimmed the Doctor's dialogue in the end scene just slightly, and left more for the audience to work out.
The Fourth Emergency Service.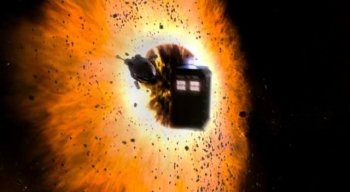 The denouement also seemed flat and uninspiring. The TARDIS suddenly appearing in the pit was far too much of a deus ex machina to truly satisfy. Ida is saved in the nick of time, and a single bolt is able to shatter the viewscreen—whatever you want to call it—of a spaceship.
This episode was one of my favorites of this new series, and its faults are, generally speaking, few and minor. As I said in my review of The Girl in the Fireplace, the definition of a five star rating is something that is either perfect in every detail (characterization, plot, dialogue, etc.), which this episode is obviously not—or something that is so charismatic in its storytelling that it makes you forget those faults. Taken as a whole, The Impossible Planet and The Satan Pit form an excellent two-parter, but I can't give the episode five stars, as there are one too many faults in the episode. Much like The Girl in the Fireplace, this falls just short of perfection. Don't think the rating means anything negative, though—this is one of the best.