Doctor Who - Rose
Rose Tyler investigates.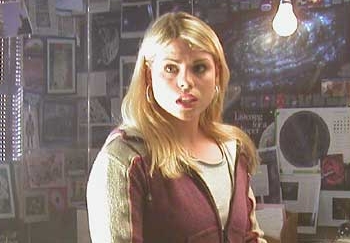 First came the announcement. In September 2003 it was revealed to us all that Doctor Who was returning, this time in the not inconsiderably safe hands of Russell T Davies. Julian, the most Whovian of my friends, claimed he couldn't think of a better man for the job. He went on to say the same thing about every major member of the cast and crew announced over the coming months. At that point I'd had minimal exposure to Who (my mum hated Sylvester McCoy, so I sadly missed out on my formative Doctor's adventures) but I felt that changing as the build up to the new series began. I started to do some serious swotting up, and then waited impatiently for the new series to begin. I was excited. Stupidly excited. Sci-fi was on its way back to primetime BBC and I was there to witness it.
And then the episode Rose happened. And on that day I fell completely, irretrievably in love with Doctor Who.
It's easy to forget, when we're sat here still soaking everything up from the series 2 finale, that Rose was quite a remarkable episode. It seems to have been banished into the shameful pit full of other much-maligned RTD scripts, and a lot of people have completely forgotten just what it did. It did a lot.
For a start, this is a completely new show. Forget, for a moment, that this was essentially season 27 of Who, because in reality this was series 1, episode 1. Year Zero. A blank sheet. And, as such, it needed to be written as a new show, re-introducing The Doctor, his life, his ethos and, of course, his companion. All of which was set to the tune of several hundred invading Autons, the first of the reprised enemies to make an appearance.
And that was a great deal to be done in 45 minutes of television. A great deal. And, as such, corners had to be cut somewhat. In this episode, the biggest corner cutting was done with the Autons and this is probably the source of the episode's (and, in a wider sense the whole show's) biggest problem.
The phrase Deus Ex Machina can clearly fuck off. It's now been used so much in the fan community it has become almost meaningless, with everybody spouting it off hoping to sound clever with their favourite Latin phrase. It was one of the main criticisms leveled at this episode because of the fact that The Doctor already had a ready made solution to the Auton problem which seemingly came form nowhere: anti-plastic (which isn't even a Deus Ex Machina, but never mind). However, anti-plastic was the key to sawing a huge chunk of exposition and plot away from the Auton storyline, and it's what allowed RTD to concentrate on other, more vital, areas of his story. It was needed, it was an entertaining and well executed idea (aaaanti-plastic!), and it was a very clear pointer to how the new series would differ form the old: same stuff but faster.
Mickey, the big twat.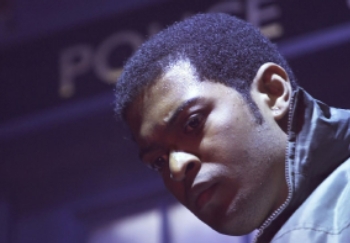 Within the first 20 minutes we've been fully introduced to Rose, her mother Jackie and her boyfriend Mickey. After those 20 minutes we have pretty much every last piece of information about these characters that we need. Rose is kind but drifting along in life, tied back by her mother who won't stop living her live through her, and a boyfriend who's infuriatingly simple and hum-drum. She's clearly frustrated with both situations, as is clearly witnessed in the scene after her place of work is destroyed by a lunatic. It's obvious, with us not even half way through the episode, that this girl is aching to be out of there and living a very different life. This introduction is all nicely backed up with a wonderfully creepy run-in with The Autons, and a spine tingling first encounter with The Doctor. "Run", he says, as Rose is whisked away from imminent death, the first taste of what will soon be her new life and the escape from her old.
So, halfway through and we know Rose and her family intimately. In the next half we need to develop a relationship between her and The Doctor, which needs to be strong enough to lead to her buggering off with him, and we also need to find and vanquish the Nestene threat. Too much to do with not enough time? No.
In one of my favourite scenes from the first series, Rose goes along to meet Clive, the Doctor enthusiast. He's been collecting photos and records of The Doctor's various appearances through time and acts as a very good device to introduce this man to the audience. He's clearly a time traveler and even regeneration is hinted at, all of which is carefully laying down the information the audience will need, with a heavy suggestion that the Doctor's life is most certainly not always peppered with smiles and fun and that trouble is never far behind.
As we got to know this new Doctor a little better, Christopher Eccleston's portrayal started to worry me just a little bit. He was obviously a man with polarised emotions, veering from deadly serious and grumpy to over excited and eccentric. He's the same man we've known for over 40 years, but Eccleston's 'eccentric' acting did strike me as a little hokey, with his joyful gurning actually making him look mentally unwell at times (in specific the scene with the Doctor and Rose walking away from her flats). However, all of that is quickly forgotten when he launches into his "That's who I am" speech, which still sends wave after wave of tingles down my spine every time I watch it.
As the final act kicks in and pace reaches almost breakneck speeds, things do start to fray at the edges, thanks in no small part to a certain director called Keith Boak. The now infamous first block of shooting was riddled with scheduling and production problems, with whole scenes apparently having to be re-shot at great expense, and the blame for this seems to be firmly with Boaky. But, for me, his greatest crime was totally sucking out all tension from the closing ten minutes of this episode. As the Autons move on London and close in on Rose's mum, Jackie, the Doctor is held in place by a single shop dummy, helpless and trapped after his failed attempt at diplomacy with the Nestene Consciousness (a big vat of molten plastic). And this lasts FOREVER. For minute after minute nothing actually happens. Autons converge on Jackie, Rose sits on the floor with a petrified Mickey and the Doctor continues to be vigorously bummed by a plastic man and all the while the Nestene blob laughs his molten arse off.
Chris Eccleston as The Doctor doing some ACTING.
But this is Rose's episode, and in the end it was inevitable that she would save the day. And she does - with a Buffy-like monologue and an agile swoop towards the Doctor, she simultaneously knocks the anti-plastic into the heaving mound of Nestene Consciousness and allows the Doctor the distraction he needs in order to dispatch with his assaulter. I can just about forgive the staggering shitness of the build up and the cringeworthly uselessness of the Doctor, because I know Rose needed to be put in a position where she, and only she, could save everyone – after all, it was a key moment for her character. I just wished it had been done a little better.
At the time, I was convinced that this was one of the best episodes of anything I had ever seen. In fact, I still am convinced. At the time, it was one of the finest things I'd ever witnessed. Apparently, around 7 million of the 10 million viewers thought something similar.
Actually, the viewing figures are worth mentioning, I think. In an interview with Doctor Who Magazine, Mark Gatiss was talking about the up-coming debut and wistfully commenting on how wonderful it would be if the show got 4-6 million viewers. In fact, 6 million was the absolute maximum anyone would dare hope for. Now-a-days, hack newspapers are declaring a disaster if the show gets anywhere near as low as 6 million. Funny how expectations change so rapidly.
In conclusion, Rose did a hell of a lot of things right. It set up our characters and situation with pitch perfection and, at the same time, forcefully and empathically rammed Who back into the mainstream public's consciousness. A lot can be said against it, but for me, even over a year on, it's still a perfect example of an opening episode to a series, and I make no apologies when retrospectively awarding it five of our finest stars.

About this entry
Posted on Saturday, July 22 2006 @ 8:00 pm
Tagged with doctor who