My Fantasy DVD: Hippies
Most people (or at least, the kind of people who read this site) have at least one favourite forgotten comedy series. One of mine is Hippies, the 1999 BBC TWO sitcom written by Arthur Mathews "about" the counterculture - although in reality, the setting was merely an excuse to do a large number of silly jokes, something which sadly most ignorant journalists failed to understand. Lewisohn may complain that "the show failed to capture the zeitgeist of the time", but that is hardly the point; the show uses the situation for its own ends, rather than becoming a string of jokes about TEH DRUGS.
To be fair, the series did start out with by far the worst episode, but the show blossomed into a fine sitcom - and it's a great shame that the second series, which was actually commissioned, never materialised. At some point I'll do an article and possibly a nice episode guide - but T J Worthington's article 'Taking The Peace' is a fine defence and analysis of the series, and his interview with Arthur Mathews has some interesting revelations - as we'll see below.
Sadly, Hippies has yet to appear on DVD - and so, apart from some repeats on Paramount and the now defunct UK Play, people have had little chance to give the series a well-deserved re-evaluation. So, what kind of extras would I want to see on any potential DVD release?
Pilot Episode: Yep, there was one! And not just one with the odd different scene from a broadcast episode - Mathews says in TJ's interview that "Hippy Dippy Hippies was the original pilot, although we re-shot it for the series." If nothing else, I want to see this. It would make absolutely fascinating viewing, as if it was completely reshot, there must be loads of changes between pilot and series.
Commentary: On all six episodes, please - if you're going to bother to sort out a recording session, why not do all six? (I apologise for appearing to look a gift horse in the mouth, but just a commentary on one episode of the first series of Maid Marian was extremely irritating, when Tony Robinson was sitting there being extremely interesting.) As for who should do it: Simon Pegg, obviously (he's extremely good value on the Spaced and Shaun of the Dead commentaries); co-creator and writer Arthur Mathews would also be a must. Apart from them, the director Martin Dennis would lend some valuable insight on the technical side - indeed, the great joy of the Fawlty Towers commentaries are hearing John Howard Davis and Bob Spiers giving in-depth information about actually shooting a sitcom. Film techniques are gone over time and time again in various forms, but sitcom production is covered far less comprehensively; which, considering their popularity, is rather odd. Multi-camera sitcoms are just as important as film.
Trailers: There were loads of trails for Hippies - it was endlessly hyped due to it being the successor to Father Ted, and there were plenty of trails in the weeks before the programme, and indeed trails for next week's episode straight after the first few eps. These didn't only include clips of the programme with a voiceover - they also included shots of the cast running around a giant 2 logo in a field, which was rather nicely done, and made the trails rather more interesting than usual.
Outtakes: I remember some outtakes from Hippies appearing on a show a few years back; however, I'm afraid I can't remember which one. Steve Penk Gets His Bollocks Out, or something. I do, however, remember one outtake involving Sally Phillips showing her knickers off to Simon Pegg repeatedly, and him corpsing, which I think the entire country would benefit from having a wider audience.
Sally Phillips' knickers. Mmmmm.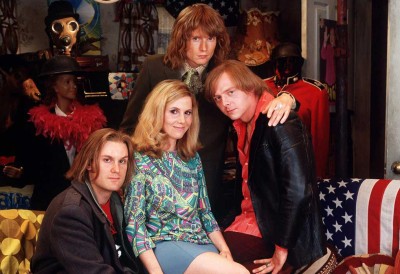 Hippies: It's just great. Now fuck off.
Deleted Scenes: Now, I was at a recording of one episode of Hippies - Protesting Hippies, which went out first (and as I said above, was quite the worst one of the entire run). There were a few bits chopped out of it - not just odd lines, but entire scenes. Two bits I remember are a cutaway to two CIA agents, after Alex's line about the CIA planting a camera in The Freak's beard; and a long exchange about pressing a red button at the sandpaper exhibition. (The fact this bit was cut out explains why the pieces of sandpaper on little hooks suddenly stop moving in the final episode.) No doubt there was more than that cut from the episode that I don't remember - and spread across six episodes, there must be quite a lot of unseen stuff.
Hopefully the rushes tapes still survive for this material to be culled; given that the show was made by what was then Talkback, an independent production company, I'd suggest that the odds are quite likely. Independent production houses seem to have keep rather more production material than the BBC themselves do, at least in the past. (No doubt DVDs have changed this somewhat.)
Series 1 Scripts: As DVD-ROM PDFs. Scripts are always fascinating - both for the stuff cut out (or not even shot), but also for the stage directions, which contain extra jokes, or even interesting character stuff. They're also a good insight into the production process. Still, the main reason I mention the Series 1 scripts is because it leads into...
Series 2 Scripts: Oh yes. Mathews mentions in TJ's interview that:
"I actually wrote a lot of the second series. Alex was going to enter a competition for Britain's most laid back person. Ray was convinced that he was going to be featured on this This is Your Life. Jill joined a suicide cult. There was no shortage of ideas. I would have brought back Peter Serafinowicz, who played a very frightening character called Robin."
Seeing as the scripts are unlikely to see the light of day anywhere else, it would be fantastic to see them on DVD; it would be the closest the show will get to having the second series it deserved.
There's other paperwork that could be included too - call sheets, PASB documentation - hell, even the original pitch document for the series...
Isolated Music: As you'd expect, there's quite a lot of music in Hippies. As well as the amusing opening and closing themes (I love sitcoms that put real effort into their title music), and the between-scene stings, there's also music from Ray's musical in Hairy Hippies to include.
Photo Gallery: You may insert my usual rant here about photo galleries usually being seen as one of the boring extras, when in fact stills photography is always great, and being put on DVD doesn't change that one bit. I can't be arsed myself.
It would be great to have some behind-the-scenes photos as well. One thing that nearly all productions do is take photos of the set and cast, for continuity purposes. (See the Dwarf DVDs for examples of this.) In fact, during the recording of one of the episodes, I got dragged up on stage and had my photo taken with the cast using the polaroid camera they presumably used for this kind of thing. (It's a long story.) I still have the polaroid somewhere - when I find it I'll stick it up here. Anyway, if the continuity photos could be dug up, that'd be great stuff for the photo gallery.
Production Subtitles: Much-used on Doctor Who releases, but not on many other TV DVDs, these are a great way of adding value to a release relatively cheaply. Recording dates, location information, behind-the-scenes anecdotes, quotes from various people, extracts from reviews - it effectively adds nearly three hours worth more extras with hardly any disc space!
...Phew. Now, I'm well aware that these articles may sound like one big unrealistic moan. Or at the very least, one enormous wank fantasy. Both of which are absolutely true, of course. Still, I remain convinced that the show will get a DVD release one day. FFS, Simon Pegg is the star of the show - after Spaced and Shaun of the Dead, that gives you a ready-made audience to start with. Along with the people who'll buy it because it says "From the creators of Father Ted" on the cover, I'm pretty sure the release would sell well, even if the show is currently relatively obscure.
Now, getting all of the extras above would be an absolutely miracle. Still, I'm hoping that if they do release Hippies, it won't be just a bare bones release - because the show deserves to be celebrated with a decent set of extras. Note that I mention nothing up there (save the commentary and production subtitles - and I'd happily do without the production subtitles if we get a commentary) which involves extra recording of material - it's all based on existing stuff that could be compiled together. This means more money can be spent on finding and compiling archive goodies. A decent commentary can provide much of the information that would be included in any potential documentary, after all - and documentaries are expensive to shoot and edit.
So. Yeah. Hippies. Release it. And please, please let's see that pilot...