Torchwood - Ghost Machine
Well, I would.
And so Torchwood continues, with an episode written by Who script editor Helen Raynor. Having adored the first episode, and enjoyed the second whilst recognising its flaws, would this be the episode to cement my love for the series?
Hilariously, the episode starts with a chase through a Cardiff shopping arcade - the very arcade that I spent ages looking through loads of Who memorabilia, which makes me wonder just you'd find if the Torchwood gang had stopped to look through the windows for a while.
After that it's the opening credits - and they drive me up the fucking wall. This series needs a fast-paced montage of images, with huge close-ups of the regulars faces with the credits underneath. Think Buffy. Or, indeed, Power Rangers. What we get is frankly insipid. Variations on the logo, with the credits in tiny text? It smacks of trying too hard to be cool and classy, when what's needed is a a bit of ridiculousness. No doubt this will continue to annoy me each week. Please, for Series 2 - do a title sequence with a bit of balls behind it.
The main plot with the "alien machine of the week" was fine. Nothing special, but fine. It is, of course, pretty much exactly the same plot as Dwarf's Future Echoes - right down to the final point of seeing how you die. Unfortunately, what was groundbreaking for a 1988 BBC2 sitcom is rather less so for a 2006 drama series. On the positive side, the final scene with Jack and Gwen tying the show up worked far better than the tedious moral lesson to the whole sex stuff at the end of Day One - the parallel with everyone having "ghosts of the past" was quite well done.
I thought the character of Ed Morgan (played excellently by Gareth Thomas) was dealt with extremely well. The guilt that he harbours was made obvious; he'd become an absolute wreck through the guilt of what he'd done - and luckily a character didn't feel the need to inform us that "he's become an absolute wreck through the guilt of what he's done". You wouldn't think I'd need to mention that - and yet a constant criticism I have of new Who that has continued into Torchwood is the quality of the dialogue. It's generally good, but there's occasionally an absolute clunker of a line. (See "I think you need a Doctor", which almost managed to wreck the climax of The Parting of the Ways. Or for a Torchwood example - the cock joke in Day One. There's nothing wrong with a good cock joke, but there's a lot wrong with an exceedingly badly-written one. Christ, the Carry On's managed one every five minutes throughout the 60s and 70s - why can't you write a good one today?) It's good to see that the point wasn't hammered into the ground, and Ghost Machine had no clunking dialogue at all, which was nice to see. Let's hope the trend continues.
Characterisation then. So far, we've had very little of Toshiko or Ianto. Three episodes in, I'm not too fussed about that - although I hope we see more of them before too long. Gwen is working marvellously, as far as I'm concerned - Eve Myles is spunky yet vunerable, and makes me want to do a naughty. There have been criticisms of Gwen's home life being hugely boring. I think this is true to an extent - there isn't much going on. On the other hand, it isn't getting a huge amount of screentime, and it's clearly building up into something that will become more significant as the series progresses. It would help if her boyfriend wasn't as dull as fuck - he's more boring than me, and that takes some doing. Clearly they're trying to show the difference between Torchwood and her home life, however, so there is a point to it.
I hear you're a rapist, Father.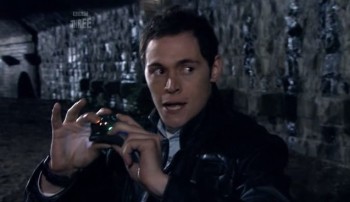 And then there's Owen. I find it extremely interesting that he spent most of the episode doing the old vigilante routine on a rapist - considering his antics in Everything Changes with the alien aphrodisiac spray. A clever bit of character work - that he gets so upset because he recognises a bit too much of himself in Ed Morgan? Or just dodgy characterisation between episodes? I can't help but think that it's probably the latter. In fact, considering his behaviour in this episode, it raises the very pertinent question - what is Owen doing in Torchwood? Admittedly it's only the third episode, and yet time and time again he's as irresponsible as fuck. Clearly he's there to provide someone who will stir things up - and so he's very good dramatically. But from a logical level, you've got to ask - why hasn't Jack got rid of him yet?
Speaking of Jack - he seems to have become a shadow of his former self in Who, and has even been toned down from Everything Changes. This is clearly deliberate - perhaps his exuberance could become annoying after thirteen episodes. Perhaps he would simply overshadow the other characters too much. Or perhaps this is leading up to something, like the Doctor/Rose cockiness did. But whatever the reason, it's taken away a large part of what made the character so enjoyable. Frankly, I want him swaggering about a bit more and being lewd. There's room for subtlety in his character - but he shouldn't be toned down this much.
About the only time he really came alive in this episode was in what can only be described as the gun porn scene. This seems to be the kind of scene that people either love or hate; mainly because it's clearly completely ridiculous, and that just turns some people right off. Me personally? I like ridiculous. I like guns. And I like a pair of nice tight arses. Like the flashing blue lights on the Torchwood gang's Mystery Machine, this scene was clearly done with a sense of its own ridiculousness - and was one of the few parts of the episode that really came alive for me. Pointless, yet fantastic - and so not pointless at all. And a beautiful bit of set design too - I love the glimpses we keep seeing of the disused tube tunnel.
The thing that gets me about Torchwood is that it's an utterly brilliant premise. Sure, it might just be a British CSI: Angel, but since when was that a bad idea for a show? It's beautifully shot, very well acted, and has interesting characters. And despite my complaints - I did find it fun to watch, which is clearly the point. But so far, the first episode aside, they don't seem to be doing anything really interesting with that premise.
A...von...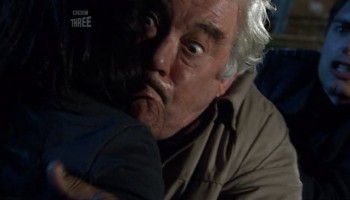 By this point in New Who, we'd had Rose (which Everything Changes cribs quite a lot from - to very good effect) and The End of the World (fun because it was new Who, but slightly ordinary in retrospect - just as Day One was exciting because it was competent British SF, but also rather too ordinary). Unfortunately, Who then pulled out The Unquiet Dead. By comparison, Ghost Machine just doesn't quite cut it. It's hard to deny that this episode was basically Future Echoes, but not as good. And not even as well thought through - the "potential futures" stuff was far more woolly than the "you saw my son die" ending. A slightly unfair comparison perhaps - I would argue that Future Echoes has become a seminal episode of British television SF - but considering the pedigree behind Torchwood, and the money thrown at it - it's just not quite good enough.
I don't understand some of the hatred expressed towards this series - I really don't. There's nothing to hate in it. It's a fun series. I was never bored. Indeed, it's only when I started writing this review that I started to think of the problems. But the series should be rather more fun than it currently is, and that's a bit of a shame. For a start, there needs to be more humour, I think - I'll forgive anything in a series if it's funny. But the series does need a slight kick up the arse dramatically too. I can't help think they could fit rather more plot into 50 minutes. The series is nearly right - they just need to fix these problems.
But the Next Time trailer does seem to hint that next week might just be the week that Torchwood lives up to the promise of that first episode...