Torchwood - Cyberwoman
Three episodes into series two of Doctor Who, and we were getting worried. It had been good, sure, but it certainly hadn't been great - and it certainly hadn't been anything like what we'd been expecting of it. Then the fourth episode - Stephen Moffat's magnificent The Girl In The Fireplace - came along, and did much to allay those nagging doubts. We were reminded how it was worth sticking with the show, because even through the slightly-off patches, it was still capable of being little short of genius.
There's a clear parallel to be drawn, then, between that second series and the first series of Torchwood, as once again RTD's creation is already running a gauntlet of "Well, it's alright, but it's not really that great, is it?" criticism. Step up the all-important episode four - and a very familiar-looking enemy...
Arguably the biggest problem that Torchwood has faced so far has been with the characterisation. Simply put, the show just doesn't engage and grip the viewer the way it should - and, four episodes in, when your characters don't do that, you've got some serious work to do. Gwen proved likeable enough in the first two episodes, but despite being ostensibly the "lead" (alongside Jack, of whom more in a bit), she's been shunted into a "just one of the team" role with surprising (and disconcerting) haste. Owen remains difficult to get a handle on, but that seems less like subtle characterisation and more like glaring inconsistency from episode to episode. And so to Ianto, who was promised his "big day" here after making even less impression than Toshiko (herself currently having about as much impact as air-flavoured water), but a combination of scripting and performance meant that he came across as little more than an annoyingly whining git.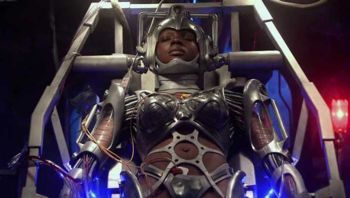 Meanwhile, it almost seemed like desperation to have, as early as four episodes in, already relied on a direct tie-in to Who in order to generate a plot. There's no denying that the flashback was nice, but it seemed to create more problems than it solved when you consider how to reconcile the entire idea of the episode with the timeframe of Doomsday/Army of Ghosts - not least because such a short amount of time passed in those episodes between the beginning of the battle (at which point regular transformations were going on, as evidenced by Yvonne Hartman) and the entirety of both armies being sucked back into the void, leaving apparently little of a window in which the "partial" transformations may have begun.
(Incidentally, as an side, it's worth pointing out that I knew about the "Cyberwoman" idea, through work, quite some time ago, albeit with little indication as to how the "Cybergirl" - as it was then known - concept was going to be used. Personally, I thought it was actually going to be Yvonne.)
Indeed, a criticism that's been levelled at Torchwood a fair bit so far has been the apparent lack of any sane realism going on. I wouldn't say it had all been entirely fair - after all, if you can't suspend disbelief while you're watching a good old-fashioned piece of escapist drama, then when can you? - but there's an element of truth when you consider how downright ludicrous some elements of the show have been. First and foremost here was the design of the "Cyberwoman" - even if you can believe that the Cybs would have created specially-shaped cleavage plates, and even if you can believe that the part-Cyberising process creates an apparently deliberately aesthetically-pleasing arrangement around the lower torso, it's still surely just that little too much of a stretch to imagine that they would kit out their new soldiers with high heels.
Still, if there's one thing that Torchwood has in its favour it's that the events of the first episode make it rather difficult to take anything for granted - there therefore exists a welcome sense of jeopardy in, for example, scenes such as the one that found Gwen strapped to the Cyberising device. Alright, so the chances of actually killing off another main character - especially the main one - were exceedingly slim, but there remains that element of nagging doubt after the Suzie Costello bluff.
With the pacing slightly off in an episode that meandered somewhat and dwelt too long on claustrophobic scenes in the hub, it took until the last ten to fifteen minutes to really kick in - bar a few moments that, in a welcome twist, showed the more gruesome side of Cyberising that the original series never could (and that it's a shame we didn't see used on the disconcertingly-clean Lisa herself). Once it did so, however, we were - finally - treated to perhaps the most gripping segment that the series has offered so far. The Pterodactyl made for some quite marvellous (and rather surprising) CGI, but also came in the midst of a quite disturbing scene, as the Woodies (well, come on, you think of a name for them) ascended the pavement lift, Ianto screaming and wailing and getting the obligatory, it's-after-10pm-on-BBC3 F-word in there. Not that that ended up being the most unsettling moment of the programme, as things took an abrupt turn into the Downright Weird with the closing twist of the fate of the pizza delivery girl.
Still, though. Despite a strong - and somewhat morally ambiguous - ending, an episode that featured a direct tie-in to Who's marvellous season finale, and the unprecedented sight of a Pterodactyl fighting a Cyberwoman, really should have delivered in more spectacular fashion than this. I'm starting to worry about Chris Chibnall as the series' lead writer - in the four episodes so far, he's been clearly outshone by Helen Raynor, and even to some extent by RTD.
And what is going on with Jack, anyway? We wanted a spinoff series about him because he was cocky, cool and downright entertaining - Buzz Lightyear meets Ace Rimmer meets James Bond. We didn't want some grumpy immortal bastard with a chip on his shoulder - and one who hasn't even really played a focal role in any of the episodes so far, no less. Perhaps it's building to something, but at the moment it seems to even defeat the point of the show. So, come on - we've had the Gwen episode, we've had the Owen episode, we've had the Ianto episode, and we'll presumably get a Toshiko one at some point. But can we have a Jack one, now? Soon? Please?