DVD Review: Are You Dave Gorman?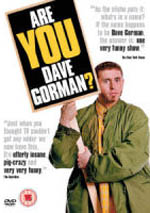 Title The Dave Gorman Collection
Publisher Avalon/Digital Stores
Certificate 12
Length 181 mins (With extras)
Number of Discs 1
Released 19th February 2007 (Region 0)
---
Chances are, if you've heard of Dave Gorman, it's through his globe-trotting documentary-comedy, Googlewhack Adventure which told the story of his attempt to write a novel, his attempt to complete a chain of 10 Googlewhacks, and the nervous breakdown that followed. At the start of that tale, he repeatedly insists that, now he's become a grown up, he's put this sort of frivolous risk-taking behind him. There was a time, however, when it seems as if he almost lived for it.
Following a night of heavy drinking, and in a fit of the aforementioned frivolity, Dave and his then-flatmate Danny find themselves searching the planet for other people named Dave Gorman in an attempt to prove the other wrong and win the bet that started the whole thing in the first place. As the search wore on, Gorman turned it into his third stageshow - "Are you Dave Gorman?" would prove something of a watershed for Gorman, bringing him confidently into the public consciousness in a way that his previous efforts (the also-excellent Reasons to be Cheerful and A Better World) hadn't quite managed.
With the search over, a TV version was created for the proto-BBC 4 channel, BBC Choice, rather classily entitled The Dave Gorman Collection (though no-one ever remembers to call it that.) Following a couple of repeat runs on BBC 2 and Gorman's subsequent growth in popularity, both on and off the stage, demand for the series to be collected onto DVD has been persistent, and has finally paid off in the form of this long-awaited release. Does it do justice to the demand?
Packaging & Presentation
The packaging for the DVD is heavily based on the original book cover (since modified) with Gorman holding up a giant sign that reads "Are you Dave Gorman?" - somewhat amusingly, the oft-forgotten official title to the series - The Dave Gorman Collection - appears only on the spine. It doesn't use any new promotional art or photos, besides some screenshots of the series itself, but on the other hand, it would be excessively odd to have the fully-bearded Gorman of today on the cover rather than the Devon farmer/serial killer (it's the coat that does it) version from back then. It's a far better look than the Googlewhack DVD cover, if nothing else.
Inside the standard plastic case, you get one lonely disc with no presentational booklet (Boo!) and no advertising leaflets (Yay!) - it's nothing special, but for a release which has taken this long to come out, it's better to have it without a booklet than not at all.
The DVD menus are similarly stark, echoing the cover to an extent, with the same artwork and the menu options appearing on signs, as the title does on the cover. Each menu selection plays a "Hello, my name is Dave Gorman" quotation as collected from each one the pair met, and in the sub-menus for episode and extras selection, the similarly-harvested Polaroid show up in the background. There's no annoying music or animation to sit through, and it's all kept simple and clean. It's hard to fault any aspect of them except to say that the font they use is dangerously close to being Comic Sans - though, luckily for the limits of professionalism and taste, it isn't.
The episodes are presented in widescreen (16:9) and have a brilliant transfer without a single distracting artefact. They're provided in NTSC encoding, according to the disc, so while there's been no trouble with it on this end, you might want to make doubly certain if you're using particularly old kit, that you'll be able to watch them. The DVD comes with a single Dolby Stereo English language track, which like the picture, is as good as any recent TV series should be, though unfortunately for anyone who's deaf, foreign, or has a broken TV speaker, there are no alternative language tracks or subtitles at all. I can understand not having the foreign translations, but to exclude even English subtitles? Something like this is a relatively trivial matter to include, and it seems pretty appalling that no alternative has been provided for those unable to use the audio for whatever reason.
The Episodes
Still, enough of the technical jiggery, and on to the meat of the DVD. The episode contains all 6 half-hour (ish) episodes of The Dave Gorman Collection, in full, with opening and closing credits intact. The episodes are named according to their content, and as a former resident of the town in question, it's glad to see Royal Leamington Spa Dave Gorman being given his fifteen minutes in the title to Episode 2 (as, unfortunately, one of the few - if not the only - Dave Gormans who refused outright to meet Dave Gorman Prime.)
"What's that done to the graph?"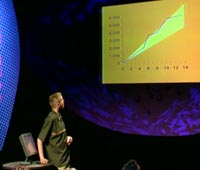 Each episode puts the spotlight on Gorman's search for the next group of Dave Gormans in the format of a lecture, complete with PowerPoint slides, photos and other visual aids. It's an almost unique approach, somewhere between stand-up and documentary, and a brilliant translation of the material from stage to screen. Just about the only way it could've been done, in fact, without fabricating material, an idea as unthinkable as it would've been expensive.
One of the highlights of each episode is Gorman's look at his graph of Miles per Dave Gorman. Rarely has Maths been funnier (and when I say rarely, it depends on how hilarious you find writing 80085 on a calculator is.) At the end of every episode, the audience is also asked to recite a pledge of allegiance to all Dave Gormans. With slight variations in each of the six presentations, it's always a brilliant moment as the pledge starts off the same way, then veers off on some deranged tangent only to somehow make it back to the same ending with each episode.
For a series like this, you'd be forgiven for expecting the funnier stuff to be at the start and the end to become a bit more desperate as the struggle is made to complete the task rather than find the jokes in it. However, there's no dip in quality throughout the series, presumably because the story had been constantly refined throughout the course of the stage show well before making it to screen. It's consistently hilarious, and incredibly hard to pick a favourite moment from just because it's all over the place. It might not be traditional stand-up, but Gorman has created something easily as joke-filled as anything from his peers.
Extras
The extras are thin on the ground. Paper-thin, in fact, if you could imagine a ground covered in paper. That said, it's quite hard to see what more substantial could've been done with it. Gorman has rightfully asserted that while a tempting joke, a commentary on something that that's already a commentary would be pretty pointless, and according to the man himself, there was no unused footage that they could add on.
This may be the case, but even so, it seems like there should be a large amount of curios which could've been included - we get, after all, a close look at each Polaroid taken of every Dave Gorman, so how about the videos that were taken of each? How about the answer phone messages? A look at all the boarding passes he collected, perhaps? Shots of promotional items, and news articles, a closer look at the Gorman-specific phone book - there's a lot that could've been done, given that this venture encompassed a large portion of Gorman's life. Admittedly, rights and financial implications may have prevented some of this, but where some DVDs will pile on anything that's even half-worth looking at in an admittedly scattershot, though altogether more comprehensive approach, this release has opted not to do so.
The most substantial extra is a song by Birmingham's premier experimental music outfit, Misty's Big Adventure, the video to which contains the Gorman's only brief appearance in his modern bearded state, though it's so terrifying you kind of wish it wasn't in there at all. The song is appropriately funny and unlike extras on some discs, you are likely to watch this one a few times, even if it's just for a quick smile whenever you break the disc out. However, as the only genuinely new footage on the entire disc, it struggles to carry the burden of convincing any fence-sitters to buy something if they've already seen it.
Conclusion
There may be a more complete version of the story available in print, but the book can never hope to match Gorman's energy and personality as one of the most likeable comedians ever to hit the stage. His flair for narrative means that as soon as the show begins, you're on his side and buying into the importance he's attached to this somewhat ridiculous search. When he's happy, you're happy, and when he's disappointed, you're disappointed. When he's angry, you're right there with him, screaming not at the stupidity, but the recklessness of a woman who named a star Dave Gorman, potentially crippling his quest. Perhaps this is because, unlike Googlewhack, there's very little emotional weight in the story itself - the audience is free to feel involved and there's no danger, as in Googlewhack, that you might be laughing at someone's breakdown.
With the final price unconfirmed as yet (though you can reasonably expect it to fall somewhere around £15 – probably under) this is an essential buy for anyone who's a fan of his work, whether on Radio 4 show, Genius, his later TV show Important Astrology Experiment or the award-winning Googlewhack Adventure. After all, with the AYDG stage show long since retired, you can't get some of this material (legally) anywhere else, making it a completist's dream. For those of you who aren't Gorman fans, this is the perfect starting place - it's accessible, personality-filled, and wonderfully silly. Unlike most comedy, many of the laughs are at the expense of Gorman himself, and the ridiculous reality of what he's putting himself through. Okay, the extras aren't exactly brilliant, but when the featured material is, who would worry? The release date has recently been pushed back until February 2007, so there's plenty of time to save up your pennies in order to buy it, even if you've read the book. No excuses.