Doctor Who - Planet of the Ood
I see a little silhouetto of an Ood...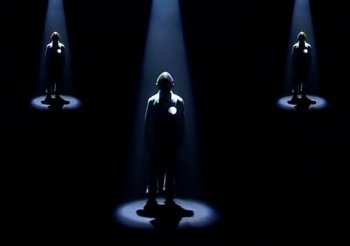 I think I might be just about the only person who wasn't particularly impressed by last week's The Fires of Pompeii - and as such, while many rave about how series four of Who has so far exceeded expectations, I've still been left with a sense that things are far from kicking into gear.
Thankfully, Planet of the Ood represents a significant step up – and while perhaps still nowhere near the highlights the previous three series have offered, it's certainly a step in the right direction. The overriding feeling is that of a "classic"-style adventure (albeit compressed into the current series' forty-five minute format), and this is evident in a number of the episode's aspects.
For a kickoff, it's nice to see once again the idea of journeying in the TARDIS as a "mystery tour" – it's a setup that's appeared at various instances in the show's history, whether it's been down to a malfunctioning guidance circuit or a deliberate "randomiser", and it lends a nice "hurtling through space and time" feel to proceedings. It's certainly more palatable than the idea of being called back to present-day Earth at a moment's notice by Mickey, Martha or whoever.
I'll freely admit, meanwhile, that prior to the start of the series I was a fully paid-up member of the rabid anti-Tate brigade. But while she may not have fully justified her presence in the show in my eyes, though, she's definitely getting better. After a shaky start featuring all kinds of unnecessarily larking and squealing around the console room, writer Keith Temple nails down a pretty strong Doctor/companion dynamic – and again, it's one that feels quite "classic" in its nature. While her character couldn't be more different, there's almost… dare I say it… a Sarah Jane-ish feel to the way Donna firmly centres situations around herself, particularly regarding supporting characters.
Second Opinion
As brilliant as last year's Gridlock was (and I still stand by my, admittedly slightly too enthusiastic, review from the time) I've realised that, three episodes in, it's *great* to be free of the traditional 'Year Five Billion' stories. The structure of series's episodes was starting to a little too predictable and I'm glad of the fresh settings. So, I guess Planet of the Ood could be seen as the replacement for that slot, set as it is on a distant planet in the future with a great deal of human involvement.
And as alien planets in New Who go, this is most definitely the best realised. Making the Ood's home an ice planet might not make sense when you consider they're hairless and born with their soft, squishy brains in their hands, but it certainly makes it nicely distinct from 'The Impossible Planet', Malcassairo or indeed New Earth. Despite some members of the production team being snotty about quarries, once again one is used to great effect here when realising an alien environment. Last year we saw Graham Harper being used to prop up the generally awful episode 42 but here his direction elevates an above average story into something approaching excellent.
I was heartened to see that Keith Temple (the second of this year's two new writers) had turned in something I enjoyed as much as Fires of Pompeii. As has been said almost everywhere, this episode had a very traditional feel to it with The Doctor and Donna doing little more than wandering around, slowly discovering things. In fact, they seemed to do little more than go around being sympathetic to the Ood and manoeuvring themselves into a good position to see the climax of events. I liked that. The show has often given us episodes where The Doctor does fuck all and leaves the companion to inexplicably save the day, so to see an episode devoted to putting across some good metaphors about how genuinely awful humans can be - with slavery, battery farming and the holocaust all paralleled to certain degrees and all surprisingly well handled - was refreshing and interesting.
I'm hoping that James Moran (Fires of Pompeii) and Keith Temple stay on past this season, as I think they've managed to create the best 2nd Episode/3rd episode combination we've had since series 1, and their ability to create interesting, traditional feeling scripts is essential for delivering more consistent series in the future. If they'd been here last year to keep Chibnall and Helen Raynor away from the show, then series 3 would've ended up even better than it was.
And the old-school feel spreads to the construction, too. It's a luxury that's rarely been afforded the new series, thanks to the relative brevity of stories, but it really is nice to be able to properly spend time with the secondary characters around whom the individual stories revolve. Particularly when you've got guest stars of the calibre of Tim McInnerny – who here turns in a solid, if a little subdued performance, although when getting shouty there's more than a hint of Captain Darling coming through. It's interesting, too, that rather than being a maniacal billionaire, there's more of a sense of him being a desperate, slightly failing businessman – it adds a slightly different edge to the story, although the "bad humans enslaving others" allegory is still perhaps a bit heavy-handed.
Speaking of those "enslaved others", one of the real pleasures of the episode is getting to spend a bit more time with the Ood. I'd say they're probably the one truly successful "new" monster created in the RTD era so far – there's something quite compelling about their look, style and backstory (even if they're not wholly original – it's hard not to think of Doctor Zoidberg, for example; and indeed, you wonder if the shoehorning in of an incongruous Simpsons reference early in the ep is a faint and abstract reference to this). Despite being fairly grotesque in appearance, there's also something strangely cute about them when in "gentle" mode – and you're made to genuinely feel for their suffering, particularly during the affecting sequence with a dying Ood in the snow.
With Graeme Harper at the helm, you can always be assured of some classy direction, and so it proves here. In the establishing scenes, we're treated to some utterly lovely landscape and planet shots – as well as a cameo appearance by what appears to be Thunderbird 3! – and he nails the action, as well, with a claw/crane chase sequence that at script level feels perhaps a little deliberately tacked-on, but in execution is at least stylish and gripping. The climactic "transformation" scene, meanwhile, is genuinely unsettling – the skin peeling moment easily rivalling the infamous "gask mask" sequence from The Empty Child – but it is let down slightly by a quick cut to a profile shot of emerging tentacles that feels rather more fake.
All in all, while still perhaps remaining in the realm of "early season filler", Planet of the Ood is a decent, old-fashioned "alien exploration" kind of a story, perhaps slightly lacking in action but nevertheless rattling along at a better pace than either of the two episodes so far. It's worth noting also that, ironically for an episode with a plot point hinging on the use of music, that Murray Gold's score is far less intrusive than elsewhere of late (and the new theme is kind of starting to grow on me – while I still think it's ridiculously busy, I do rather like the eighties-style "DUM DUM DUM DUM" as the episode title appears). Series four may not have hit the ground running the way series three did, but thankfully there are signs emerging that Team Cardiff certainly haven't lost the knack of delivering the goods. Let's hope the upward trajectory can continue with a proper "blockbuster" two-parter next week…