Doctor Who - Turn Left
If there is a single lesson to be taken from Turn Left it is this: You can't have it both ways.
1) You can't do a parallel-reality story as if you're the first show to do it, and rely on a quickie explanation that assumes everyone already knows what you're on about. This was a wholly unoriginal story, done more impressively in so many other places, and the only excuse is ignorance. For not knowing that 'paths not taken' stories already exist, and that they need to be written with more care, substance and cleverness, you can only shrug and say 'I thought I'd invented it!' But to hold that line, you can't then shrug off a quick, clunky explanation at the end. SF newbies will struggle to grasp the implications of the finale - where an alternate reality has been created and played out, based on a simple decision - and may be wondering why Rose has shown up inside Donna's 'what if' mental fantasy.
2) You can't go for Rose nostalgia and have nobody recognise her. The worst part of this was how Billie Piper's performance seemed to be affected. Bad enough Rose is getting the 'space hero' character conversion previously dumped on Martha, but without Tennant to riff off, this barely seemed like the woman we knew before. There's also nothing to be gained by the approach story-wise - because we know Rose, we're already clear on what's going on. We've sussed that she's back to save the mutliverse (or something), her presence - coupled with the teasers through the series - guarantees it. That Donna doesn't know or recognise her simply damages Tate's character, makes her weaker on-screen, by putting us ahead of the protagonist. (See also the far-too-constant 'What's on your back?' stuff.)
Bernard Cribbins crying - a sure sign that everything is utterly fucked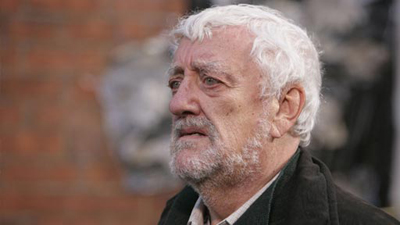 3) You can't expect emotional investment and leave how 'real' things are unclear. This is just an exposition mistake. In the Buffy episode The Wish, as soon as the wish is granted, we get it. It's all changed. Everything you knew has gone, and only Cordelia knows it. The sense of desperation and helplessness the episode generates is enormous. Turn Left jumps you back in time without any clear suggestion that it matters. This could all be going on in Donna's head, A Christmas Carol for gobby gingers.
4) You can't do a 'small decisions change the world' story in a show that thrives on the idea that Time is hardy and tough to derail. No matter how many adventures the Doctor and his companions have had on Earth in the centuries preceding the 21st, when we come back to the present day, everything is there, much as before. Umpteen deaths have failed to put a dent in destiny. I love this quality in Doctor Who - for all the talk of flux and change, of being careful, the bottom line is that Rose, Martha and Donna have all come back to find their families just as they were. Every week objects are moved, people are killed or changed, and there's sod all butterfly effect down the timestream. In such a universe, it's hard to be told that the Doctor would not have encountered Donna. (Especially when The Runaway Bride used her character, and her character's attitude, to influence the plot. Whoever the Doctor picked up instead, regular Who instinct suggests she would have become an equally useful companion. Because they always do - Time is hardy.)
5) You can't do a story about an alternate past and use it to signal a future threat. Well, okay, you can, but you shouldn't. The stars going out in Donna's Doctor-less world has a tenth of the weight that it should because, hey, we've just watched the destruction of southern England - which we know didn't happen. This is geek TV and some things just instinctively feel like 'canon'. They count. The series finale relies on a promise that the same thing is happening in every reality....rather than just seeing the damn thing first hand. No doubt the coming episodes will correct this, but it's still mishandled foreshadowing.
6) And this is the most important by far: You can't do an episode about how important the Doctor is, then say it's about Donna. Let's be clear about this, the story being told in Turn Left uses Donna as a witness, not a protagonist. (The loss of Martha and the Torchwood gang means sod all to Donna, for example; she hears about it only so we can hear about it.) She's there to watch A World Without The Doctor. Again, you've seen it all before - what happens if there's no Superman, no Buffy, no George Bailey. Cordelia's lesson in The Wish was 'We need Buffy', and she needed to learn it. Her arc went from 'I wish she never came here' to 'I'm glad she did'. George Bailey's lesson is the same, but even more direct - because it's his own life he's gambling with. He starts out wishing he'd never been born, and ends up glad that he was.
Simple it may be, but what's Donna's equivalent? She doesn't have any curiosity about her potential Doctor-less life, she's goaded into discussing it. She has no regrets about the path she's on. So where's the motivation, the drive, for this story?
And while Turn Left tries to flip the format a bit - she starts off happy, planning to travel forever, and is left doubting if she has a future - it's a secondary consideration to the wander through New Who history. A history, lest we forget, that would be ruined by the absence of The Doctor. Aside from saying one thing to one Time Lord once, we can't be sure Donna would have made any difference to anything. At all.
Moving on to the positive...
Donna gets to watch a Doctorless world. It's a spectator's role, clumsily structured - so it's a real pleasure to see Tate making the absolute best of it. Unafraid to be twee - because sometimes life just is - RTD's writing for 'real life' is still a lot of fun, and it gives Donna's character some extra dimension for those who just dismiss her as the shouty, narky companion.
An honorable mention has to go to Bernard Cribbins as Wilf, too. Playing the poignancy exactly right and taking the character beyond the lovable old duffer we met in Voyage of the Damned/Partners in Crime. Through his scenes here alone he may be the best-realised companion family member of the RTD era (Rose's mum aside). It's a shame the final two-parter is so dense with guest stars - without them, Wilf might get another look-in.
As someone who likes Davies' jokey side, Turn Left also felt light on humour and heavy on the too-vague sense of dread. A shame to be sure (well, I'm sure, so fuck off), but sometimes that dread was worth it. The refugee sections in "LEEDS?!?!" with a perfect performance by Joseph 'Ashes to Ashes' Long - all forced-enthusiasm and fear-in-hiding - were more than worth our time, and twisted the usual sense of humour into something cold, sad and unsettling. Very decent.
Finishing where we started, though:
7) It turns out you can pull the Bad Wolf stunt twice. Oh yes you bloody can. The episode blundered to its conclusion, with a Donna sacrifice that, actually, any of Rose's UNIT mates could have made once they had the facts. (Sending back one bloke with a gun to divert traffic would have been fine, actually.) Donna awoke, the crappy animatronic beetle was removed, and we waited for two words...
Now, I don't know about you, but the two words I was expecting were 'Rose Tyler'.
They would have got the same point across, after all - a cry for help from the Doctor's old friend. But those words...they just work. They mean huge, Dalek-related trouble, and seeing them writ large, and writ everywhere, buckles my knees. It may not be logical (how bloody powerful is Rose these days?!), but it's visceral. And, on that level, effective.
As a Rose-return story it blows most of the mystery in all the wrong ways (how about an episode where she comes back and the Doctor doesn't remember her?). As a Donna story it totally fails to convince anyone of the importance of a character that has divided audiences (and one I've liked far more than Martha). As a 'What if?' it's perfunctory at best.
The good things about Turn Left are rare gut-feeling moments, tangential to the plot, and that's really the episode's big problem. All the things being done as part of its main story are unfocussed, clumsy and sometimes feet-shufflingly dull. Watching it, you feel the time passing, and you have less and less faith that things are going somewhere.
Thank Christ for the 'Next Time' sequence, frankly.

About this entry
Posted on Monday, June 23 2008 @ 9:49 pm
Tagged with doctor who