A Bit of Fry and Laurie - Series 1 (DVD)
"Oh, I think this is going to give me an erection"
The wait has been fair too long, but finally Stephen Fry and Hugh Laurie's quite superb sketch show is receiving its own DVD release. Hurrah, basically. If nothing else, the opportunity to hear Fry say the word "trouser" in crystal clear quality is worth the admission price alone.
The Episodes
All 6 episodes are presented here in glorious fullness (along with the pilot, but more on that further down). To be honest, I think you'd be *very* hard pressed to find a finer sketch show anywhere. These episodes easily match up to the likes of The Goons or Python, humble shows such as The Fast Show or Big Train and completely defecate on the risible Little Britain, Tittybangbang and the whole plethora of sub-standard shite we're offered these days.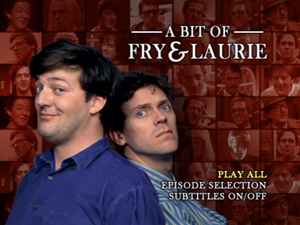 And this is just one series. These 6 episode promise more belly laughs, more uncontrollable fits of giggles and more open jawed reverence than anything I've ever seen. Unpredictability, breaking of the fourth wall, sublime innuendos, the finest word play on television and a certain knack to get away with no punchline to the sketches make this show something very special indeed. Of course, these elements are nothing you've not already seen done in the past, but F&L have the style nailed to perfection and delivery their material with their own brand of hilarious relentlessness. There's not one sketch on this DVD that should be overlooked, as every single one has at least one moment to love. Its innuendo is charming and hilarious, and the constant undercurrent of heartfelt political and social satire is delivered with a gentleness and subtlety that puts heavy handed nonsense like Rory Bremner to shame.
As for the technical quality of the video, it seems perfectly good to me. To be honest, I'm just delighted to be able to replace my god-awful rips with these lovely DVD versions. The quality of the video is lovely and crisp, but does suffer from some slight discoloration around the edges at times. To be honest, I doubt it's even visible if you watch it on a TV, so it's nothing to worry about.
Menu
This is basically the cover art expanded to accommodate the various options, accompanied with the sweet sound of... silence. Yes, no looping sound track in the slightest. I honestly don't know if I'm pleased that it's 'loop friendly' or disappointed at the awful empty feeling this absence of music gives. There's no pleasing some people...
Anyhow, it's well laid out simple to navigate and offers a lovely episode selection screen. All you need for a release with no extras, I guess...
Cover
The cover is lovely. In the foreground we have a great publicity shot of the two (presumably from the series 1 era) set on a background comprising of a montage of various screen grabs from the series. It's colourful, striking and interesting. Everything a good cover *should* be.
On the reverse there's a large picture of F&L sat, mid-sketch, and shows through the inside of the clear case nicely. It's all very classy, indeed.
The Extras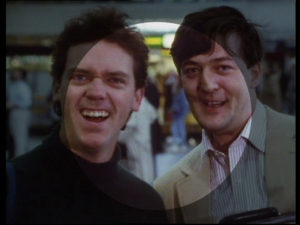 Or should I say extra. The solitary added feature for this set is the Christmas Special Pilot - as shown in December 1987, a whole 2 years before the first series was commissioned. I'm pleased to report this is the un-trimmed, 37 minute version and not the cut down episode which can be seen on Paramount. Apart from the odd ropey delivery, the performances of F&L are fantastic throughout and the material is just as wonderful as in the main series'. Excellently, most of it wasn't even re-used once the series was commissioned, so you basically have a 7th episode to enjoy.
However, I'm tempted to launch into a massive tirade about how one my all time favourite shows has been completely neglected with regards to extras, but I'm just so happy it's got a release at all, to be honest. After all, it's the kind of series that doesn't exactly lend itself to a plethora of extras (like, say, Red Dwarf does) but it has to be said a commentary from Fry and Laurie would certainly not have gone amiss. Still, this is very much and exploratory release - the sales figures for this will no doubt dictate the scale of the next 3 releases, and if enough people buy series 1 I would hope something more will be done to beef up the others. Even if it's just a documentary, the Comedy Connections episode and commentary from the director, or someone - I'd just like *something*.
And Finally
So, if you've not already guessed it by now, I'm heartily recommending that you buy this DVD. The show is wonderful and it's all presented very well (with a decent RRP, to boot) - so long as you can ignore the distinct extralessness and buy it on the faith that decent sales should improve our lot for future releases.