The Venture Bros.: Dr. Quymn, Medicine Woman
Well, it was bound to happen, right? Season three plops out its very first dud with Dr. Quymn, Medicine Woman. This episode aired about two hours after my apartment was broken into. I'm not sure which of these things depressed me more.
First of all, I have to say that there's a lot of good in Dr. Quymn, but there's just not enough. There are some excellent lines (the best thing about The Venture Bros. is that even the weakest episodes are endlessly quotable) and a few good chuckles, but compared to the rest of this season (which contained three genuine masterpieces in Shadowman 9, The Invisible Hand of Fate and the imperfect but excellent The Buddy System), Dr. Quymn's flaws are tragically magnified.
In an effort to treat one of my all-time favorite shows with approprite reverence, allow me to itemize, and then discuss, in no particular order, a few of the problems I had with this episode. Bear with me; it's a long ride. (I owe a tremendous debt here to fellow fan Meredith Reid, with whom a post-episode discussion really helped me to articulate my feelings of previously-vague dissatisfaction. I also stole a few of these from her. And there's nothing she can do about it. So nyah.)
1) The squandered potential of an exotic location. Despite the fact that this entire episode takes place in a jungle setting, there's really no reason that it couldn't have taken place anywhere else in the world. Aside from some set-dressing, a few natives, and a fictional fruit (which didn't factor into the episode at all except to "explain" part of an irrelevant and all-but-abandoned backround plot), this episode could just as well have happened on the compound. Why bother getting the Ventures out into the world if you aren't going to have any fun with it whatsoever?
Ice Station -- Impossible!, Ghosts of the Sargasso and Escape to the House of Mummies Part II come immediately to mind as examples of how much fun you can have with a new and unique environment for your characters. In the case of Dr. Quymn, the characters are just there without any real reason or significance. I'm not asking for anything groundbreaking, but as long as you're going to transplant the action of your entire show, why not have some fun along the way?
Strike one.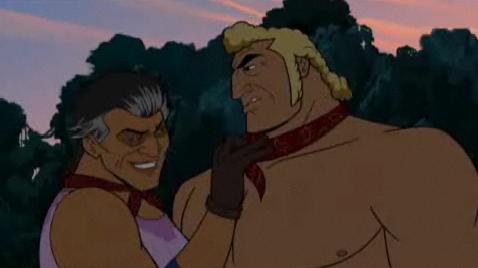 2) A large step backward for portrayal of females. I've been brainstorming a nice, long essay that I'd like to write for this site regarding powerful women in the Venture universe. After all, just about every one of the female characters in the show is a strong, independent personality, and a very real, rounded character unto herself. With the exception of Sally Impossible, we've never had an important female succumb to weakness of will...and Sally's submissiveness was used perfectly to make a greater point. (Not to mention the fact that she finally did get a stand-up moment in season two.)
So what happened here? Why is our important title character painted so thinly? Is she a character at all, or just a reason for Rusty to get an erection? What sort of message is it that she abandons her research entirely just because a man shows interest in her for once? Why are intelligence and sex a tradeoff for one another? Is she so weak that she can't have both?
What happened to her daughters? Why are Hank and Dean well-rendered, very human (and sympathetic) characters, while Quymn's girls--whom we are painstaking assured are Hank and Dean's female counterparts--just a pair of giggling, horny, hypersexual 15-year-olds? Aren't they human beings as well? This show has never had any trouble creating sympathy for the "villain" of the week. What happened here? Dermott last week was a very sympathetic character and was crafted lovingly and realistically. Why are these girls given nice bodies, cute smiles, and expected to do nothing more than crave Dean's penis? Is it too much to ask for some personality?
And, worst of all, what about Ginnie? We've met powerful women before, and you know what? The Venture Bros. never resorted to tarring them with the "manly" brush. Why is Ginnie all of sudden forced into intentionally-repulsive bull-dyke lesbianism to prove to us that she's "tough?" Wasn't Molotov "tough?" Wasn't Dr. Girlfriend "tough?" Hell, wasn't Myra "tough?" If she's Brock's counterpart, why is Brock allowed to be attractive and Ginnie is not? Why is Ginnie covered in sickly sweat stains but Brock just gets to flex his muscles? Since when is The Venture Bros. an effective, but unironic, illustration of the sexual double-standard?
3) Wots...uh the deal? Midway through the episode we came to our commercial break. And I...scratched my head. Because...well...what was even happening? The entire episode felt limp and plotless, which on its own isn't such a bad thing. (Try summarizing the plot for Hate Floats, for example.) But here it's distracting. The Ventures spend the entire episode in a jungle, for crying out loud. For what reason? Rusty's impotence cure, by the way, doesn't cut it. He's never believed in holistic medicine before...why is he now so sure of it that he flies his entire family across the globe to give it a shot?
It's perfectly fine to be plotless; I would like to reiterate that. All--yes, all--of my favorite novels are plotless. But there has to be something else to keep us interested. Which, this week, there wasn't. There was plenty of time for character development, or creative interaction, but we didn't really get much of either. A few stray chuckles don't justify an empty, meandering half hour. Dr. Quymn's search for the cure for cancer, by the way, was so pointless as to seem almost cheap. The writers needed a reason for her to be in the jungle, so they gave her the most convenient and time-worn of them all, patted her on her noticeably perfect butt, and never referred to it again.
Oh, there was something about a Wereodile tormenting the town. That doesn't count because it was only ever referred to when they needed to space out the sex jokes.
4) Jonas Bad Man. This is not necessarily a bad thing, but it's certainly something that makes me uneasy as a viewer. This season, Jonas Venture Sr. is really being made out to have been a bad father. We might have had hints to this in the past, but it was never so overt, and it was always artfully vague just what Rusty's daddy-issues really were.
Now it's becoming a lot more clear that Jonas was...well, Jonas was a pretty awful human being. Coupling this week's flashback with the one from The Doctor is Sin leaves no doubt as to where Rusty's sexual frustration and immaturity come from, and in each case it's suggested that Jonas didn't really care much about his son.
This removes a good deal of responsibilty from Rusty's shoulders. Previously it was easy to assume that the only reason Rusty was a failure was because he saw the great shadow that his father had cast and decided that, rather than try to live up to it, he'd spend his days wallowing in self-pity. Now, however, it becomes clear that he was doomed from the beginning. Rusty is no longer the architect of his own misery...he's stepping into the clothes that Bad Parenting laid out before him.
Is this a bad decision on the part of the writers? Well, maybe not. But now that we're being asked to reconsider our view of Jonas Venture Sr. I have to admit that it's a much less satisfying way to approach the problem.
Strike two.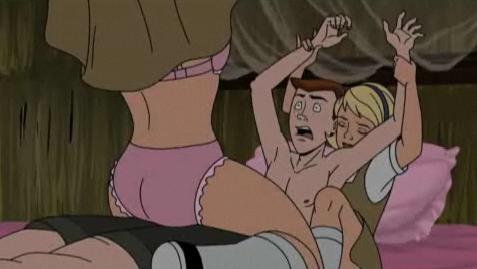 5) Making the viewer feel like a creep. So we have Nancy and Drew, two young, teenage twins clearly drawn to be...well, attractive. They've got cute faces and some clearly intentional curves. All of which is fine, until the climactic scene in which they...um...take Dean into their bedroom, strip, and attempt to double-team him.
Huh?
Watching that scene actually made me physically uncomfortable, and it wasn't entirely due to the ages of the characters involved (although that does factor into it...read on). It was more the lack of respect that the characters were shown. Nancy and Drew (come on...you give them those names and then have nothing else to let them do?) basically exist as personified vaginas. Teenage vaginas. But nothing about the scene contains anything like the appropriate self-awareness that we'd expect from a show like this. It goes from sex-farce to sexploitation in a wink, and because the girls are so clearly desirable from the point of view of the other characters in the show, we're along for the ride. Which, honestly, kind of made me feel creepy for even watching it.
Worse things happen in this show, yes, but we are never asked to align ourselves, as viewers, with that action. Sgt. Hatred, to take a perfect example, is a convicted sex-offender who molested our main teenage characters at least once in their lives. The difference isn't that it happened off-camera, the difference is that we're not asked to align ourselves with Hatred. When, for example, Hatred is attacked by playful children in The Buddy System he refers to them as "sexy minors." Extremely creepy, but Hatred is the creep...not us. At no point are the children actually portrayed as sexy minors. It's all in Hatred's head. He's a creep. He's an awful man. It's all internal. You may find it funny and you may not, but it's at least appropriate for the character, and we are allowed to maintain a healthy distance.
Here the girls are made out to be sexy minors. They giggle and titter and coo and sign their letters with a lipstick kiss. They're curvy and flirty and quick to slip out of their pink panties. We are never, as an audience, given any reason to doubt their "appeal." It makes us feel guilty despite the fact that we aren't even offered an alternative.
A good literary example is Nabokov's Lolita...truly one of the greatest novels in our language. We understand the extent of Humbert's lust for the girl, but we are never asked (outside of Humbert's own unreliable pleas) to feel that way for the girl ourselves. The attraction is in his head--whether we agree or not is irrelevant. When Kubrick adapted the film he understood that dichotomy, and retained it as best he could for the visual medium. A much later filmic adaptation made the obvious mistake of actually making Lolita sexy. We were guilty just by sitting in the audience. Hell, it's Dominique Swain for crying out loud--why would you not be attracted to the girl?
For anyone who has not read Lolita, "Why would you not be attracted to the girl?" is not a question that the story should ever make you ask. Likewise, I don't think this episode should be triggering that question either.
6) Character abuse. A moment of disconcerting cruelty is brought to the fore when Dean Venture takes it upon himself to club Dr. Quymn with a chair in the middle of her epileptic seizure. Now I should mention that undeserved cruelty has always been a distinguishing feature of the Venture universe, but this specific instance doesn't seem to fit. Last week Billy Quizboy got assaulted by a gorilla because Dr. Venture sealed him into the E-Den and wouldn't let him out. Billy emerged bloody, disoriented, and once again handless. Did he deserve that?
Of course he didn't. But the cruelty toward the character made a greater point about Dr. Venture. It was still painful to watch, but it was a functional moment, and important in terms of keeping Venture appropriately defined as the Most Awful Human Being in the Show.
When Hank gave one of Underbheit's henchmen a wedgie after the henchman learns he has testicular cancer...was that deserved? Of course not. But it fit Hank's character; he just wanted a piece of the action, and wasn't above such a cheap move.
But this time it's Dean, who is a better person than Dr. Venture and a smarter boy than Hank. I do believe that perhaps he wouldn't recognize an epileptic fit, but surely he's the better-adjusted of the Venture boys and wouldn't have immediately leapt to the conclusion that she was a monster who needed to be beaten to death with the nearest heavy object.
7) A boxing monkey. (?) (!) (???) A boxing monkey. Okay, I admit, I laughed at this. A lot. And why not? It was funny. But it says a lot about this episode that Venture's "Weekly Bad Idea" was a monkey with boxing gloves, and nothing...oh...scientific or anything. What happened to the Joy Can? The Venture Dome? Even the friggin' shoes with backward soles? Rusty may not be the most successful inventor in the world, but he is an inventor, and I'm really not sure why his next attempt at cash-grabbing is a prize-fighting monkey.
Again: funny. Also again: not quite right for the show.
I had an image for "strike three" but I'm bored of it already so here's a boxing monkey.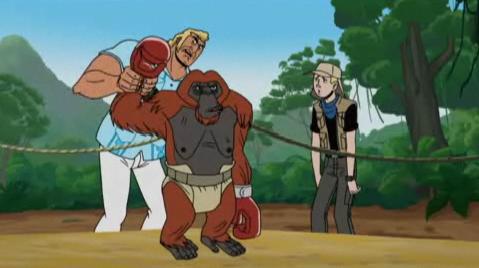 8) Uninteresting new characters. If we're going to spend an entire episode with new characters, why can't they at least be interesting? The women are all stereotypes and no real effort is made to identify them beyond that. I don't mind spending time with new characters; it often results in a great new relationship down the line. But by the end of Dr. Quymn, I couldn't help but wish we had spent time with somebody else instead.
Where's Orpheus this season? A medium-sized role and then a teensy-weensy one. Wouldn't you rather have seen more of him instead? Or Jonas Jr. Or Molotov. Or Phantom Limb...what's he up to now, anyway? Some more Sgt. Hatred? Killinger? Hunter? The Impossibles? Pirate Captain? Hell, give me a half-hour with Hector and Swifty. My point is that we already have a whole kaboodle of interesting characters that are still only mildly explored. Do we really need new ones that are less interesting than the ones we already have?
9) "Comic" doubling. As much as we were assured that the Quymn clan was the female answer to Team Venture, there really wasn't much made of it, was there? They both have an identical family structure and they both fly supersonic jets (pinkish and bluish! Hoorah!), but, really, what was the point of hammering home the similarities? All it really accomplished was that the Quymns looked tragically under-developed by comparison.
I guess we could be seeing more of Team Quymn down the line. And a future appearance could definitely make a convert out of me. But I don't know how much I'd be willing to wager to that effect.
10) Just not all that funny. Really, this is the most important point of all. Dean in particular had some excellent material, and I guess Hank's Charlie-Brown-ish swooning at the beginning was pretty good, but when the biggest laughs come from a boxing monkey, it's not The Venture Bros. that you're watching. Or, at least, it shouldn't be. Home is Where the Hate Is might not have been the funniest thing in the world, either, but it served an important role in the overall story of season three. The fact that this episode is stand-alone actually works against it, because it makes the lack of humor that much more difficult to excuse.
Once again, despite everything I've said above that seems to lean toward the contrary, Dr. Quymn, Medicine Woman is not a bad half hour of television, but it's pretty weak for a Venture episode. It's worth mentioning that a lot of people seem to have really liked this one.
I am happy for them. I wish them no harm. But I'll take The Invisible Hand of Fate any day.
With the exception of the pilot, I'd say there's never been a truly one-star episode of Venture. But Dr. Quymn joins the ranks of The Incredible Mr. Brisby, Love-Bheits and Fallen Arches with...