Lost - Season 1 (DVD)
WARNING: THE COMMENTS TO THIS ARTICLE CONTAIN MAJOR SPOILERS FOR SEASON 2
The Pilot has turned on the passenger seatbelt sign...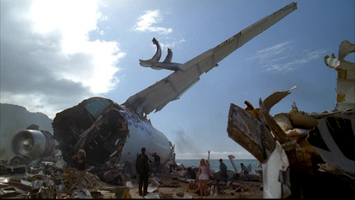 I know I'm a little late with this, but, you know, these American TV box sets are expensive so I've only just been able to afford it through Play's Promotional Price.
So, before I begin reviewing this boxset, I'll state that I will be revealing absolutely no spoilers from any episode. Aside from the premise of the show, nothing of the plot will be revealed to allow any of you who plan to catch up any time soon to do so at your leisure.
However, for anyone reading this now that's not yet invested in this TV show then take this bit of advice from someone who has just finished watching the season 2 finale - Watch it. Watch it right now. Let the cat go hungry for a bit and use the money to buy this boxset and revel in the sheer enigmatic joy that is Lost. Your cat's too fat anyway.
The show was originally conceived by ABC executives who wanted a live action drama equivalent to reality shows such as Survival. After a terribly unsuccessful pilot script was written, writers JJ Abrams and Damon Lindelof were brought on board. A complete re-write later and the show was commissioned and one of the most impressive pilots to ever be made was shot in Oahu. Since then the show has gone on to be a huge worldwide success of unprecedented proportions and sparked a level of debate and theory mongering not seen since the days of X-Files or Twin Peaks.
The Episodes
What Abrams and Lindelof have done with Lost is incredible. They took a proposal from a network wanting nothing more than a fictional re-hash of a reality show and pulled off the TV equivalent of a Trojan Horse invasion. Superficially the show is a character drama packed with fascinating interactions, emotions flying all over the place and personal mysteries. About one third of each episode is taken up with character flashbacks, usually designed to run in parallel with events on the island and, hopefully, to give us fresh insight into how a certain character is behaving on the island and to help the audience achieve greater knowledge and understanding of that person. Each episode we have one (or two) characters in focus both on the Island in the flashbacks and it is the perfect way to help maintain interest with such a large main cast.
But, that's not the half of it, as there's another character thrown in to the mix. The character of The Island. Mysterious locations, lifeforms and events crop up all over the place, with certain characters reacting differently to every last one. Bit by bit mysteries are unfolded, sometimes explained, but often used to reveal yet more mystery. And this is where the Trojan Horse manoeuvre comes in - Abrams and Lindelof have, essentially, created a Science Fiction show and sold it to the mass market without them even realising. Fantasy and drama have been mixed in such a wonderful, please all fashion, which is something I've not seen done since New Who.
And so, on to the characters. The wood in which this sci-fi Trojan Horse was crafted (look, it's my analogy and I'm *not* letting go of it!). At first glance you can easily pick out the clichés from several paces; the oppressed Asian wife, the red neck, the All American Hero™, the socialite bimbo, the useless pretty boy and so on. This can be dispiriting to start with, until you realise that each character has been lovingly crafted with quite substantial back stories. For a show that starts with such a huge dollop of cliché, it moves on to fresh and unexpected character building and developments pretty quickly .
Mr. Locke, there. Never tell him what he can't do or he'll have yer arms off.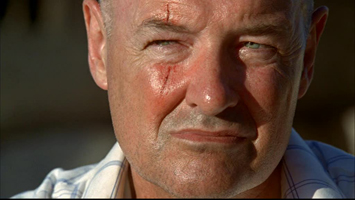 If we are to believe the Executive Producers/Head Writers (JJ Abrams, Damon Lindelof and Carlton Cuse) the show has a very definite path and the arc should come to a conclusion within 4 or 5 years. This degree of pre-planning allows the layering of mystery upon mystery until you're completely lost (haha) in a sea of questions and intrigue. And, as a result, season 1 can be a tad frustrating at times. This is the establishing season so there's far more questions than answers laid out for you, but that's ok. Patience is the key with this show. Slow yourself down, take it all in and enjoy it layer by layer. Things will be revealed all in good time. Enjoy the fantastic characters, acting and writing and you'll wonder how TV could get any better.
Commentaries
Now *this* is how you do commentaries. You know that age old problem of commentaries repeating a large amount of stuff you've just heard in the documentary? Well, the commentaries for the first two episodes (The Pilot) actually combines the two. When a scene worth further discussion and analysis comes along the episode stops in its tracks and in comes some behind the scenes footage to expand on what you've just seen. After that, the episode starts up again and you carry on. It works wonderfully well, especially as they manage to avoid repeating information by adding an extra layer of interest that you can't get in standalone documentaries. On top of that the writers give a brilliant informative commentary that even matches up to Joss Whedon's efforts.
The other episode commentaries don't use this feature (I assume it's horribly complicated and expensive to implement) but they do feature some key stars. Terry O'Quinn (Locke) and Dominic Monaghan (Charlie) are especially good value, one for being so incredibly likable and interesting and other for being laugh out loud funny.
The only gripe I'd have is that there're not nearly enough of them. Out of 25 episodes there's 5 commentaries which is pretty sparse, considering Doctor Who manages to chuck out 13 in a boxset.
Bonus Features
Plentiful and excellent; this is the bonus content:
The Genesis of LOST
A 9 minute mini-documentary about how Lost came to be. It's tantalisingly fascinating hearing about the failed first few pilot scripts and how JJ Abrams came on board, but I can't help but think I wanted so much more of this. Everyone involved is interesting and I just wanted more and more of them nattering on. JJ Abrams and Damon Lindelof are two very interesting men and I could have happily sit through hour upon hour of those two talking about *everything* complete with annotated diagrams of their bowel movements. But, you know, these 9 minutes of stuff is better than nothing and as you'll see, there's plenty more documentary stuff to satisfy.
Before They Were LOST
Now, this is a bit more like it. An all together more substantial 22 minutes is dedicated to covering the casting of all of the main Lost characters, together with a great deal of audition tapes. It's very interesting to see this process and a joy seeing these actors you've grown to love reading for various parts. Especially interesting was the story of how Evangeline Lilly was cast as Kate, mainly because she almost wasn't at all due to Visa problems.
Again, though, if I had my own way I'd have about 2 hours of this stuff, but, then again, I'm a massive twat.
Welcome To Oahu – The Making of The Pilot
More documentary goodness, here, this time covering the making of the pilot episodes. And it's ace. I find extensive behind the scenes footage like this to be really interesting, especially when you see just how astonishing and expansive some of the crashed plane locations are. There's the added interest of the show being shot almost completely on location in the Oahu jungle so there's all sorts of hilarious situations with flooding and rain to keep you amused. As for me, I get overly excited just seeing different takes of scenes I know so well and hearing the director shout "Action!", so I'm happy. This, combined with 'Before' and 'Genesis' you've got yourself a very decent documentary. I want more, though! More!
The Art of Mathew Fox
A collection of wonderful and very professional stills, as taken by Mathew Fox (Jack) all set to his own commentary. It's a great addition. Little things like this really make you feel that someone's thought about what to include and realised that little gems like this can really *make* a release.
Lost @ Comicon
Another short, this time with footage of the Lost cast at Comicon. Amazing, really, as at this point the show hadn't even aired at this point, yet they were clearly the stars of the convention.
Lost on Location
A collection of 6 short mini-mini documentaries covering 6 different episodes. They're basically just shortened versions of 'The Making of The Pilot' so in absence of one gargantuan documentary covering every last episode, this fills the hole nicely enough. Once again, I personally utterly love behind the scenes footage like this, watching directors talking to their actors, watching alternate takes, just *seeing* such a wonderful show being made is so exciting and interesting. If nothing else, it shows great foresight from whoever decided to record such detailed footage at the time of filming, clearly knowing what a huge DVD this show deserved.
On set with Jimmy Kimmel
One of those 'funny' TV chat shows hosts that America seems to be bursting at seams with, takes a tour on set of Lost, interviewing actors and generally being just like every other supposedly amusing chat show host. A nice enough feature, and certainly worth slapping on the DVD, but I just dislike Jimmy Kimmel.
Back Stage with Drive Shaft
Drive Shaft is the name of the band Charlie belonged to before he crashed on the island. As we see this band through various flashbacks, this featurette covers the actor Dominic's Monaghan's take on his character and the band and a rather amusing story behind how the truly terrible song 'You All Everybody' came to fruition. Extra marks for mentioning Ocean Colour Scene, too.
The Lost Flashbacks
Two deleted flashbacks here, which are great but were obviously cut for time. One features Sayid buying a tie in the airport and then seeing that tie on the Island after the crash; the other is of Claire and the Pilot of Oceanic 815 having a chin wag before the flight. I assume that these are just two of many cut flashbacks, and they were chosen for the DVD as they do still hold relevance and are interesting to see.
Deleted Scenes
Six short deleted scenes here, all obviously removed to keep the episodes as flab free as possible. The fact that there's only around 15 minutes of deleted footage here either means the shows were *very* tight, the rest of the deleted scenes were awful or they just ran out of space on the disk. Still, these scenes are wonderfully rough, with the sound mix being hopeless at times due to no post production. But I love that sort of thing.
Bloopers from the set
A short montage of bloopers (four years of writing red Dwarf DVD reviews means I almost wrote Smeg Ups, there) which are always good for a laugh, especially as the cast apparently has such a large proportion of likable and funny actors. It's a nice inclusion and not something I normally expect to see with US shows, so top marks for that.
Live from Museum of Television and Radio
A lovely 10 minute clip of a Q&A session filmed at the museum, with pretty much all of the main cast sat on stage and generally having a big laugh. It's a joy to watch everyone clearly get along like a house on fire and joking around. I'm disappointed it was sort, but it's an incredibly heartening experience realising that the cast of such a great show so obviously get along so famously. This was the last extra I saw and it left me happy.
Menus and Packaging
What a lovely menu.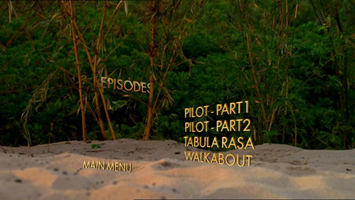 In a word: lovely. The box is sufficiently slim as it contains each DVD in a thin plastic case. The design itself is very nice, with a group photo on the front contained in a stripe running through the middle, which also houses the season number on the spine. This is clearly DYING to be placed next to 3 or 4 more seasons.
The menus, however, are even better. Each disk (seven in all) has its own backdrops for the various menus and sub-menus. These are looping video clips of a recognisable location from the show (the cockpit, Jack lying down in the wood, the beach camp etc) which seem to have been specially shot for the purpose. In the background there's quiet, unobtrusive ambient sound that lends its self very well to looping. They're gorgeous, functional and non-irritating - perfect examples of how to do menus properly.
And, so…
I realise I may still be giddy with fanboy enthusiasm after recently witnessing the astonishing season 2 finale, but my opinion still stands: I love this show one hell of a lot and I would happily recommend it to anyone.
However, if you find yourself thinking this is a bit boring or too slow moving then I implore you to stick with it. It took me half a season to realise I even liked this show, let alone love it. It's the ultimate slow burner and needs room to breath. What's more, it quite honestly has something for absolutely everybody; character drama, sci-fi, mystery, action, gorgeous direction and plenty of exposed flesh.
So, I know it's a little late in the game, but anyone out there who's not yet got this yet then I strongly recommend you do.
Go!

About this entry
Posted on Wednesday, May 31 2006 @ 12:35 am